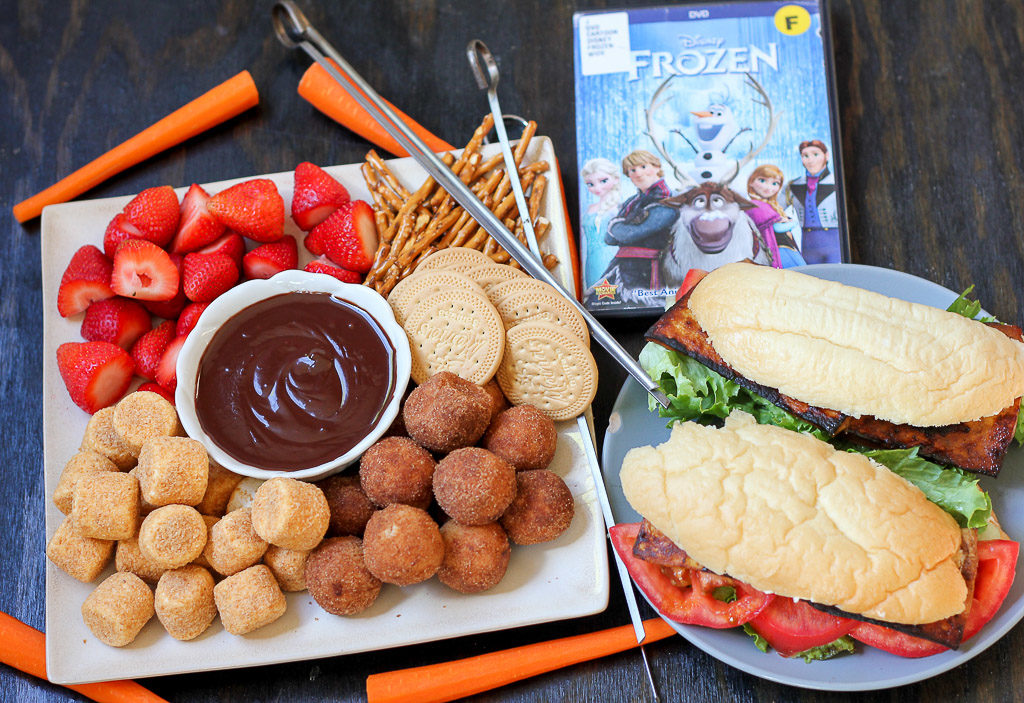 I have an exciting new series that will be starting on this blog as of today! Disney Movie Night! And today we are focusing on Frozen. Specifically, Anna's Sandwiches (Vegetarian BLT's) and Chocolate Fondue.
Last February my little family went to Disney Land. It was a spontaneous trip and a trip that our family really needed after going through a lot of really hard things. Our daughter had just turned three and it was the most amazing vacation. We really needed something fun and relaxing, we needed dedicated time with just the three of us, and we needed to be care free for awhile. I know Disneyland is kind of a cliche vacation, but you should have seen my little princess-crazed daughter. The magical part of it all was watching her as she soaked everything in. Her excitement and joy was just infectious.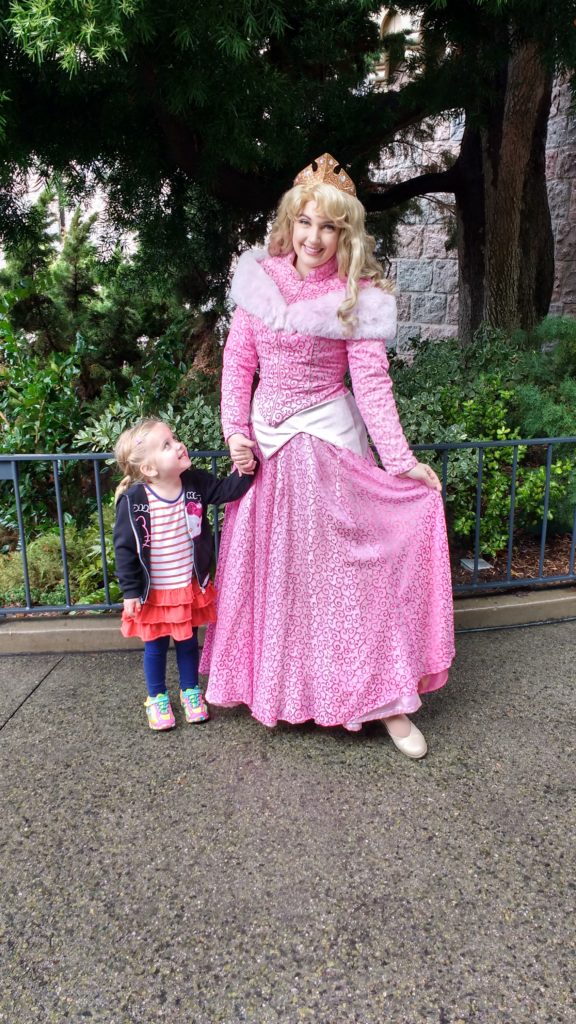 After Disneyland, our life started really looking up and has been really great since that trip. But we started missing our trip! My daughter could not stop talking about it and we new we just needed more Disney. Even my husband, who has always been a Disney Scrouge, was softened and missed the Disney magic.


So we started our family Disney Movie Night. First, we made a big list of all the full-length animated theatrical version Disney movies and made plans to watch all of them as a family over the next few years. We take turns choosing the movie and we make all sorts of fun themed food that goes with the movie. My daughter gets so excited to help plan the menu and she has a massive list of all the movies she is choosing and in what order. It was just the exciting and care-free thing we needed to tide us over until our next Disney trip.
I went back and forth on what I should do with all these Disney themed recipes. Should I start a new blog, should I do nothing, or should I post them on my existing blog? I went back and forth for a long time before I decided to post them on here. They are all still vegetarian recipes and a lot of them are just plain yummy, Disney movie night or not. Things like Anna's Sandwiches (tofu blt's), Rapunzel's Hazelnut Soup, and Mike Wazowski's Sushi. Recipes that would fit right in on this blog, just with a little Disney twist. Some of the food is straight from the movie (my daughter loves finding the food we are eating within the movie) and some of it is just movie themed.
Some movies are more simple and some are more extravagant. And some movies will take one post and some will take a couple posts. But I wont overtake the blog with Disney. You can still expect lots of other normal everyday recipes. I'll keep a tab in the menu so you can see all the Disney movie night food.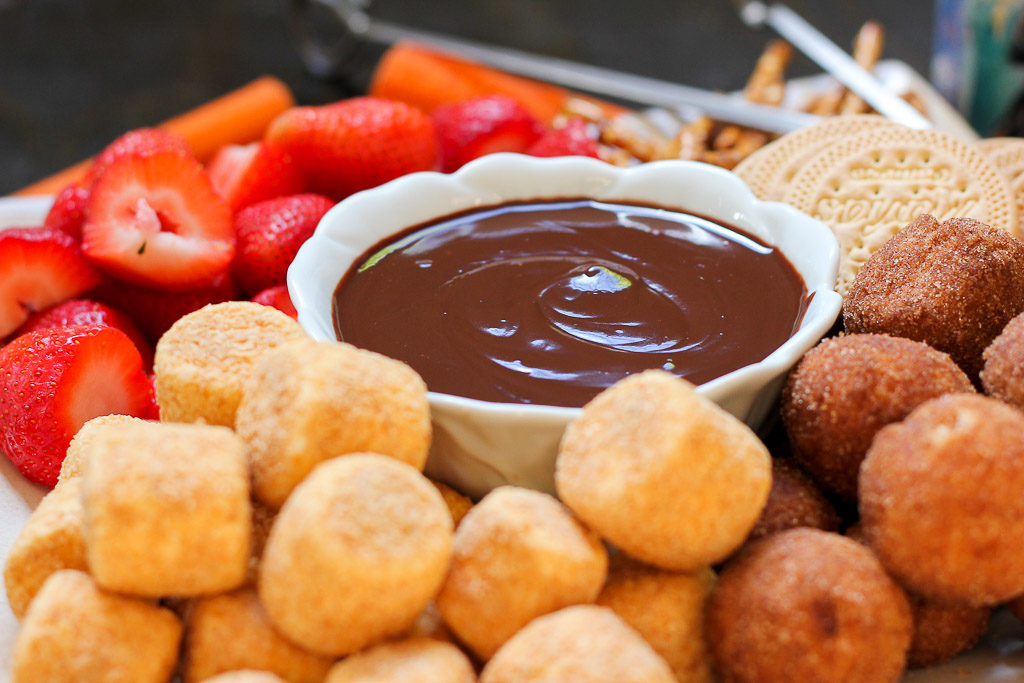 Now lets get to the fun part! Frozen! My daughters favorite thing in the whole world. She introduces herself as "Stella-Elsa" to most people. I was surprised when she determinedly picked Peter Pan as her first movie, but I was not surprised that Frozen was next. My husband and I knew it was coming and decided not to fight it, even though we have heard all the songs a million and one times.

ANNA'S SANDWICHES (Tofu BLT's):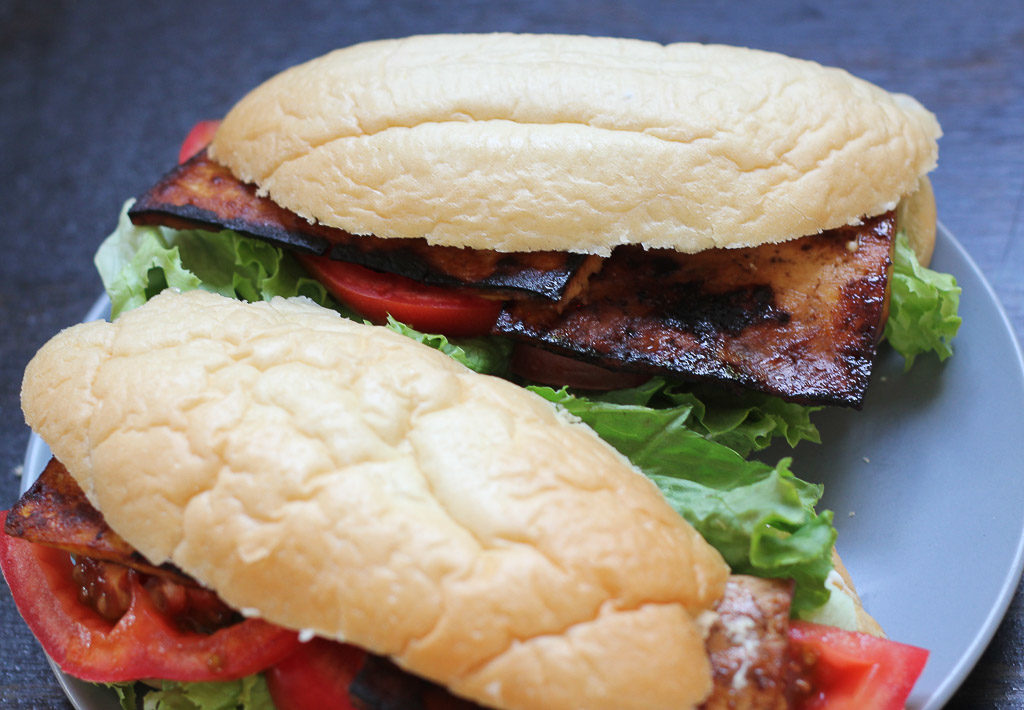 For dinner we had Anna's Sandwiches, which were vegetarian BLT's made from smoky marinated Tofu. If you are reading this blog and aren't a vegetarian feel free to just make what ever kind of sandwich you want or just use real bacon. But, before you knock the tofu bacon, hear me out. Its good, guys. Its smoky, sweet, savory and slightly crispy. If you have ever had bland squishy tofu and hated it, this is not that tofu.
First of all, the water it is packaged in is pressed out, so it can soak up the good flavors. Then it is sliced thin and soaked in a Smoky Balsamic Maple marinade and takes on the flavor of all that juicy smoky goodness. Then it is pan fried till its crispy and charred in parts. Its not exactly like bacon, and I am not saying it is, but it is really good in its own right. So even if you aren't a vegetarian, give it a chance before you knock it. Anna and Hans would totally finish each other's tofu blt sandwiches.
Frozen Disney Movie Night: Anna's Sandwiches
Classic BLT's get a vegetarian upgrade with smoky maple balsamic tofu "bacon", lettuce, tomatoes, and avocados. The perfect "We-Finish-Each-Other's" Sandwiches.
Ingredients
1 package of extra firm tofu
8 tsp. balsamic vinegar
8 tsp. soy sauce
2 TBSP. pure maple syrup
2 tsp. hickory liquid smoke (I like Wright's)
2 tsp. grape seed oil (olive oil works, too)
4-6 sandwich buns
Mayonnaise
1 tomato, sliced
lettuce, separated into leaves
avocado, sliced
Instructions
Start by pressing the tofu. To do this, place the tofu brick on a plate and on top of a bunch of folded up paper towels or a folded kitchen towel. Place more folded paper towels or kitchen towel on top of the tofu. Place a plate or cookie sheet on top of that. Add weight to the plate/cookie sheet to evenly press all the water out of the tofu. I use a bunch of my thick cookbooks. You could also buy a tofu press on Amazon. Leave for 30 minutes. Remove the tofu from the press.
While the tofu is pressing, start making the marinade by whisking together the balsamic vinegar, soy sauce, maple, liquid smoke, and oil in a container with a lid. Slice the pressed tofu into thin strips. Place the tofu in the marinade, put the lid on, and give it a gentle shake to coat all the tofu. Marinate the tofu in the fridge for at least 30 minutes, but up to 12 hours. Give the container a gentle shake every once in a while to re-coat all the tofu.
Prepare the buns, tomato, lettuce, and avocado for topping the sandwhiches and set aside.
Heat a drizzle of oil over medium heat in a large pan. Once hot, add the tofu strips. Cook until the edges and corners start to get darker and slightly crispy and the base has a nice sear. Flip and cook the other sides of the tofu strips.
Spread a little mayo on the sandwich buns. Add the tofu strips, tomato slices, lettuce leaves, and avocado slices to the buns.
Notes
-This recipe requires very little hands on time. The prep time listed above is including wait time while the tofu is pressed and marinated. Make sure you plan at least an hour for pressing and marinating the tofu.
-You could also bake or grill the tofu.
http://ediblexperiments.com/2016/11/frozen-disney-movie-night-annas-sandwiches-chocolate-fondue.html
Edible Experiments
As a side dish we had "Olaf Noses", which were just carrots. But my Stella loved pretending she was Sven eating Olaf's nose.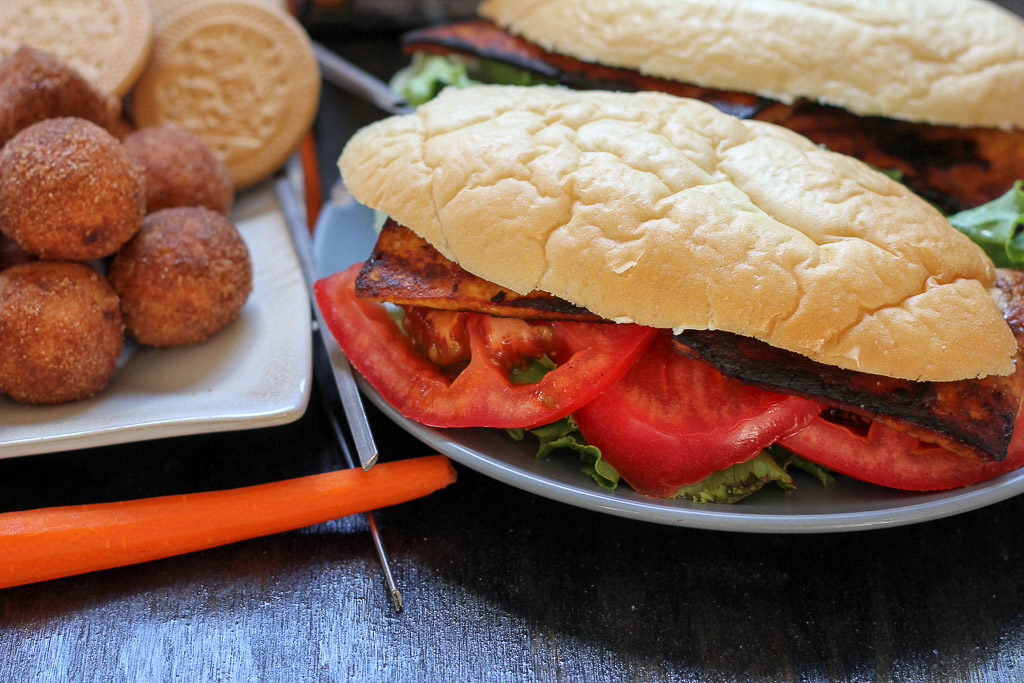 CHOCOLATE FONDUE
For dessert we had Chocolate Fondue. We chose chocolate fondue for three reasons. The Frozen quote "Maybe its the party talking, or the chocolate fondue", the quote "I wanna stuff some chocolate in my face.", and the part when Elsa and Anna first reunite and they both smell chocolate and start salivating.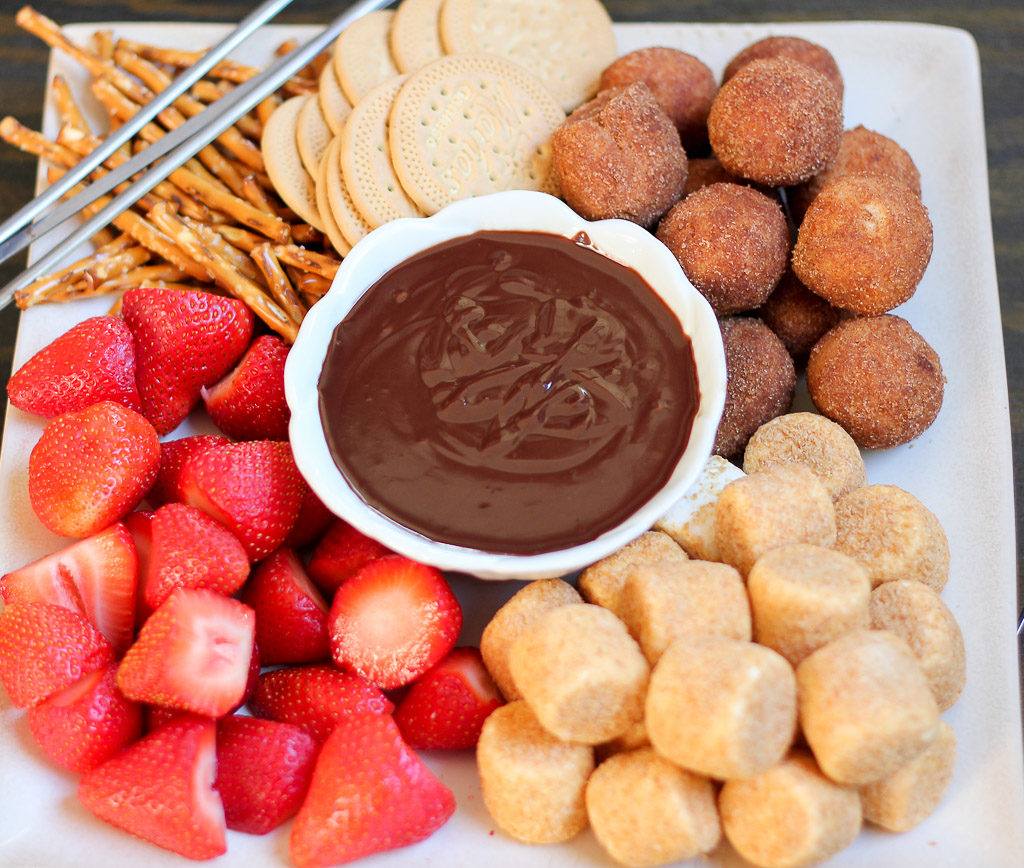 For the Chocolate Fondue, we used the crock pot chocolate fondue recipe from Carlsbad Cravings. You don't need a special fondue pot and you can toss all the ingredients in the pot and leave it while you make the rest of dinner. It takes about an hour in the crockpot and it is absolutely delicious (we left out the optional corn syrup and didn't miss it at all). To see the fondue recipe, go to Carlsbad Cravings. We dipped pretzels, strawberries, toasted coconut marshmallows, cookies, and doughnut holes. Here are some more ideas:
Chocolate Fondue Dipper Ideas:
Bananas
Strawberries
Cherries
Raspberries
Oranges
Pineapple
Apples
Cake squares (pound cake is my favorite choice)
Brownie bites
Cheesecake bites
Oreos
Doughnuts or doughnut holes
Potato chips
Marshmallows
Waffle pieces (Eggo or homemade)
Graham crackers
Any kind of cookie
Rice Krispie treats
Cinnamon bears
Eggless cookie dough
Granola bars
Poptarts
Croissants
Caramels
Biscotti

If you would like to do your own Frozen Disney movie night with your family, feel free to customize in anyway you want.  Anna's sandwiches can be any kind of sandwich your family likes and you can use any kind of fondue dippers. You can make these family movie nights as simple or extravagent as you want. Either way, it will be a fun family memory for your kids.
Anna's Sandwiches by Edible Experiments and Chocolate Fondue by Carlsbad Cravings