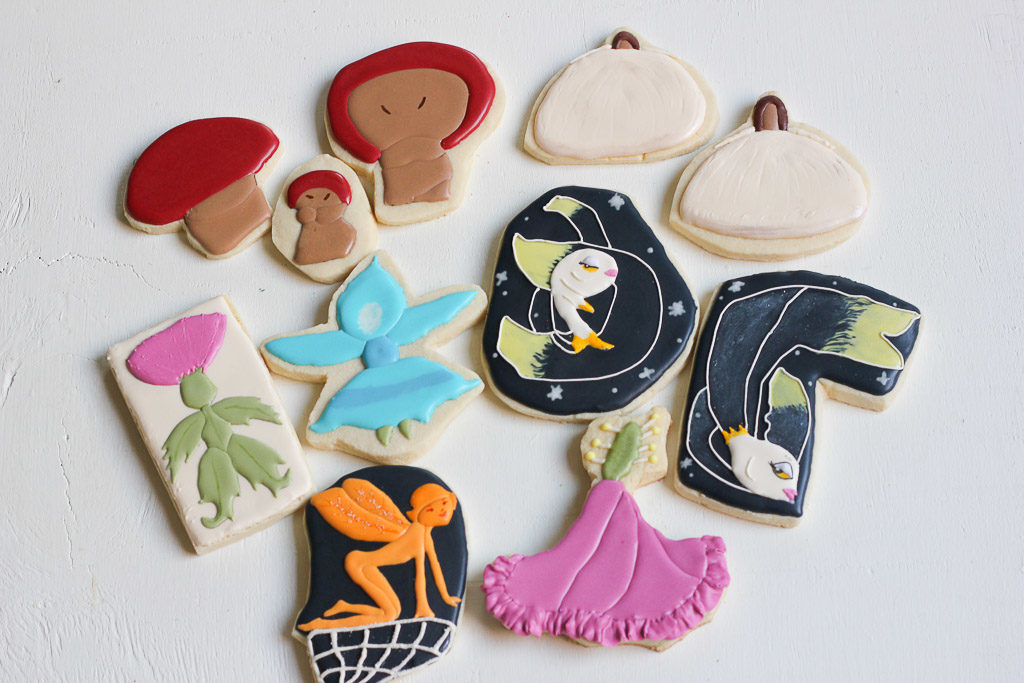 I know I usually post healthy vegetarian recipes on this blog (and sometimes unhealthy desserts), but cookie decorating is really where my heart is at. So please indulge me a little as I post about an amazing opportunity I recently had. Last week I was able to attend CookieCon 2017 in Salt Lake City, Utah.
What is CookieCon? Its a three day long convention all about decorating sugar cookies. It probably seems weird to most people, but to a cookier, its HEAVEN! This post is all about the remarkable experience that is CookieCon! Even if you have no interest in making royal icing sugar cookies, continue reading to see some of the magnificent art some people are able to make with their cookies. It's incredible.
Karen and Mike of Karen's Cookies organized this marvelous convention. You will never meet better, nicer people. Attendees came from all over the country for this event and many even traveled from other countries.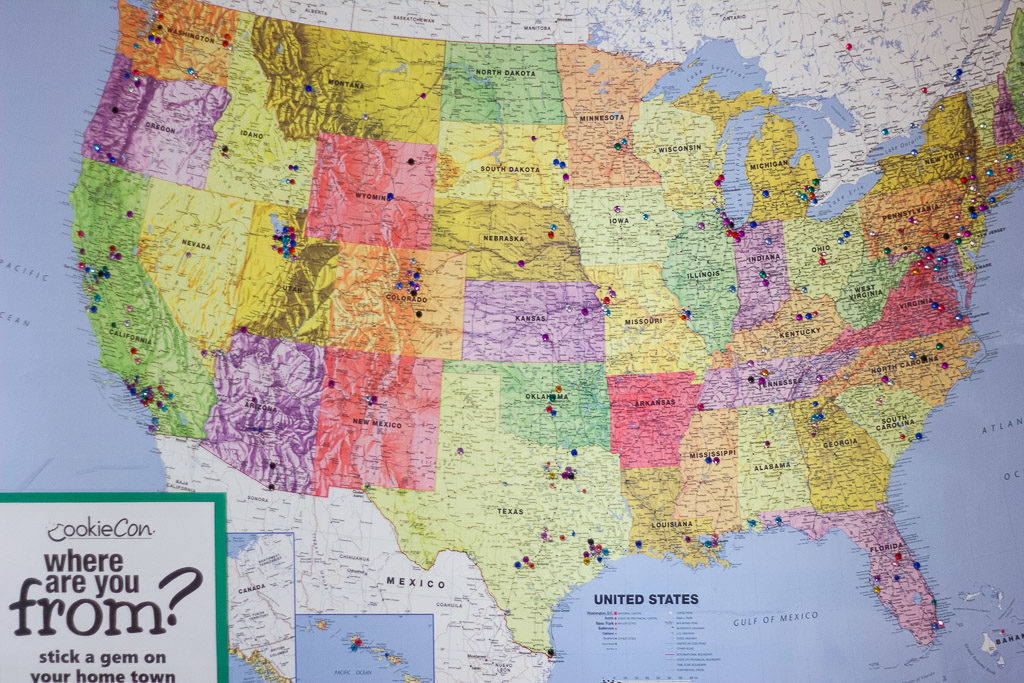 COOKIECON DAY ONE:

I rushed around in a frenzy all morning to gather everything up and make finishing touches on the cookies I made for the Sugar Show. I was cutting business cards, baking my caramel chocolate chip cookies to pass out to people, and trying to decide on which cookie cutters to bring to the cookie cutter swap. With a newborn, everything was a little last minute! So much so that I missed the train I was going to ride to Salt Lake City. So my husband drove me and right as we pulled into the drop off zone, I dropped one of my sugar cookies that I had worked so hard on and it broke a little. I started to cry a little and then I started to panic.
I could see cookiers all around heading in and my mind was filled with all sorts of doubts and fears. I'm pretty introverted (although I can be pretty good at pretending to be an extrovert) and the thought of 450 people that I had only stalked on instagram, most of them more experienced than me, terrified me. Would I spend the whole convention on my own? Would I be the only one who just makes cookies for fun and not for a business? Would I be way out of my league?
When I got out of my car and walked in, I wandered around for a minute and then headed straight to the bathroom to avoid looking awkward. I took a few deep breaths, and then dove in head first to CookieCon, and never looked back!
I registered and got my schedule and swag bag. THE SWAG BAG!!!!!! Stuffed full with amazing things! I was so excited! This is what was inside the swag bag (also pictured are a few things I won at giveaways and raffles):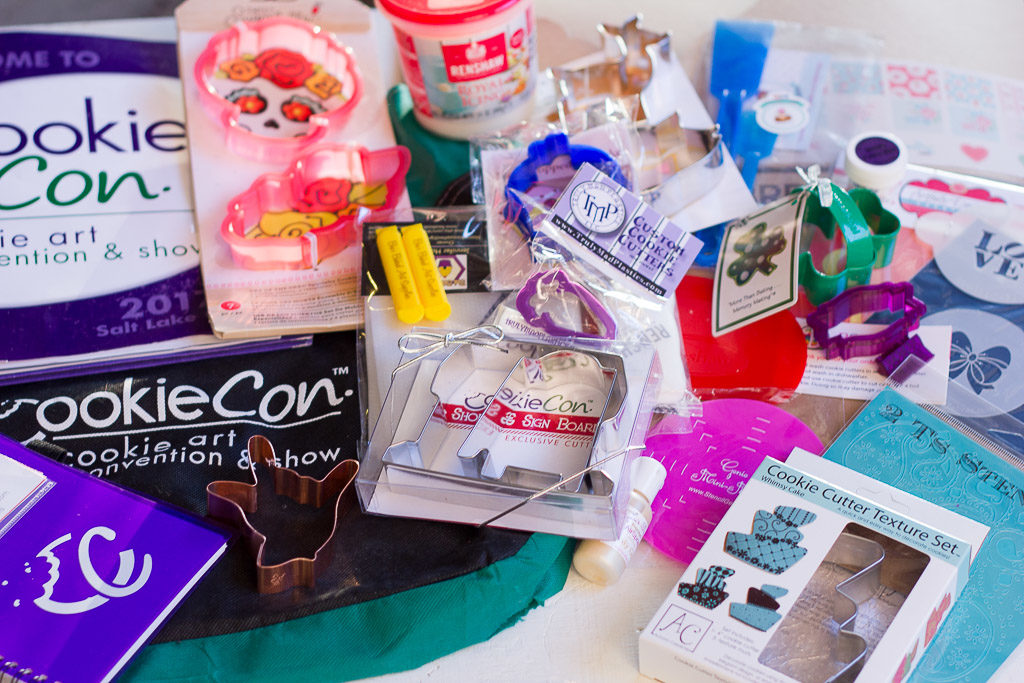 Cookie Cutters from Sweet Sugarbelle, Anne Clark, Truly Mad Plastics, Bobbi's Cookies and Cutters, The Fussy Pup, Sinful Cutters, R&M International, and Autumn Carpenter.   Stencils from Killer Zebras, 2 T's Stencils, Artfully Designed Creations, and Designer Stencils. Also pictured are Renshaw fondant and scraper (I also won some Renshaw shelf stable royal icing), scraper spatulas from Yoli's Yummies Supplies, Airbrush color and Genie Mini Mat from The Creative Cookier, purple color from Tru Color, Sugar Stamps, tipless bags and bag clips from Bee's Baked Art, and an awesome box bundle from BRP Box Shop. I also got the most adorable sugar cookie fridge magnet from Tammy Holmes, but it didn't make it into the picture.
I also got three Notta Cookies and doodled around on them during open decorating. They are plastic cookie models for practicing.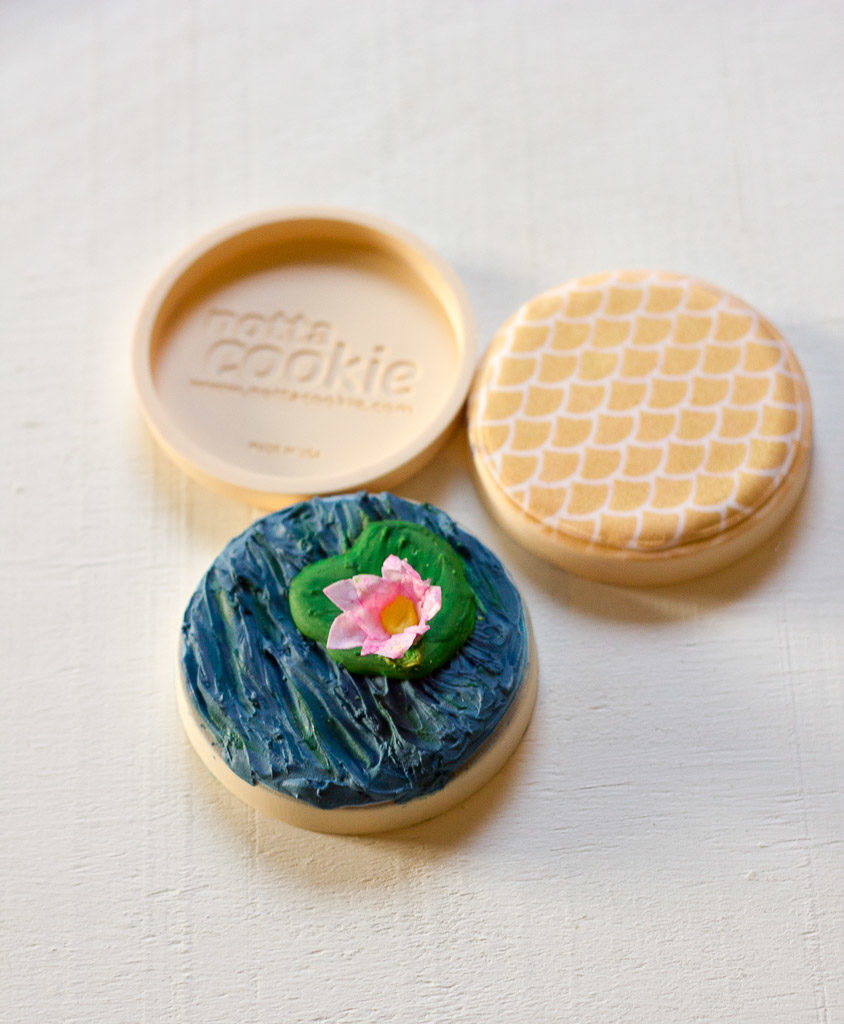 Then people started talking to me and offering to trade cookies. In that moment I was so glad I brought two batches of my caramel chocolate chip cookies to trade!
Look at all these beautiful cookies that people traded me for my chocolate chip cookies. Not pictured are all the other gifted non-sugar cookie treats and goodies that got eaten over the course of CookieCon. Sheepish grin.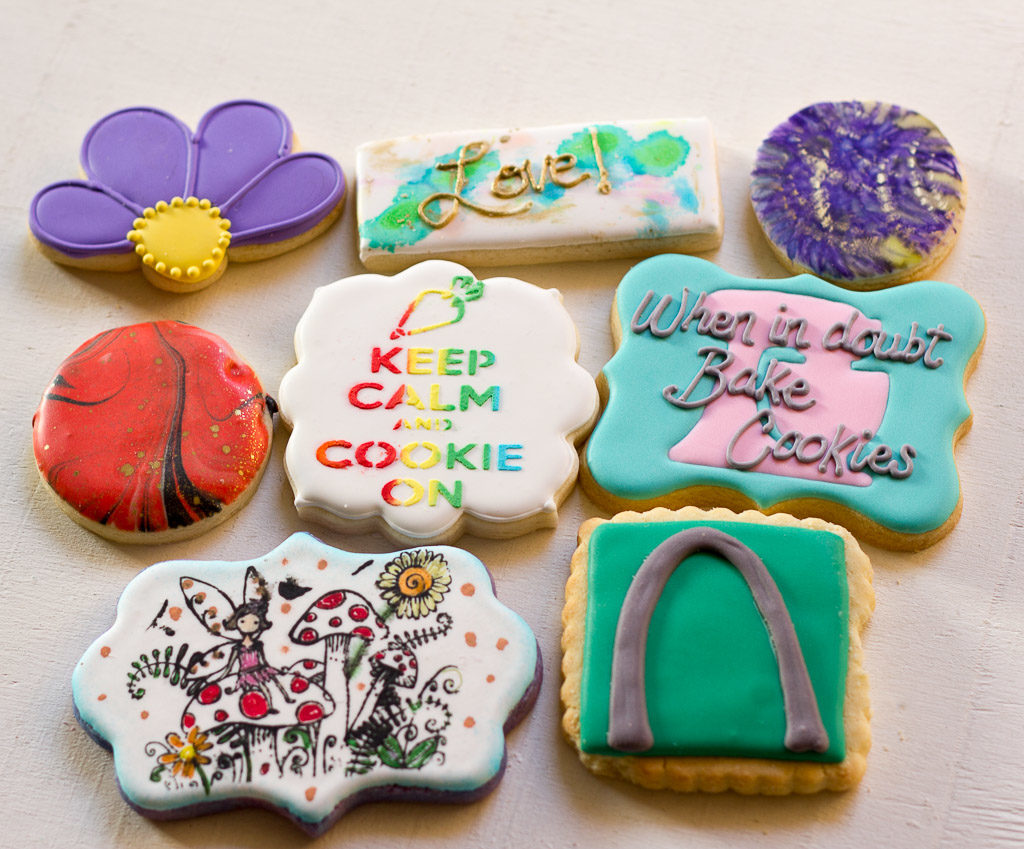 The one in the center was the cookie I got as part of the official Cookie Swap. The rules are that if  you bring a cookie to an appointed table, you will be given someone else's cookie. I  love the cookie I got at the swap from Flour & Faith Bakery. "Keep Calm and Cookie On" is probably my life motto. Decorating cookies is such a calming thing in my life. I left a pretty little teapot cookie at the swap table.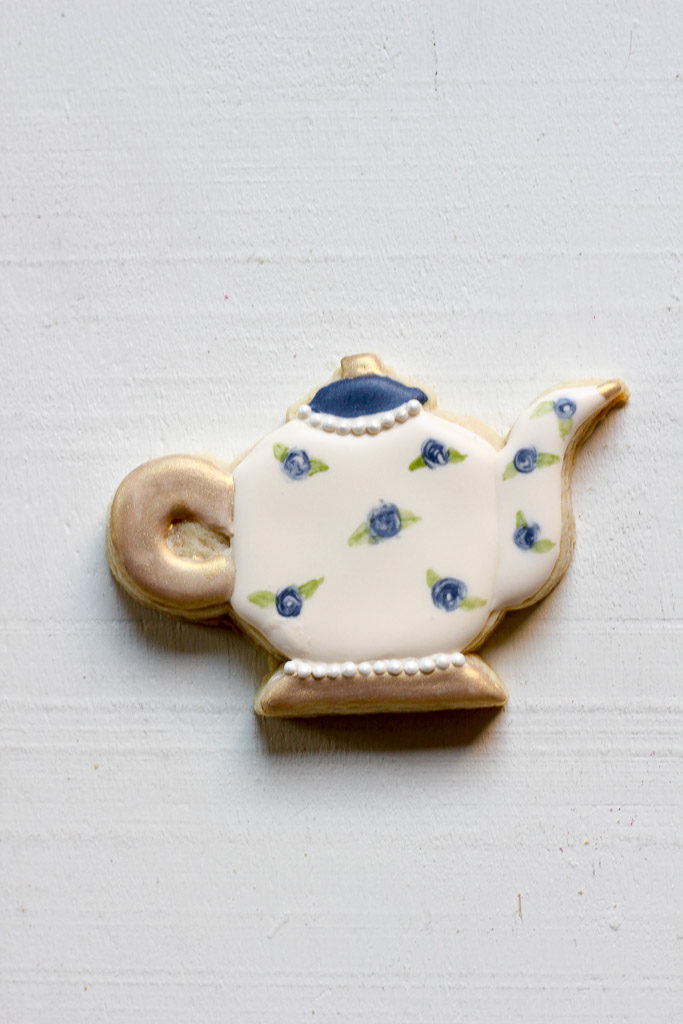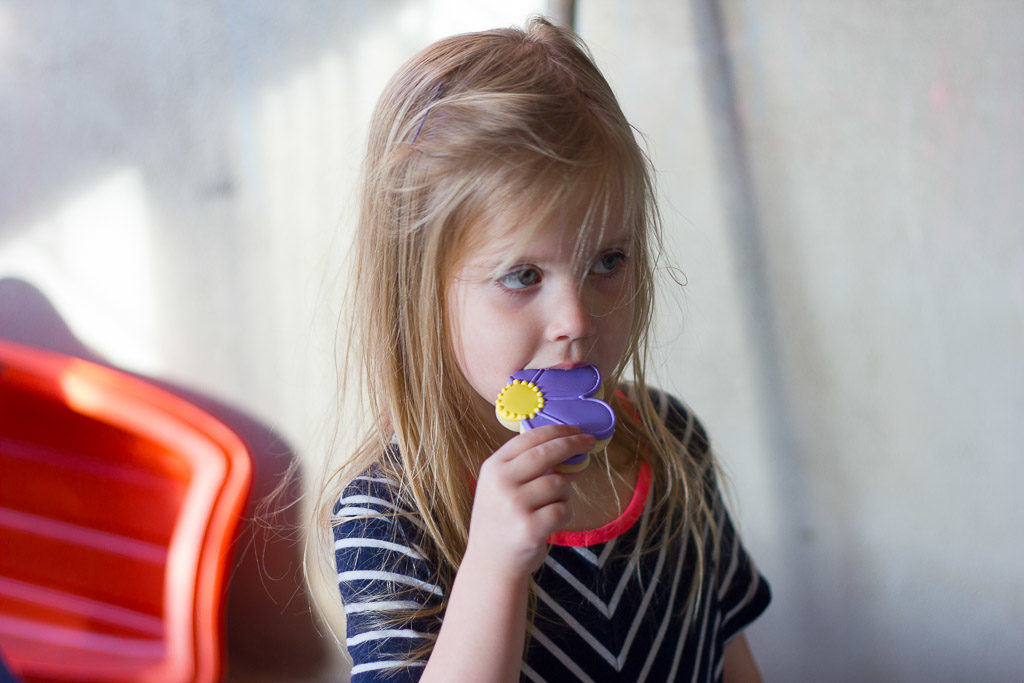 My daughter was pretty excited that I brought cookies home, too. She insisted I take a picture of her biting a cookie.
Next, I entered some cookies into the Sugar Show. The Sugar Show is a cookie showcase competition. Everyone at CookieCon can enter their cookies. There were three categories: Cinema, Food and Beverage, and Anything Goes. I only had time to make cookies for one category because life with a newborn has been a little crazy. I made Fantasia Nutcracker Suite cookies for the Cinema category. They aren't as spectacular as most of the other entries there, but I am still so proud of them!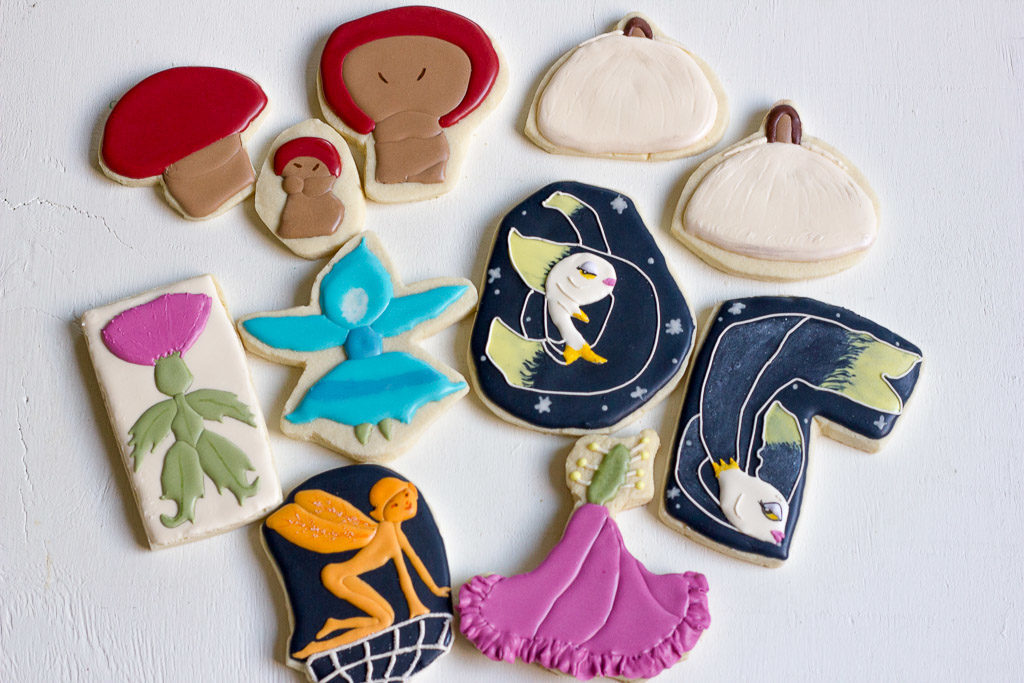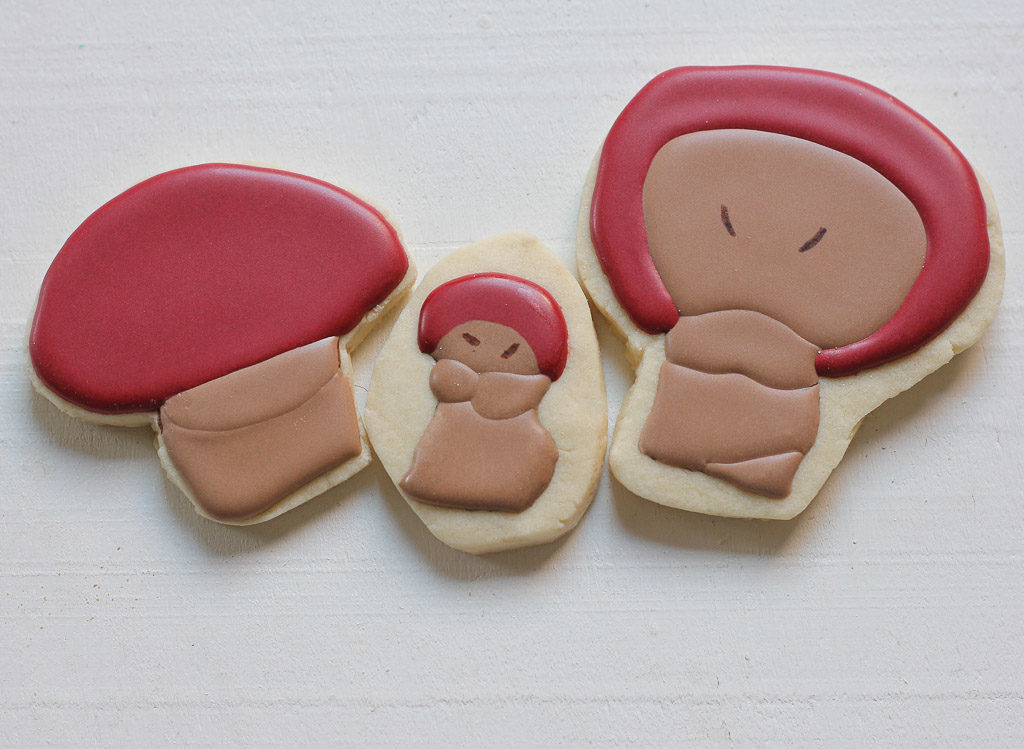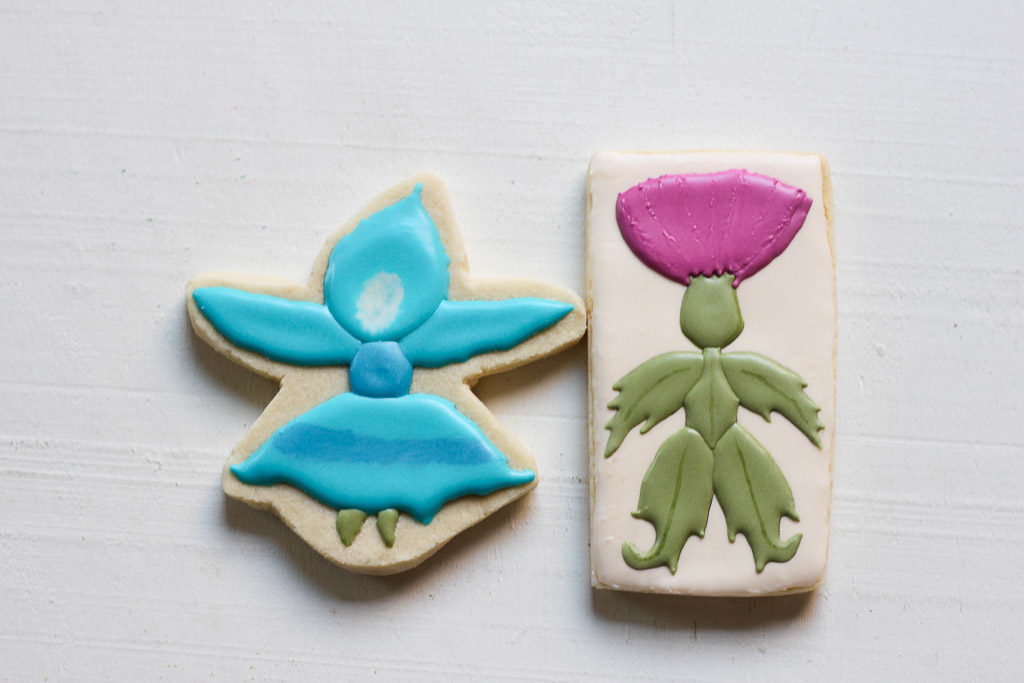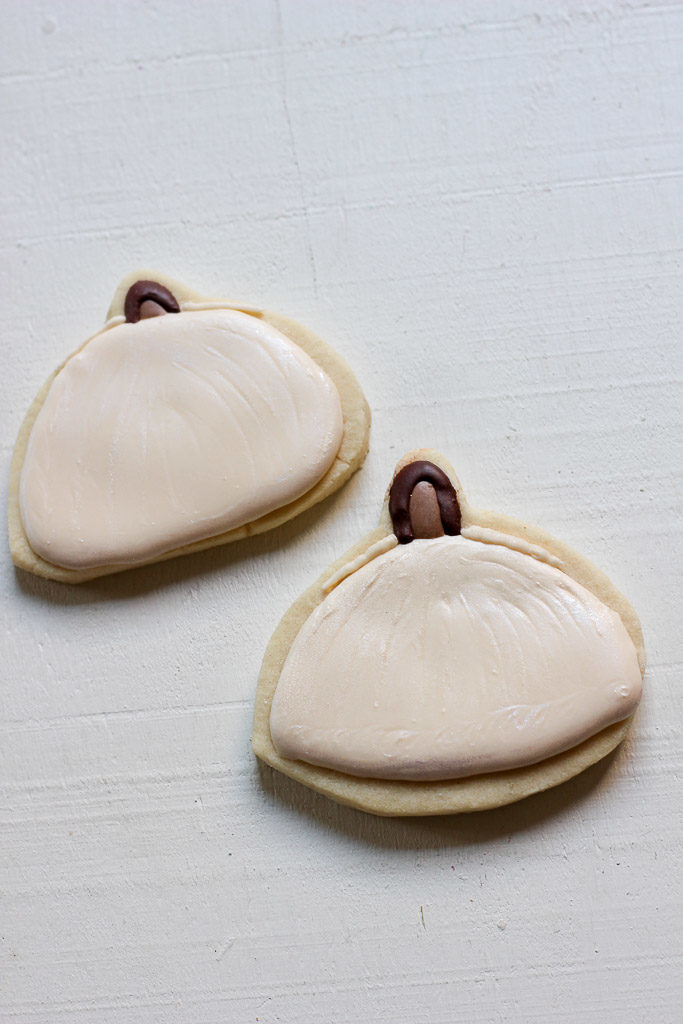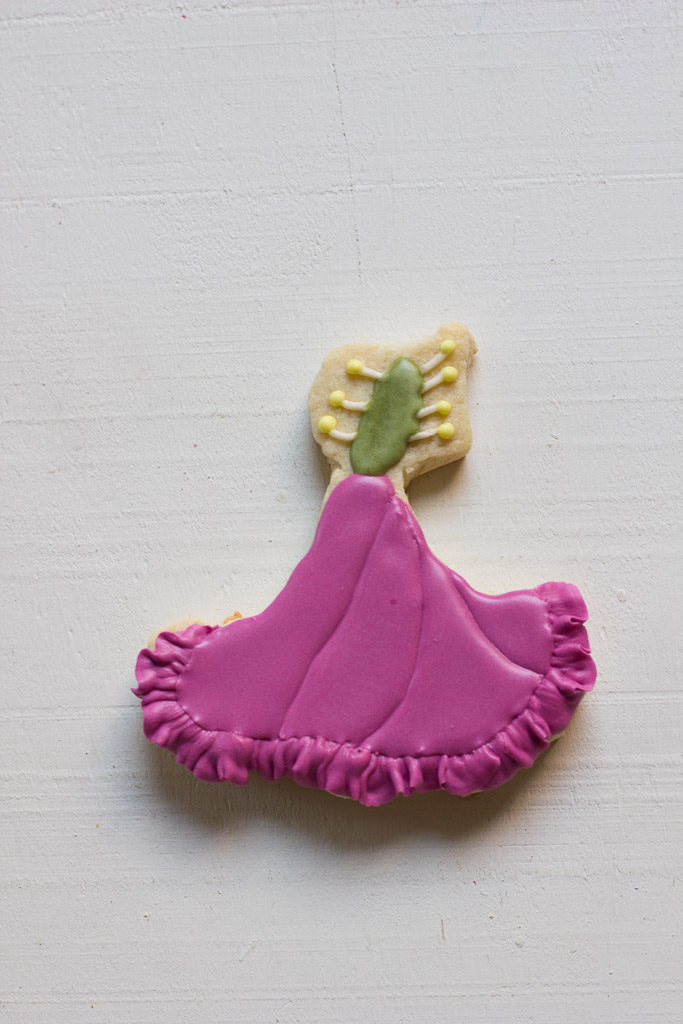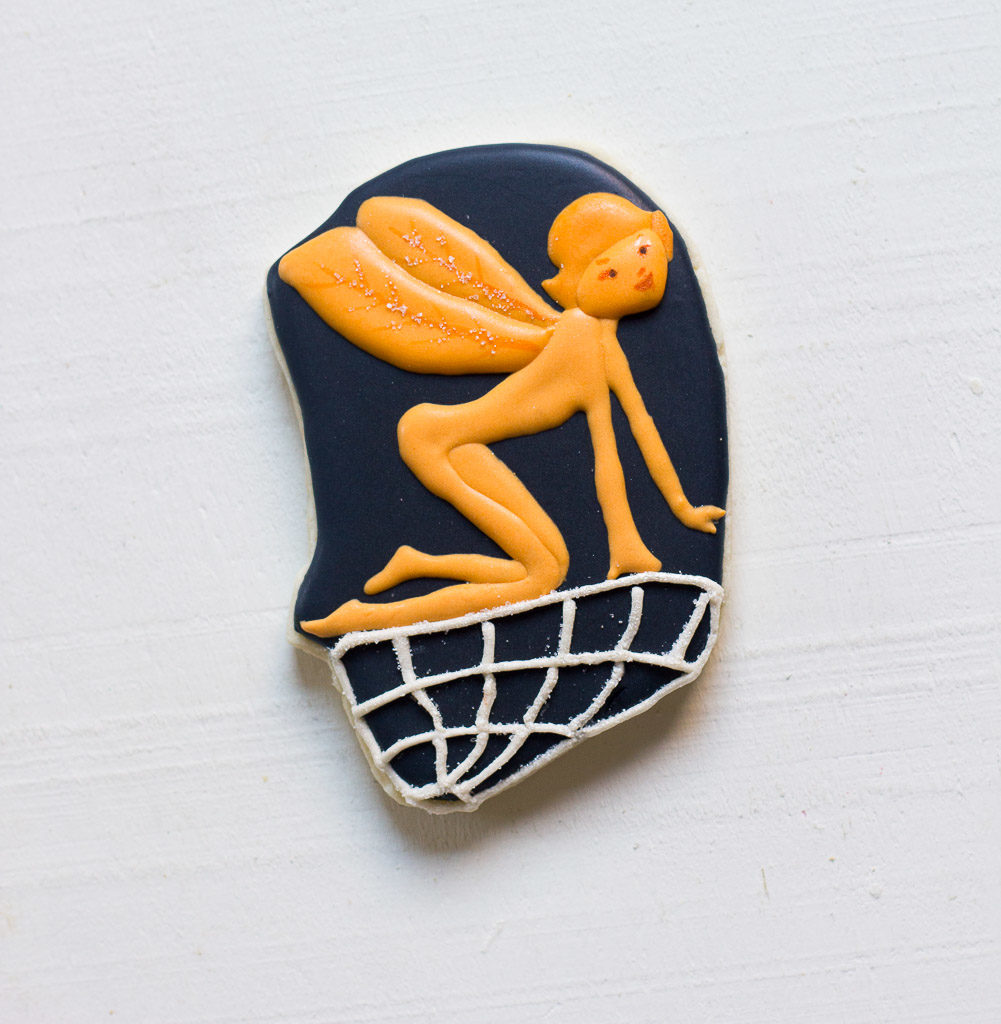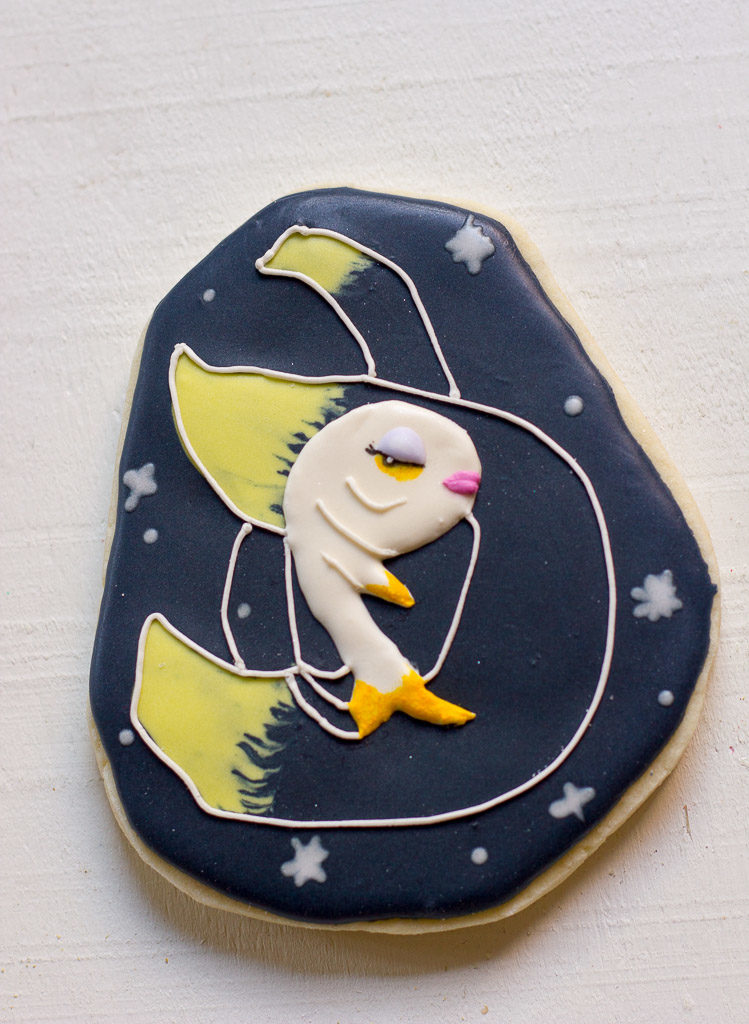 I was so amazed by the many beautiful pieces of edible art. Yes, they are all made from edible mediums!  There were so many that I loved that I simply didn't have time to photograph.
Here are some of my favorites from the cinema category: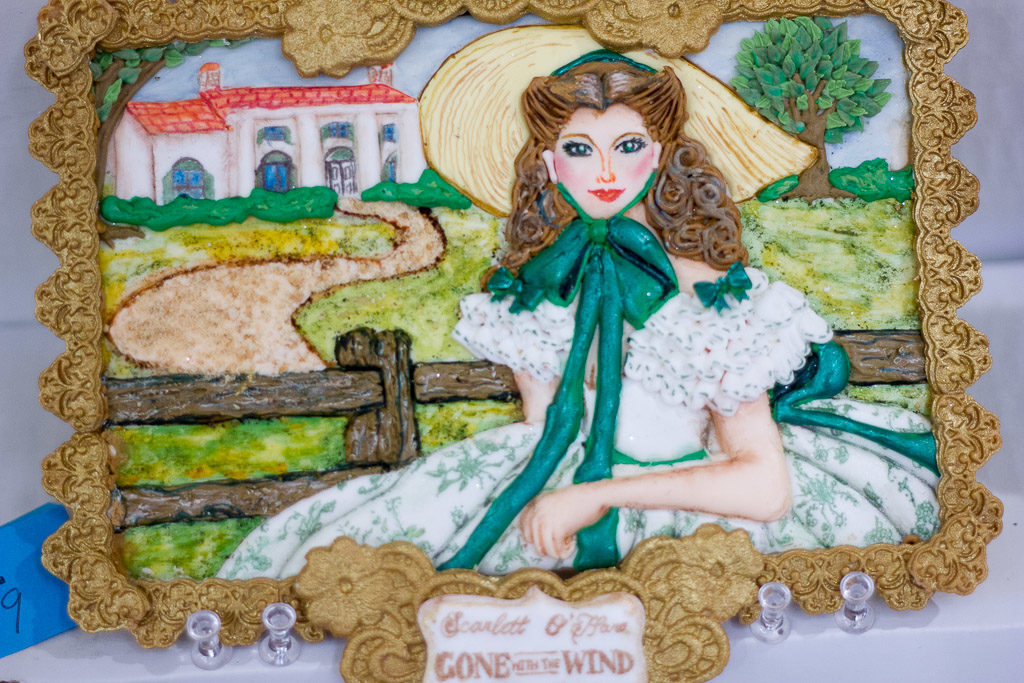 Scarlett O' Hara cookie by Chu a Cookie . I love the detail and texture in this cookie.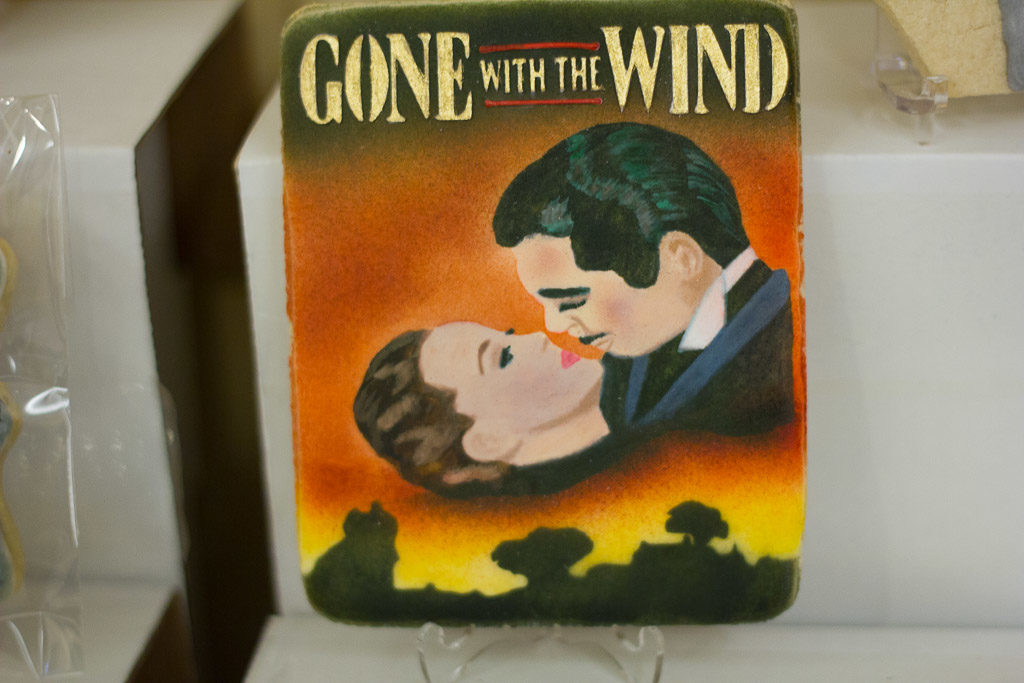 Another Gone with the Wind cookie. The paint work by Chelsea Baker from Sweet Southern Stencils is stunning!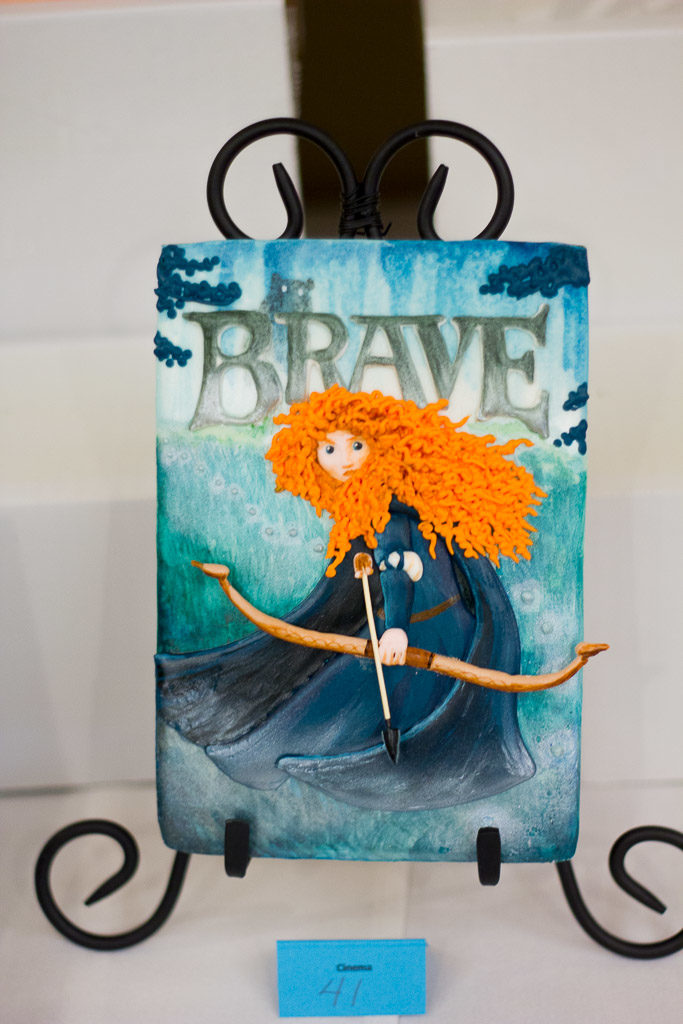 This Brave cookie by Emily Belcheva is one of my absolute favorites in the whole show! It actually took first place in the cinema category. That hair is amazing!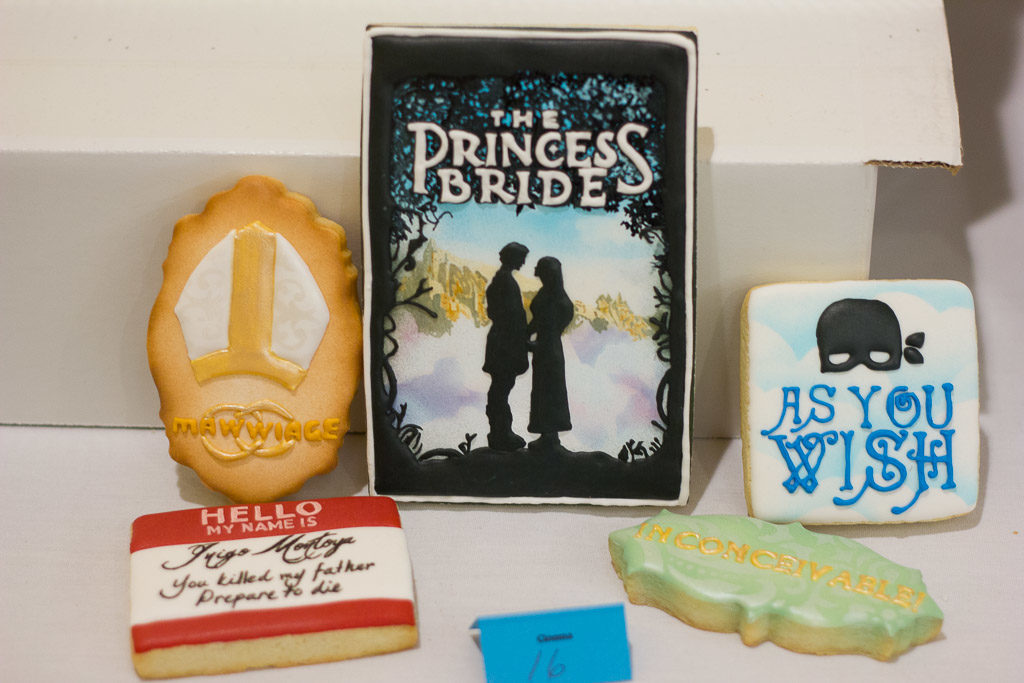 Princess Bride cookies by Sweets Bakery. The big one in the middle is just amazing. The paint work in the background, the silhouette effect, and the lettering!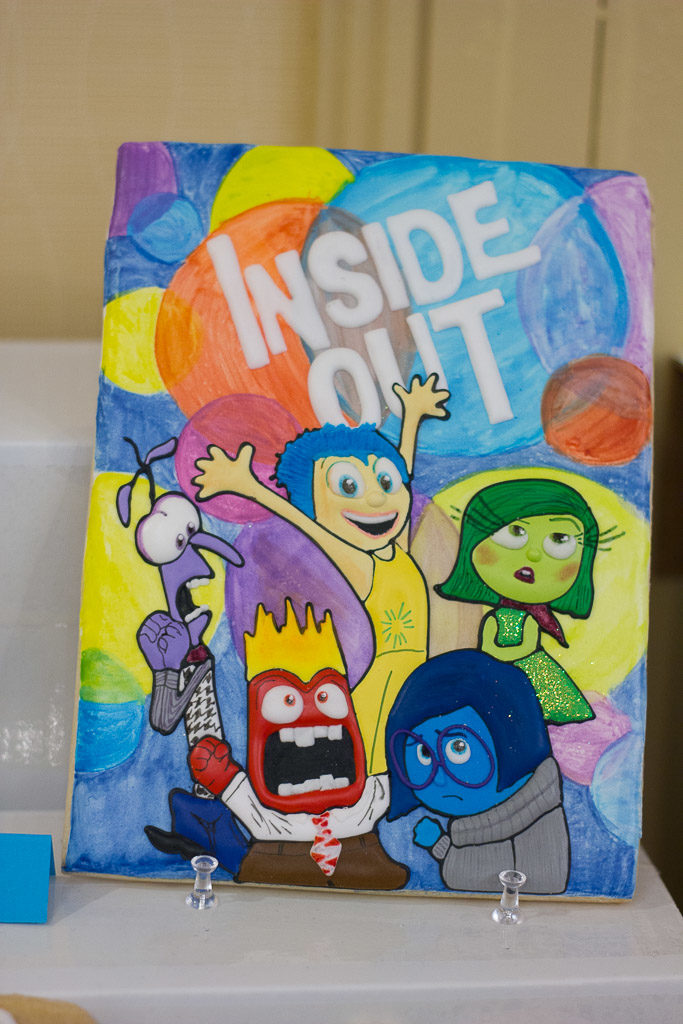 This Inside Out cookie is by Laura Babjak-Merkel from Laura Cookie Lady. Characters can be hard to create with royal icing, but she nailed these characters!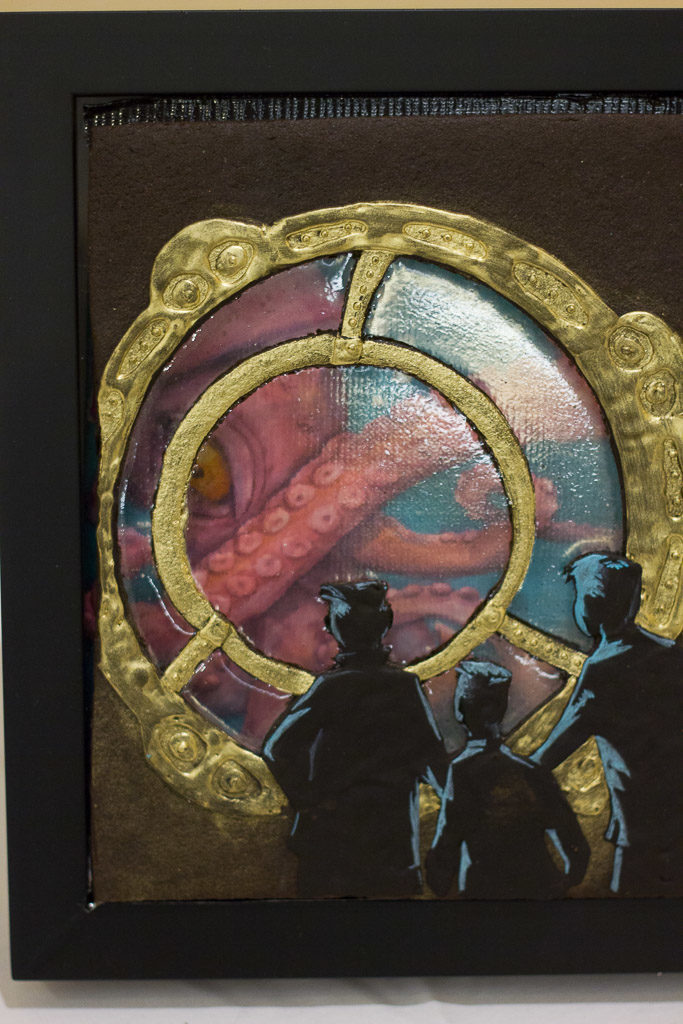 JUST LOOK AT THIS COOKIE!!! By Cookie Cowgirl. The octopus layer, with the clear isomalt on top, followed by the little boys looking out of the submarine. The shadowing on the boys is just so perfect.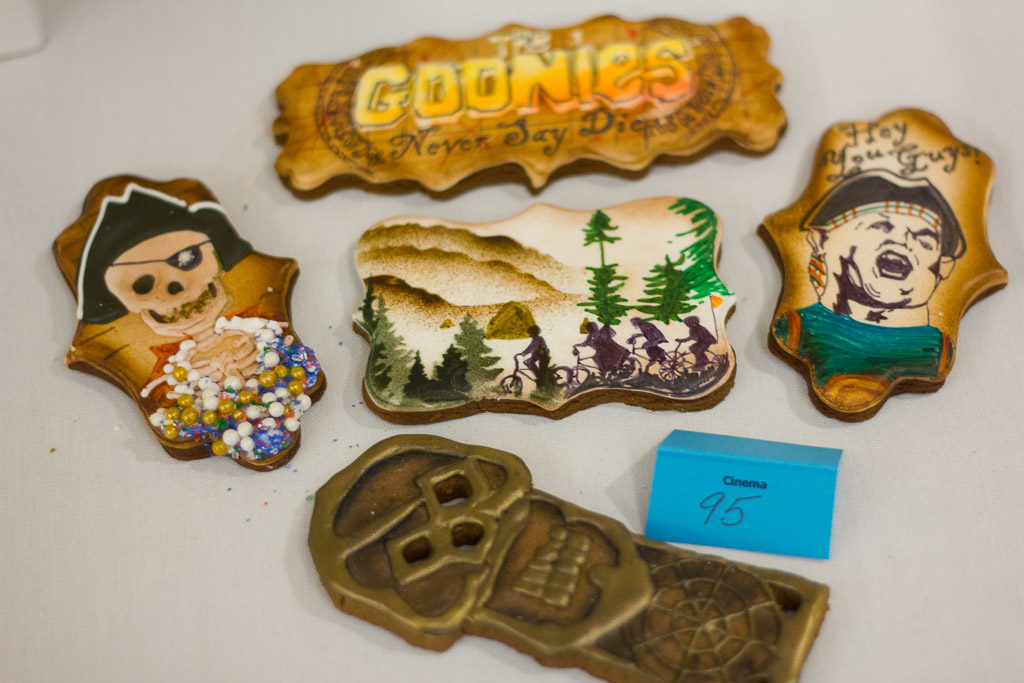 These Goonies cookies are by Fernwood Cookie. I love the detail, the way the color scheme just fits together, and the little biking kids on the middle cookie.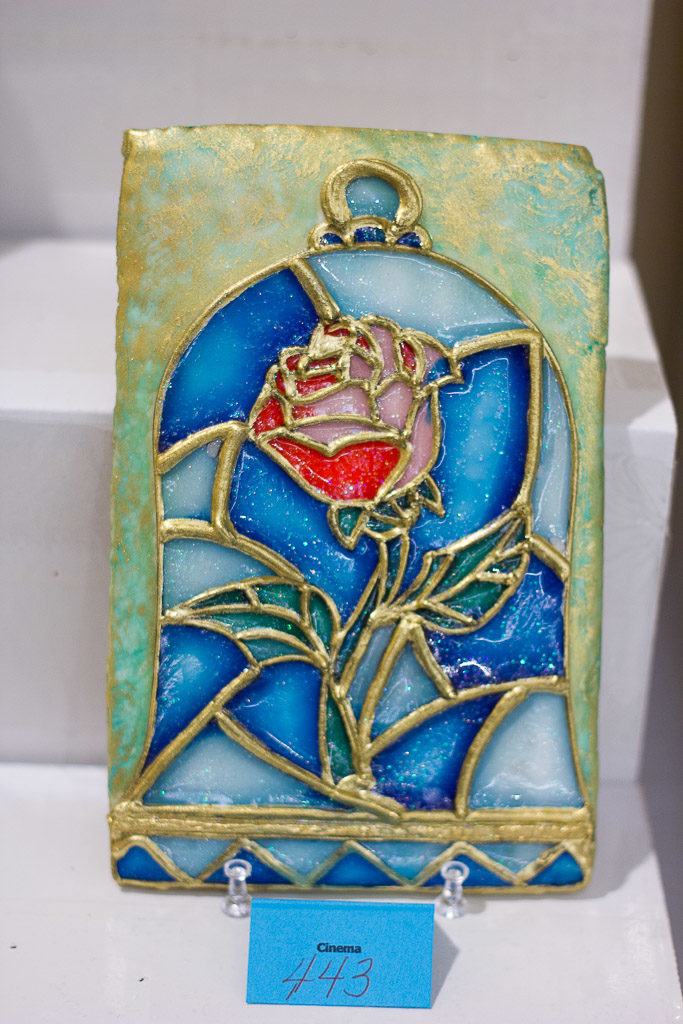 Isn't the stained glass effect on this Beauty and the Beast cookie from Cookie Couture by Sarah, just beautiful?
Here are some of the cookies from the Food and Beverage Category: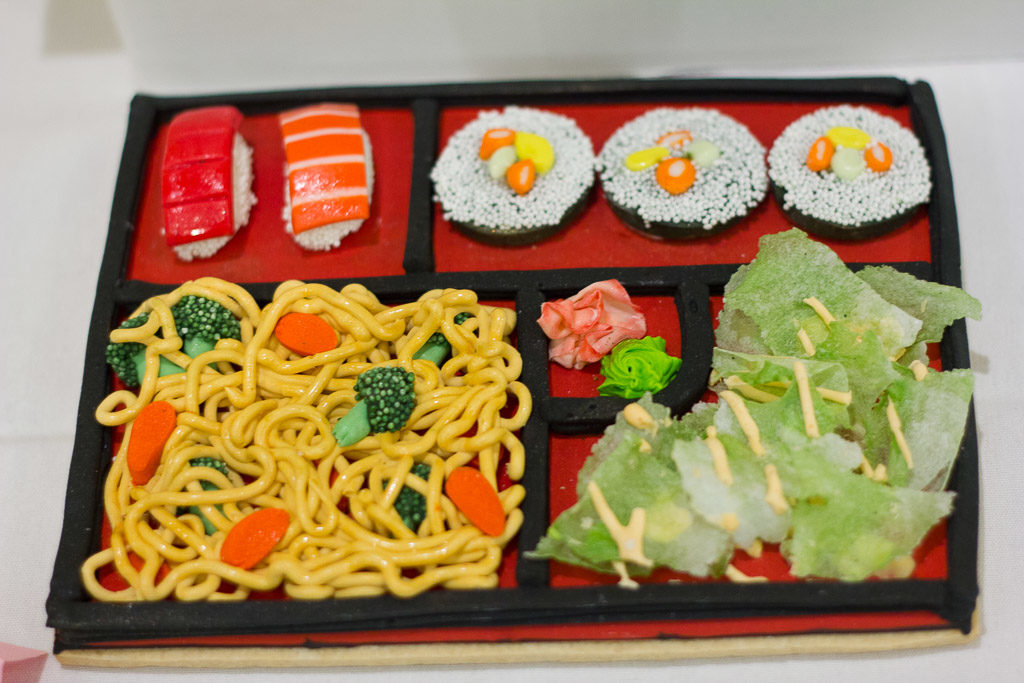 This Bento Box is just so realistic! I love the life sized and 3D nature of the cookie. From the wafer paper seaweed salad to the sprinkle broccoli, its just beautiful.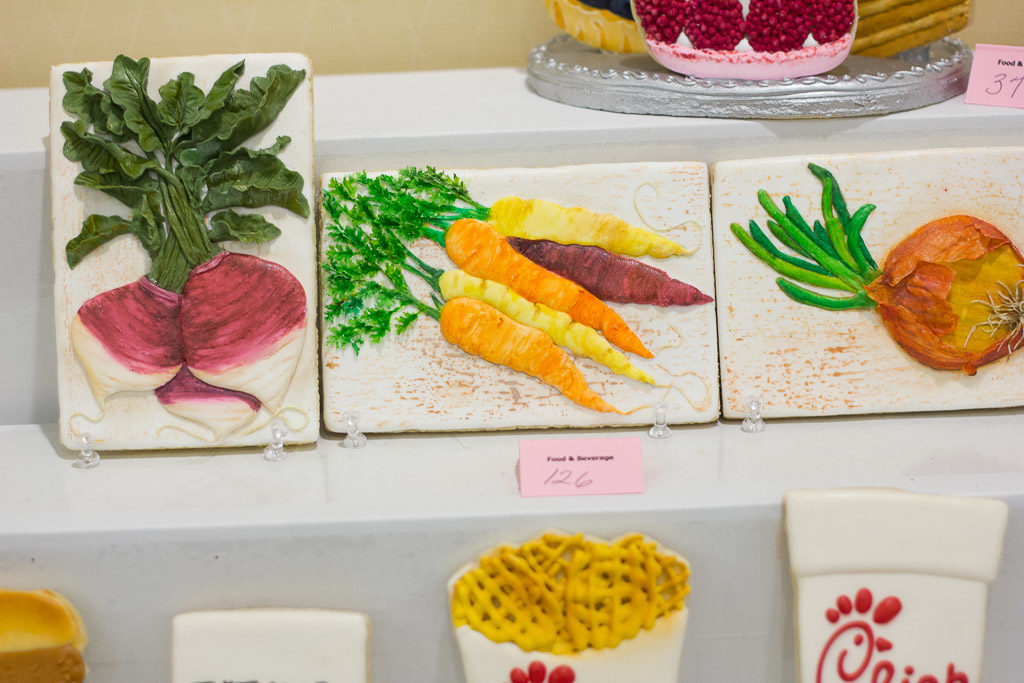 This hand painted veggie cookie set by Rachel Murray, is one of my all time favorites. I can't get over the onion! Look at those roots and the crackling, papery onion skin!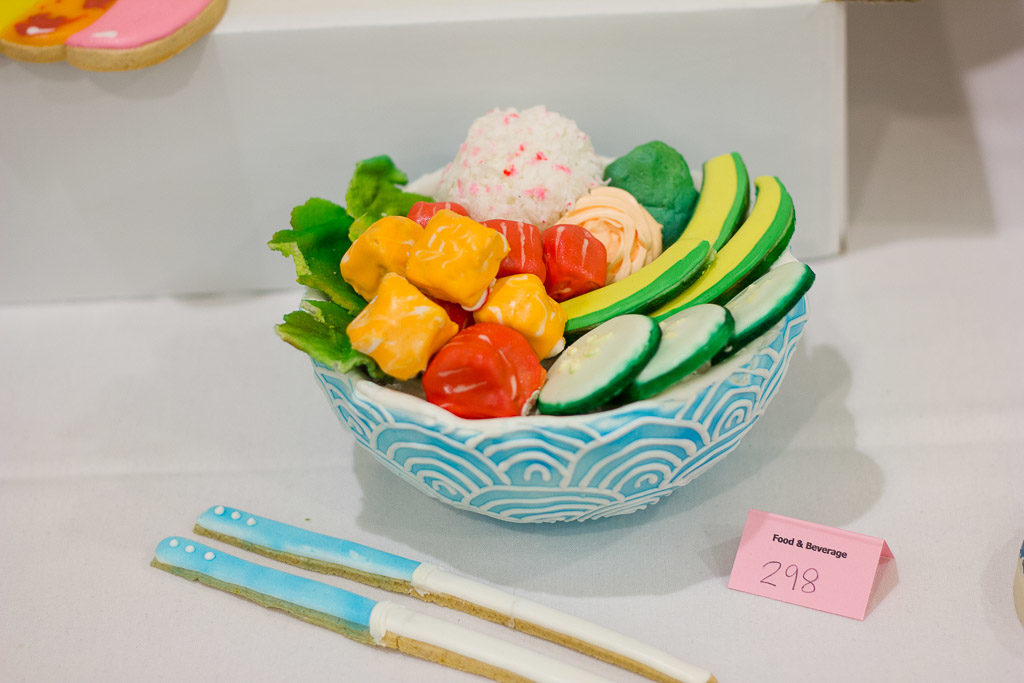 This 3D Poke Bowl by Sugared & Iced is just so cool! It makes me hungry!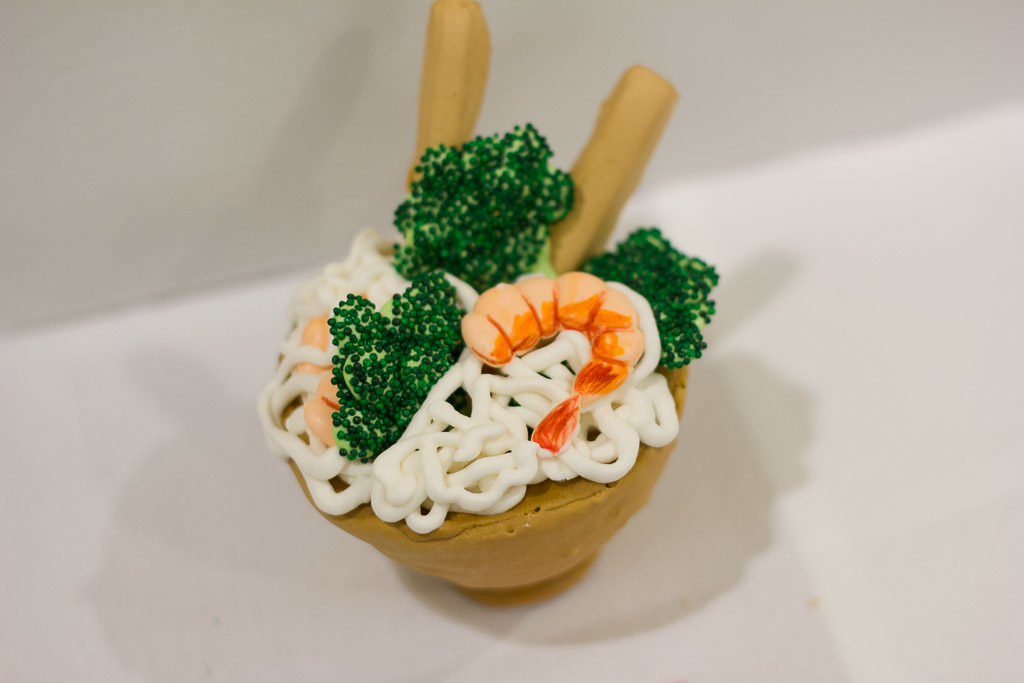 Another beautiful 3D food bowl by my new friend Amanda Hawkins. Those shrimp are my favorite part!

Tv Dinner anyone? I love the way the breading looks on the chicken.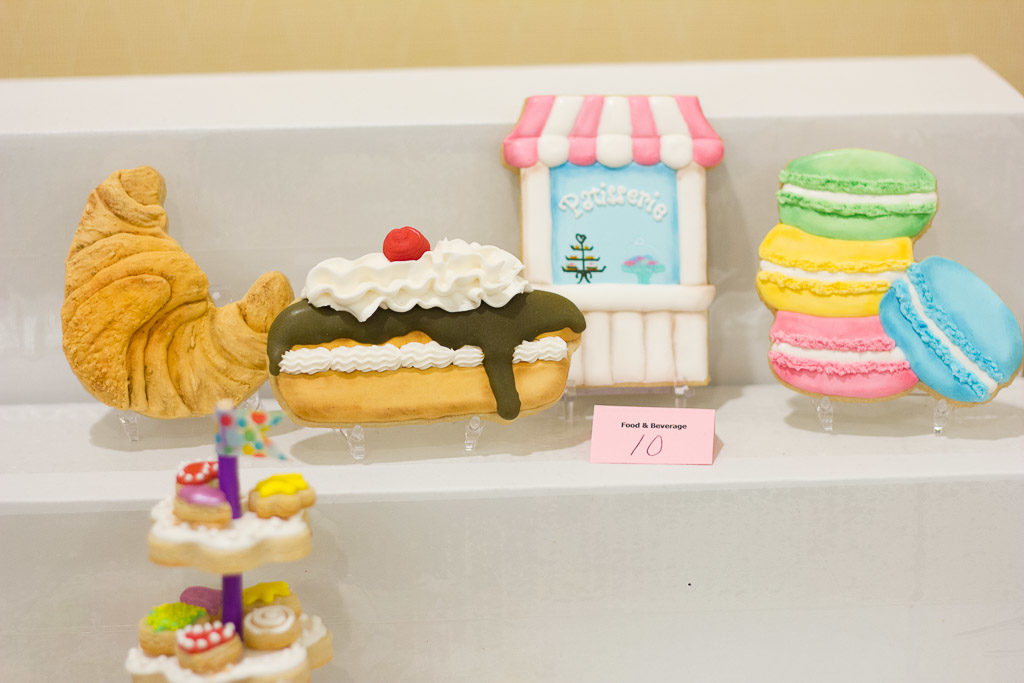 Aren't these cookies by Dusty Olson from Dusty's Cookie Jar just stunning!? I just cant get over that croissant! Its just so real looking!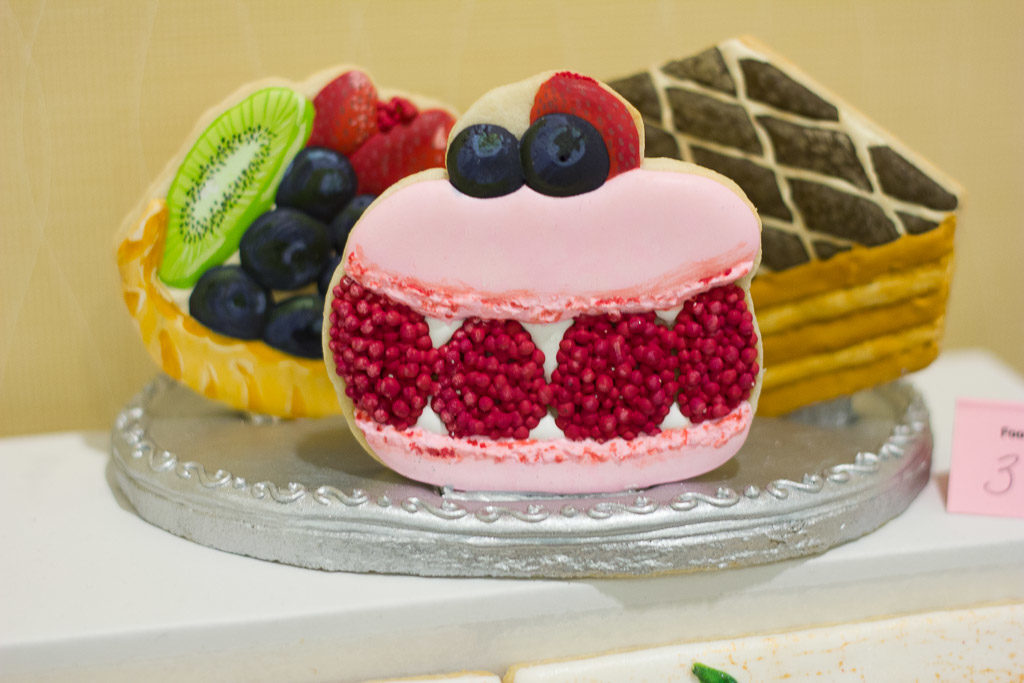 More beautiful dessert cookies by Christina Garcia from Dlish Custom Designs. I love that macaroon and the texture.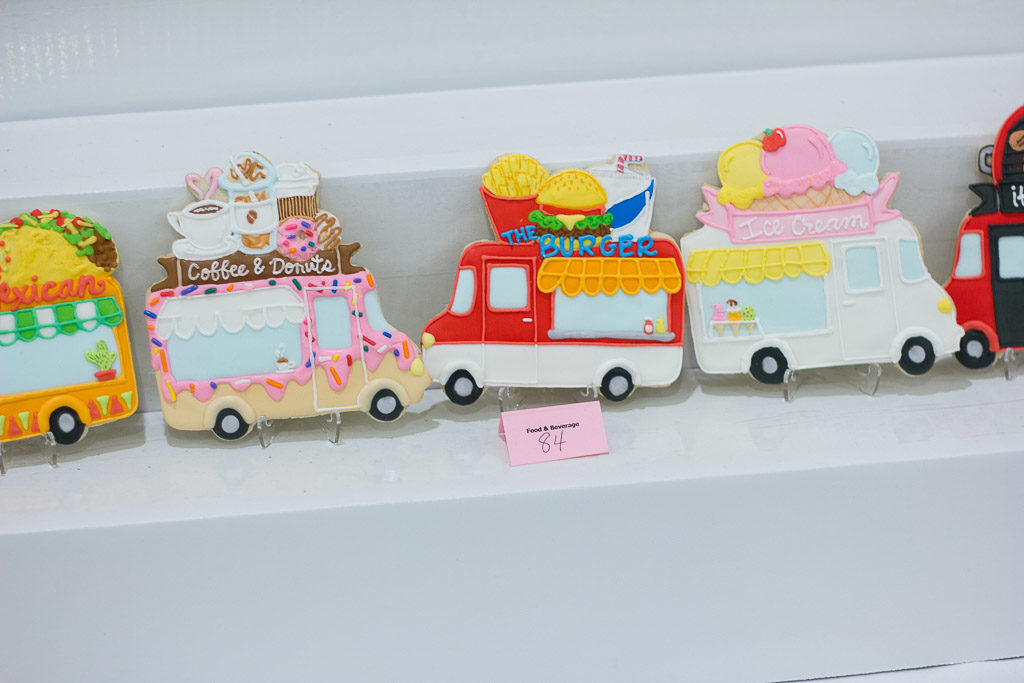 Food trucks for the win! I can't get over the cuteness of these cookies by Sam Decker.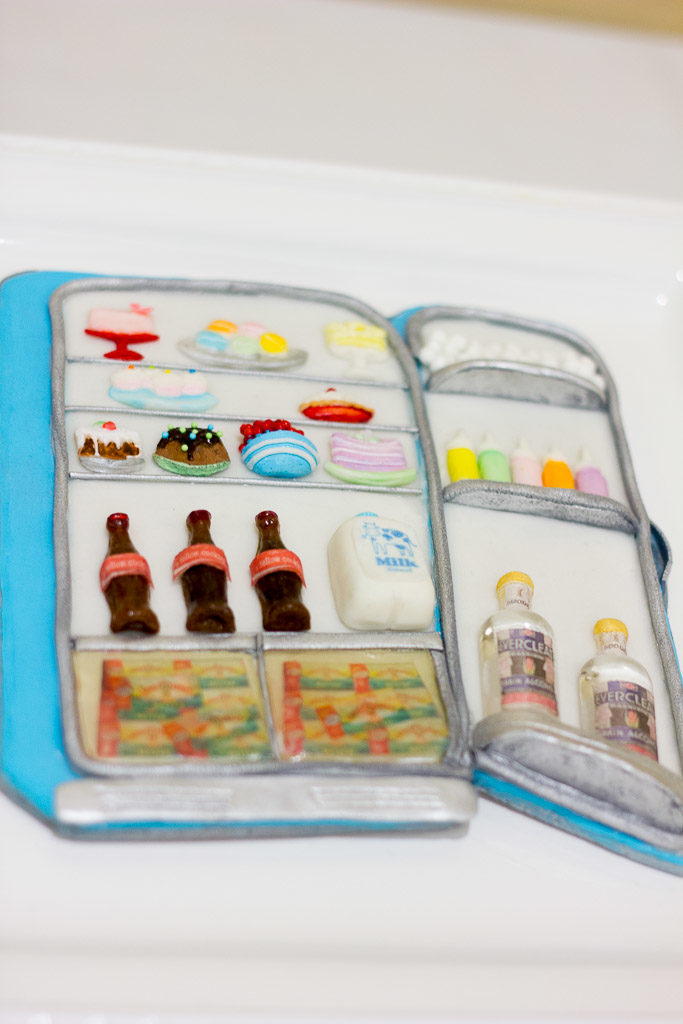 This stocked fridge cookie by Deborah Stauch from Once Upon a Pedestal is definitely the fridge of a cookier! Piping bottles, lots and lots of butter, eggs, caffeine for those late night jobs, and Everclear Vodka for mixing with luster dusts and cleaning out airbrush guns. So many cool techniques on this one.
I ran out of time to get pictures of all my favorites in the Anything Goes category, but here are just a few of my favorites: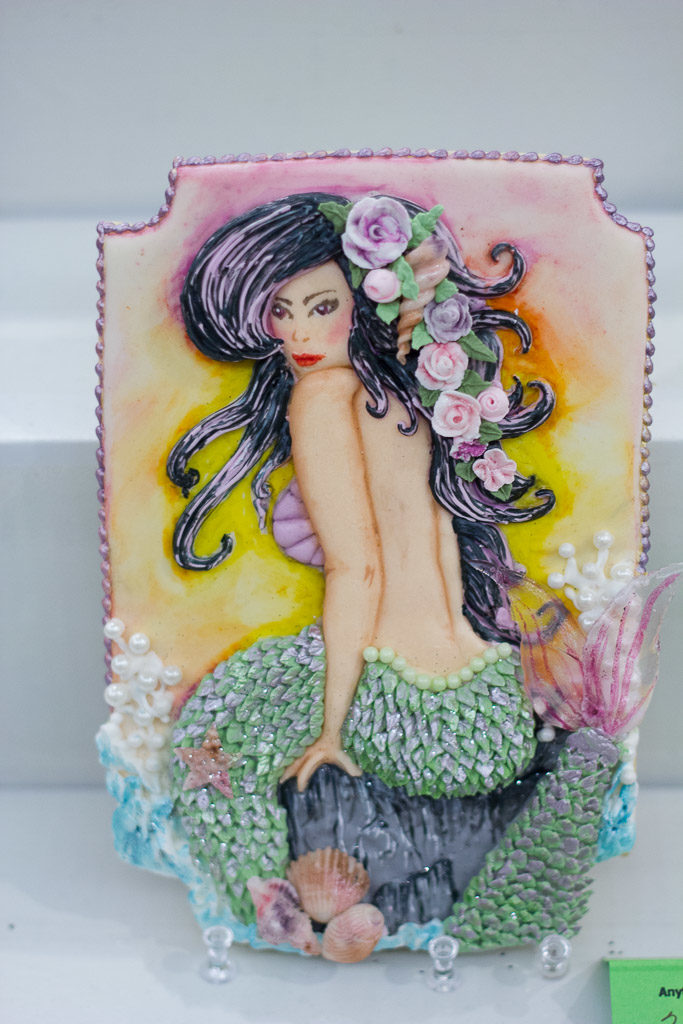 This mermaid cookie by Chu a Cookie is just incredible! The scales, the tail fin, the waves, the hair!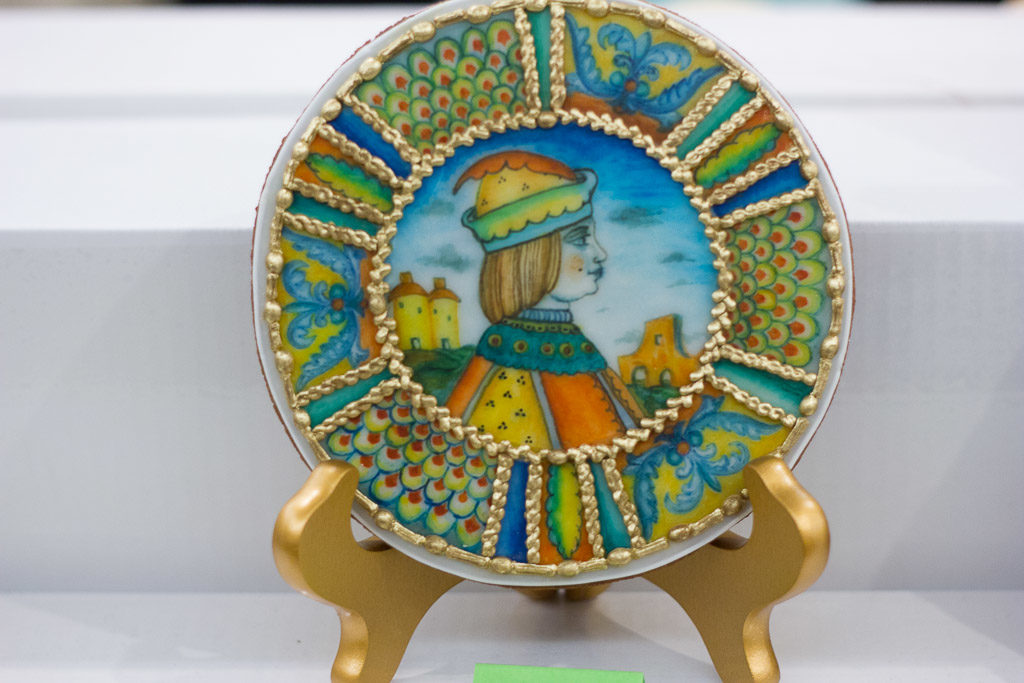 This cookie by Barb Florin of Bakrgal is in the style of an Italian ceramic portrait plate. I think its just beautiful!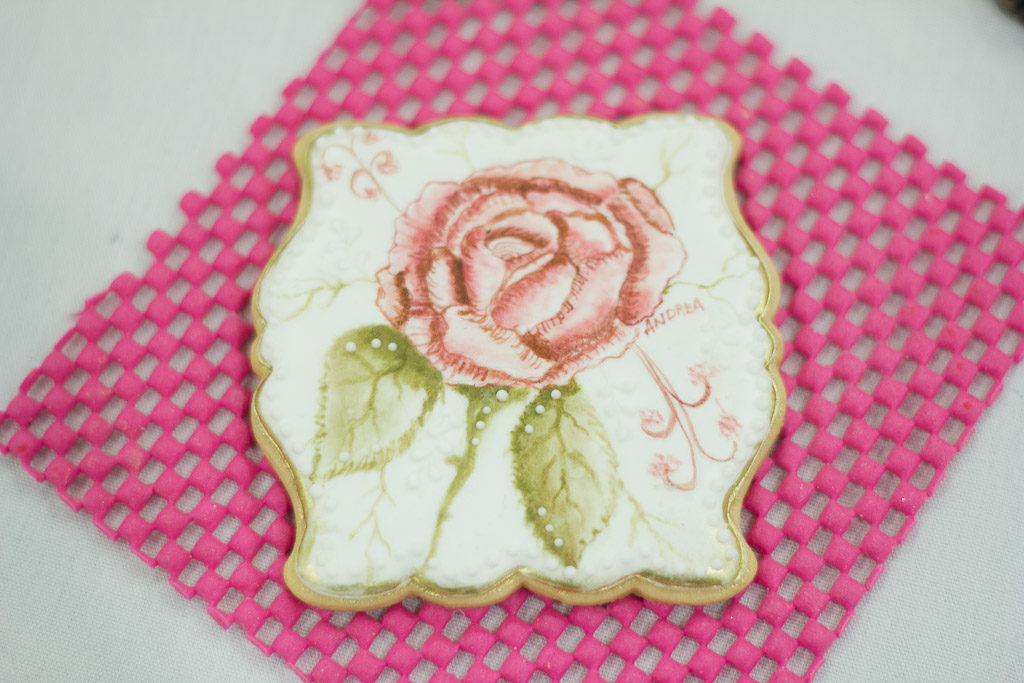 This hand painted rose cookie by Andrea Sanchez is just so elegant.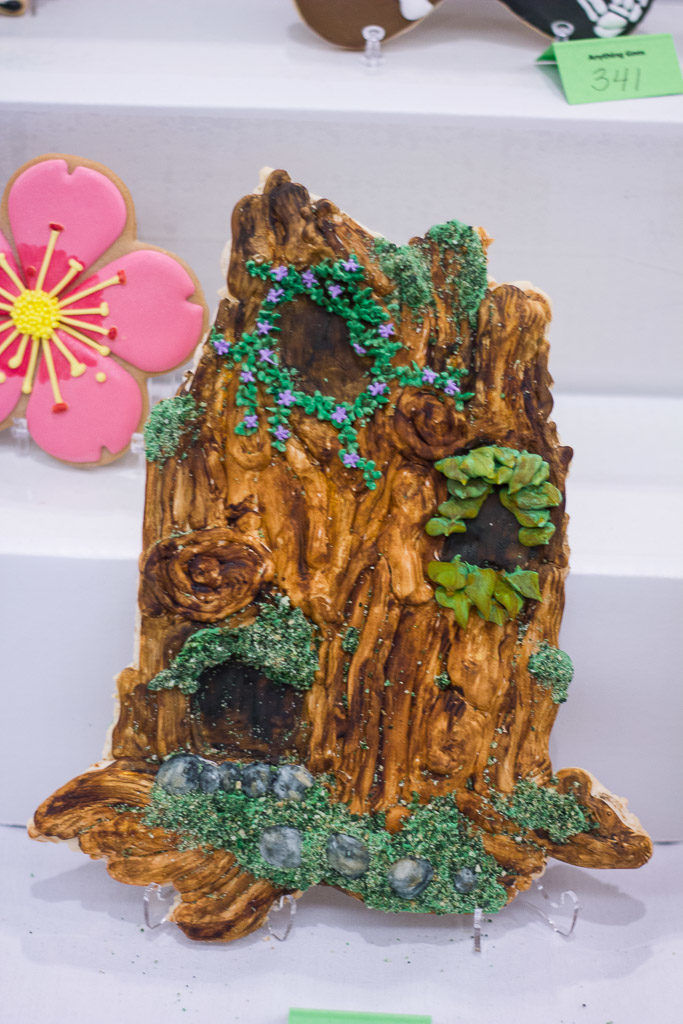 A cookie fairy tree! This one is by Sugared & Iced and its huge and beautiful! I love cookies that look like wood!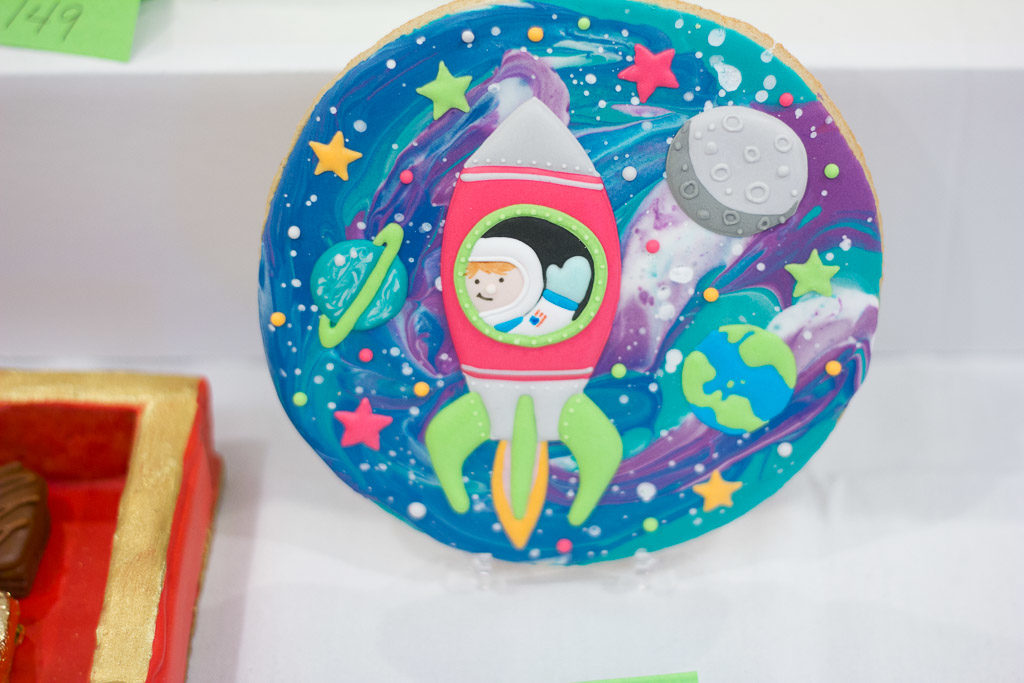 How cute is this cookie by Banana Bakery? I love the galaxy swirl and the bright colors.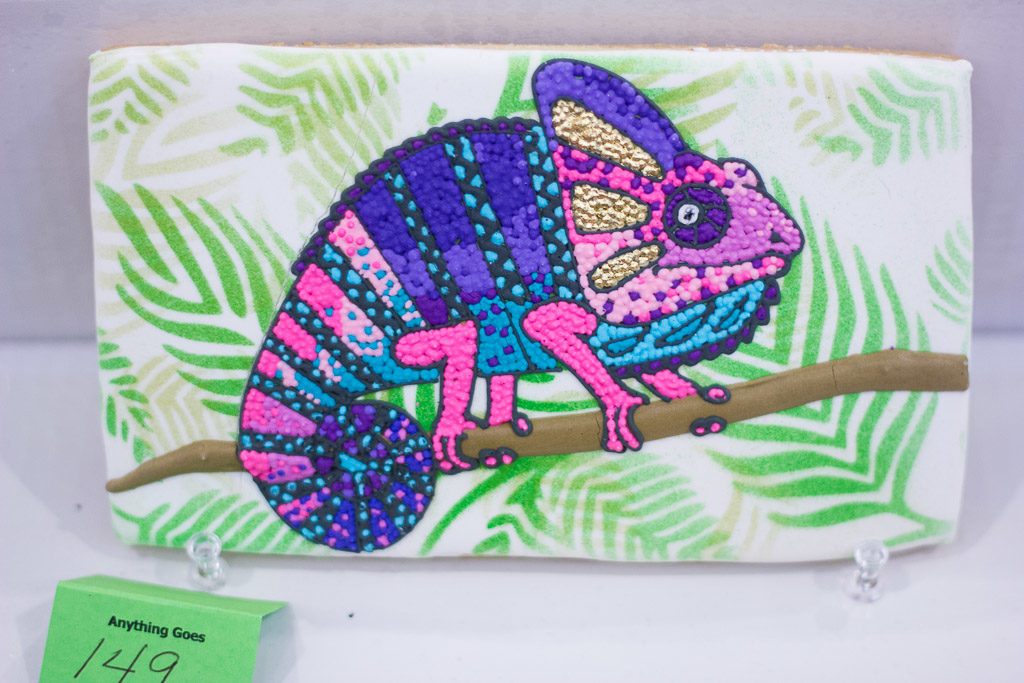 A pointillism icing chameleon? LOVE IT! By Andrea's Oven.
There was also an non-competitive part of the sugar show called Cookie Town. Everyone brought a cookie of a house, a shop, a landmark, or anything that would fit in a town. I brought a cookie of my grandma's old A-frame house from my childhood.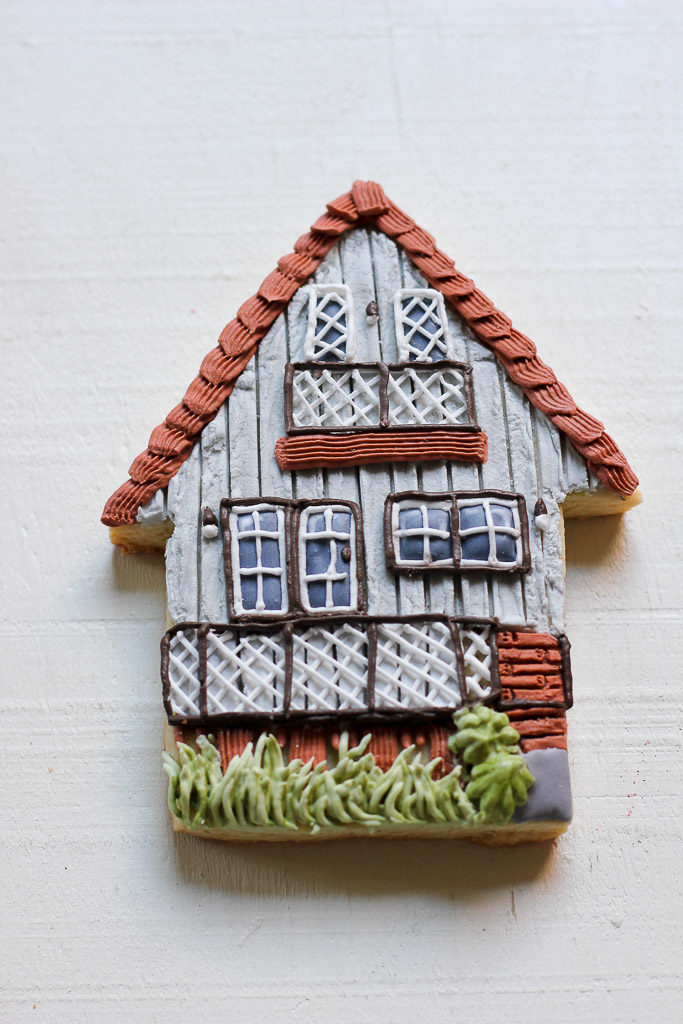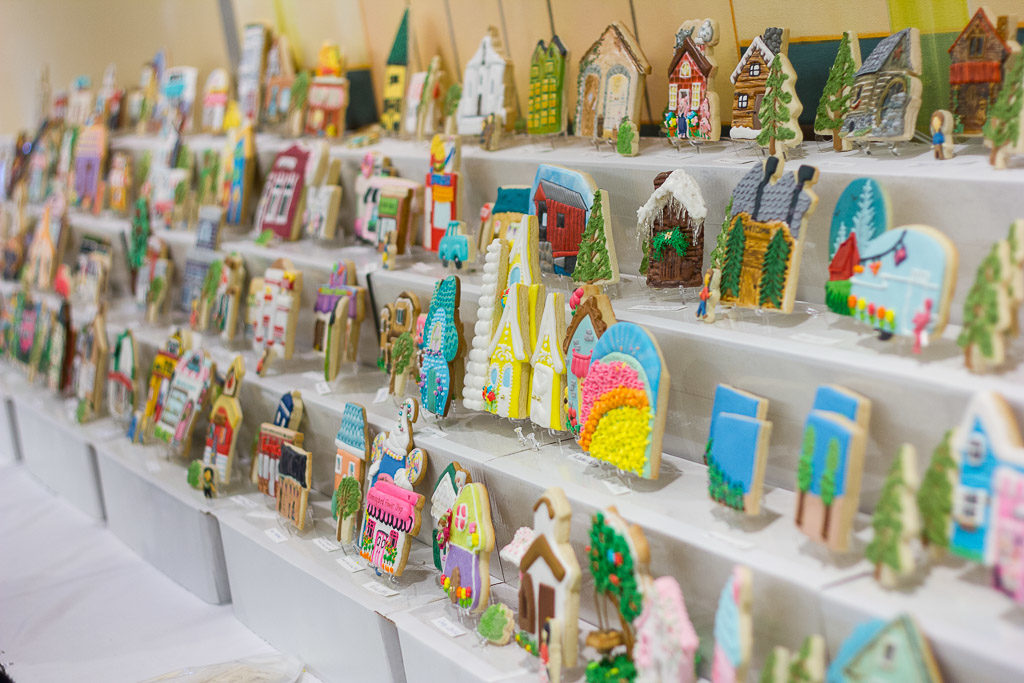 It was incredible to see Cookie Town in its entirety. So much talent and heart! Here are a few of my favorites: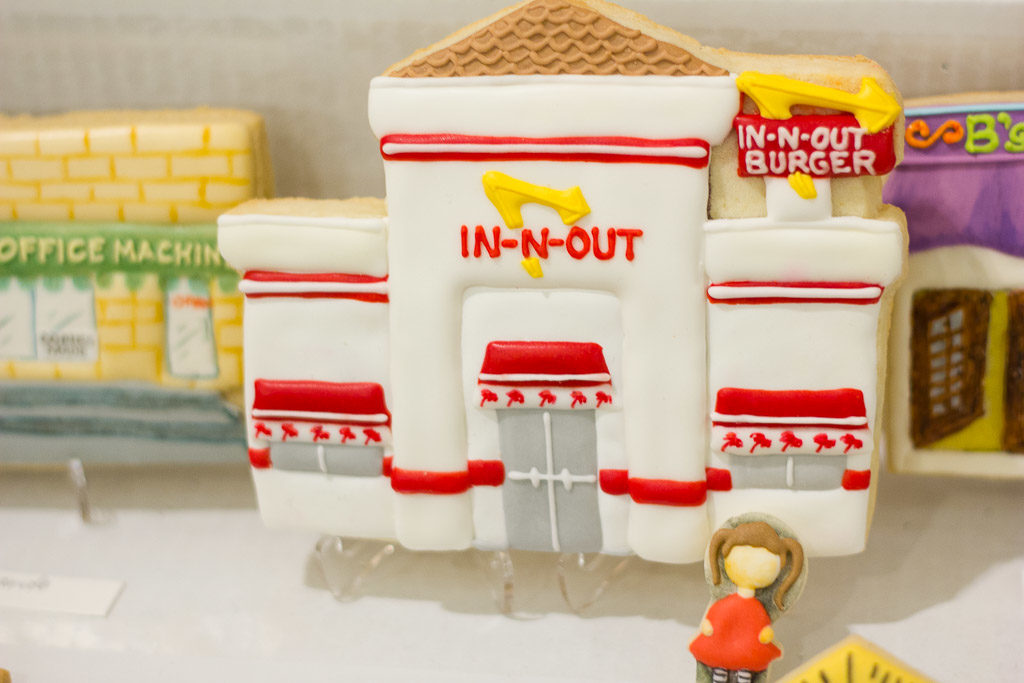 I thought this In-N-Out was just so cute!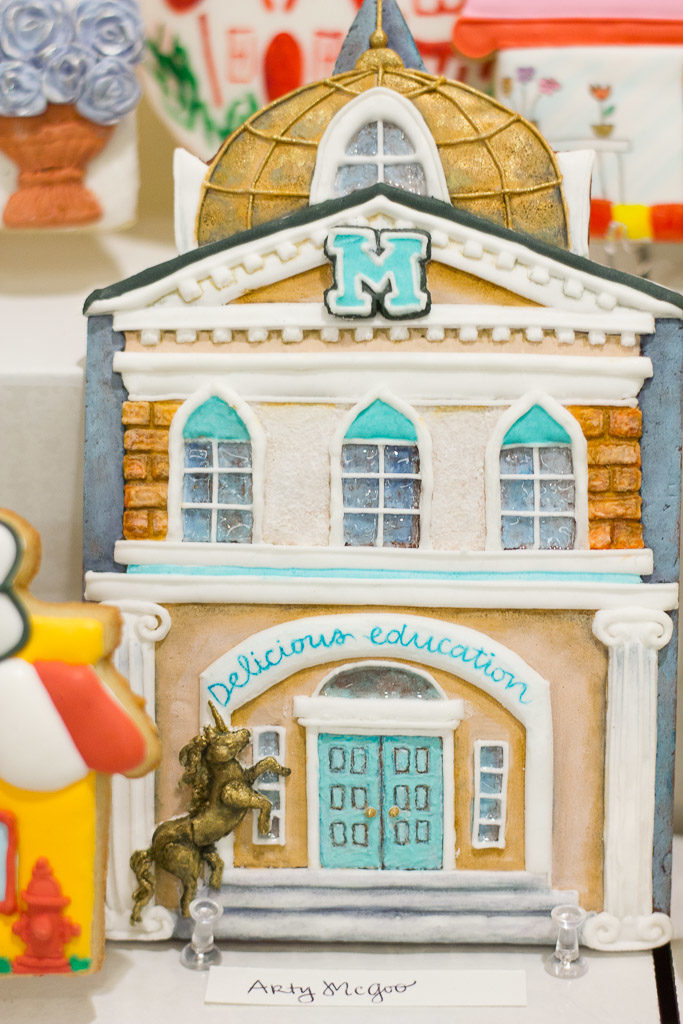 I loved McGoo University by Arty McGoo. She also made all the trees and adorable little people that populate Cookie Town.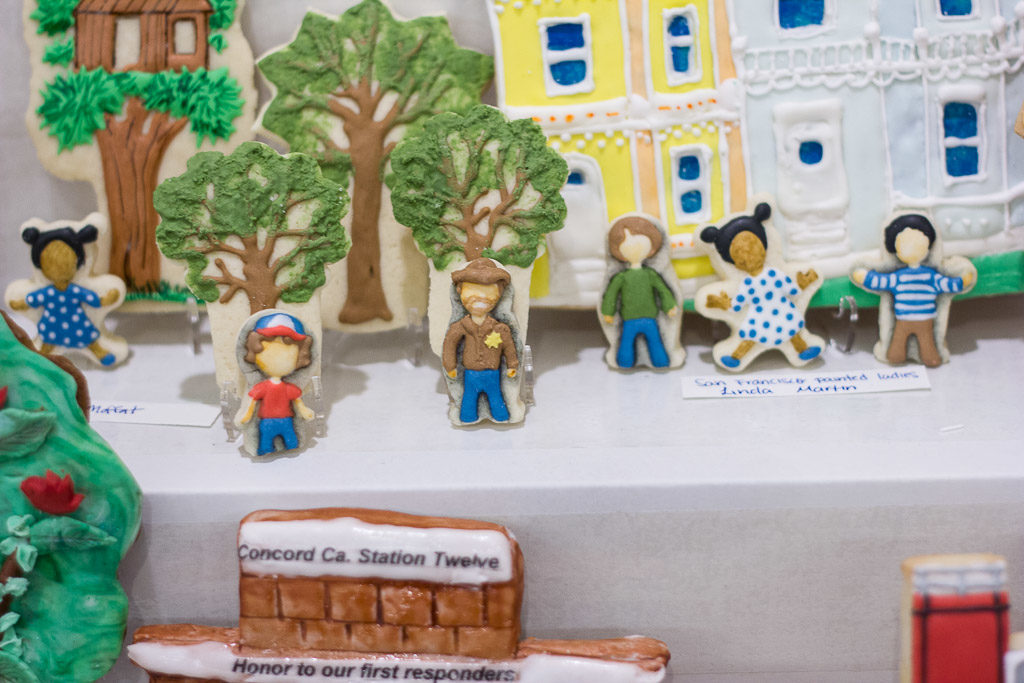 After some ice breaker games, we had a key-note speaker, Katy Metoyer, also known as The Sugar Dayne. I was a little star struck, to be honest. She is one of my many cookie idols. Her work has a very distinct style. A free spirit style than I don't think anyone can recreate. She didn't talk of icing techniques or running a cookie business. She talked about love and loss and friendship and how cookies fit among it all. I felt like I was among my people. People who use cookie decorating to cope. Who feel an outlet when a piping bag is in their hands.She said four things that meant a lot to me.
1. She started as an amateur. She wasn't instantly amazing, like she is now. Over time she improved and developed a style all of her own. It was encouraging to be reminded of that. Maybe someday in the future I can become as skilled as her? Maybe?
2. The people we all call " Cookie Idols" are just normal real people. Go say hi to them. Don't be afraid of them. I needed that nudge. Until she said that, I was terrified to say anything to my cookie idols who were all over the place at CookieCon. I was just way too star struck and I didn't want to bug them with lowly little me. But after her talk, I stuck my courage to the sticking place and talked to Lisa from the Bearfoot Baker, Rebecca The Cookie Architect, Georganne from Lila Loa, Arty Magoo, and even Sugar Dayne herself! And they were all sooooo nice!
3. I'm not the only one who has an extremely busy life and is just fitting cookie decorating in the cracks. Sometimes I'm so busy, I wonder why I even try. But you know what, most of the cookiers I met are juggling kids, church, jobs, and other hobbies. And they still do it!
4. My Cookie Friends are Real. This was the theme of her talk. How her cookie friends have enriched her life and supported her through losses and successes. I found myself thinking, "yes, but how do I get cookie friends of my own?" I know it sounds pathetic. But I walked into this convention not knowing a soul. I am happy to say that I left CookieCon with wonderful new friends that I hope to stay friends with forever. I was rarely alone at CookieCon and my feelings of insecurity faded away. My Cookie Friends Are Real!
COOKIECON DAY TWO:
Day two was class after class of cookie techniques! It was amazing! I learned how to make flowers and plants out of melting chocolate and modeling chocolate from Terri Lewis of Tweets Cookie Connection. I learned how to make 3D faces from Dany Lind of Dany's Cakes. Nicolas Lodge from the International Sugar Art Collection taught us about some advanced royal icing work and pressure pipping. Angela Nino from The Painted Box taught us about her unique painting technique and how to work with wafer paper. Rebecca Weld, The Cookie Architect, talked about the creative process and how to develop ideas and a style of your own. Amy Clough, from Clough'd Nine Cookies, taught us some really fun and practical ways to add texture to our cookies. And Lisa Snyder from The Bearfoot Baker gave us a good refresher course on the basics that was extremely helpful. I loved every second of this day. It was so packed full of learning. I took SO many notes!
After the events of CookieCon day two, I headed over to one of my favorite stores, Orson & Gygi's. A cooking store to the extreme. A huge wall of cookie cutters, a big isle dedicated to decorating sugar cookies, and every other cooking tool you could ever want. They closed their doors to the public and hosted a party for CookieCon attendees. A Nacho bar and Popcorn bar, plus door prizes and a store-wide discount? Count me in! I spent way too much. Sorry, not sorry.
COOKIECON DAY THREE
What a day! What a busy, wonderful day! From 8-4 the ballroom was transformed into a giant cookie decorating heaven. Open decorating!!! There they had buckets of icing, endless cookies, dehydrators and heat guns for quick drying, different image projectors, a paint station, a texture station, a stenciling station, an airbrush station, a wafer paper station, a sugar veil station, and an embellishment station. A whole day just to sit a decorate without my kids and I didn't even have to bake the cookies and make the icing! They also had various instructors cycling through the day doing hands on demos and instructing.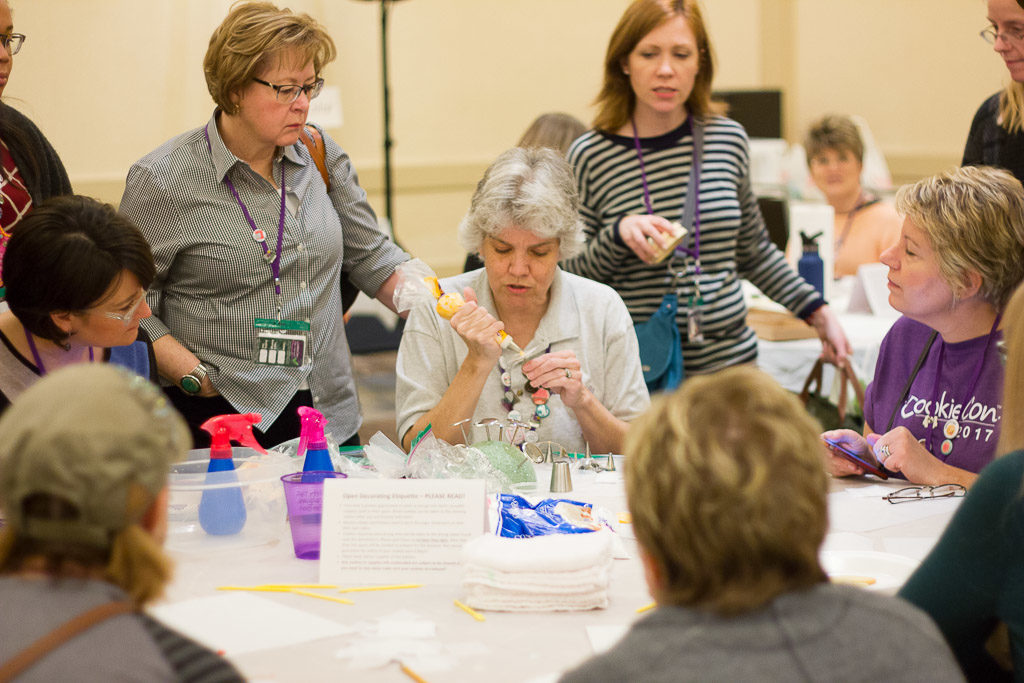 Each person was given a mystery shape cookie. No one knew what shape it would be before day three and we were all given until 2:00 to decorate it anyway we wanted. We then entered it into the sugar show and they were judged. This was the shape: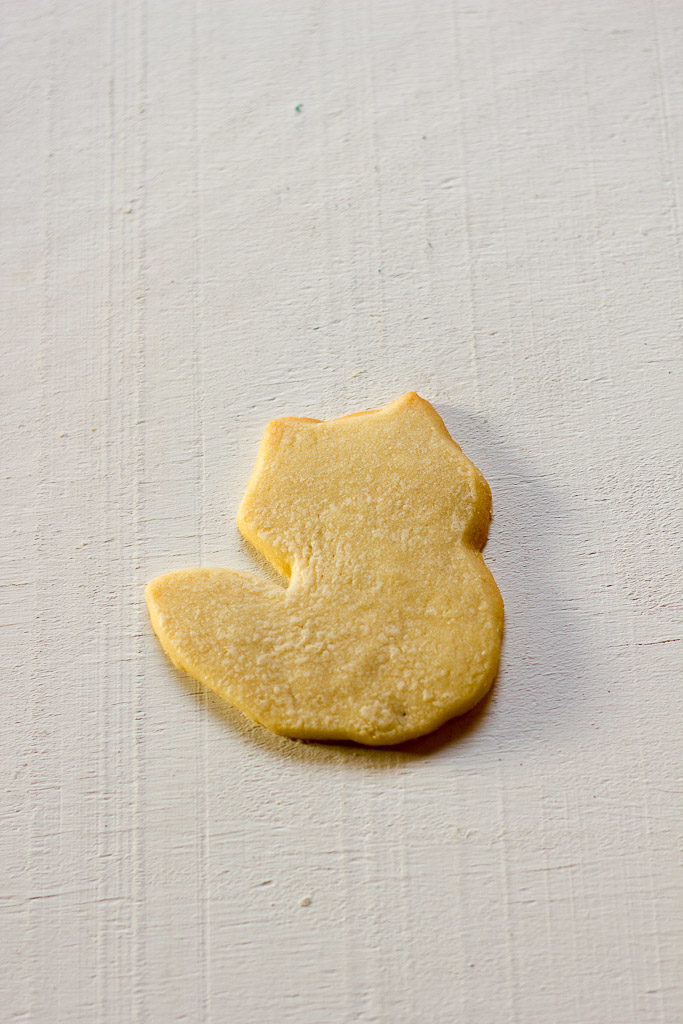 It was incredible to see what everyone saw in this little fox cookie. I saw many different things, but decided to make it into Max from Where the Wild Things Are.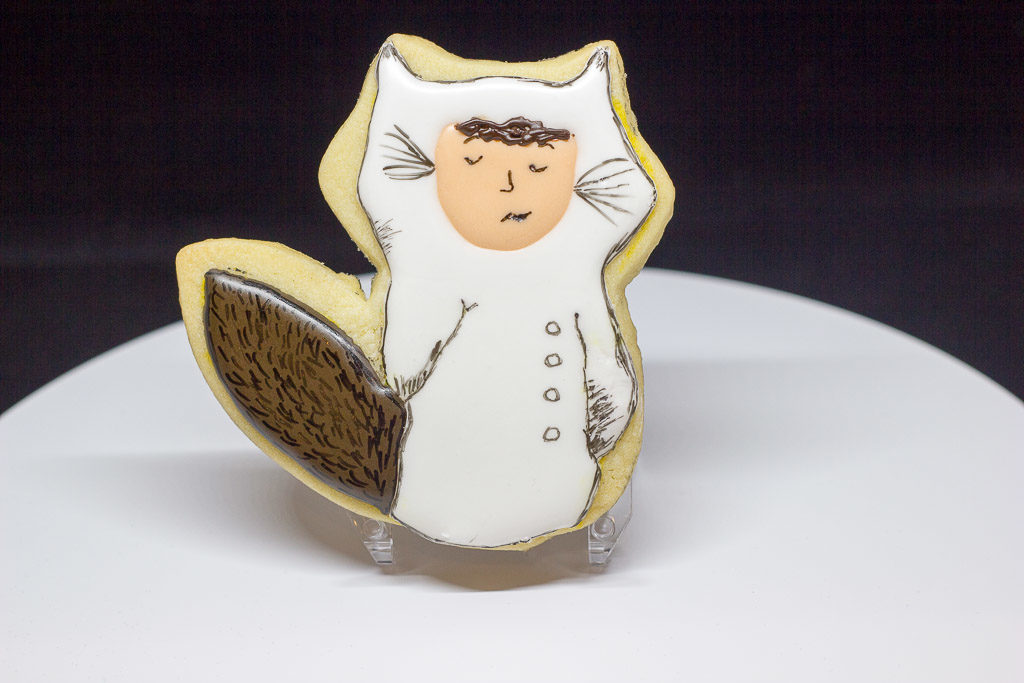 Here are some of my favorite submissions into the mystery shape category. Everyone was so clever!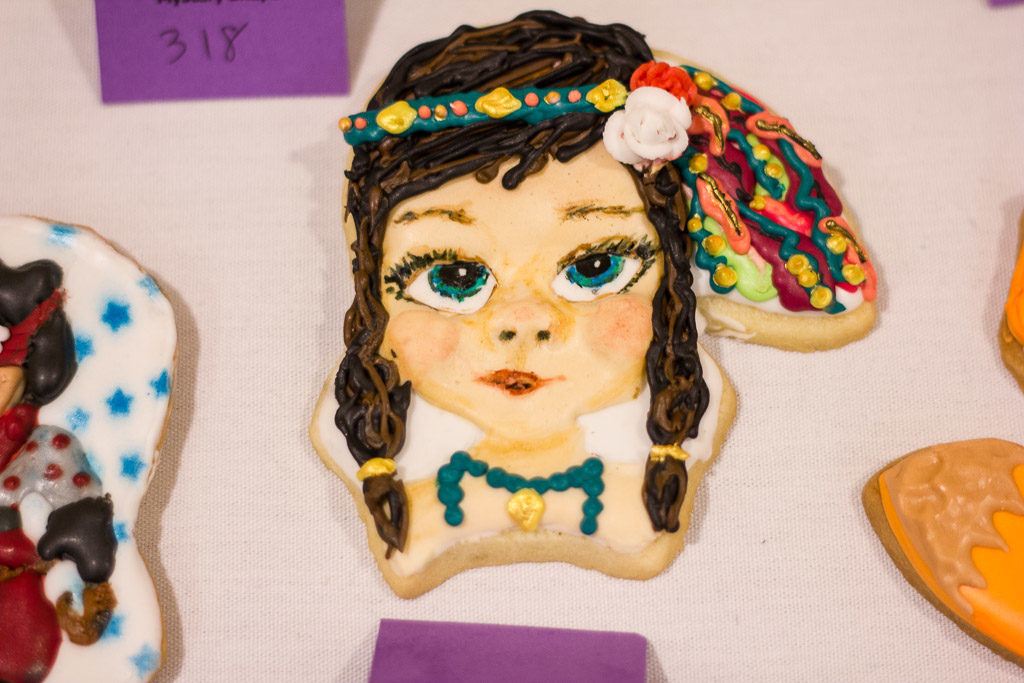 Native American Princess by Katie Grimslay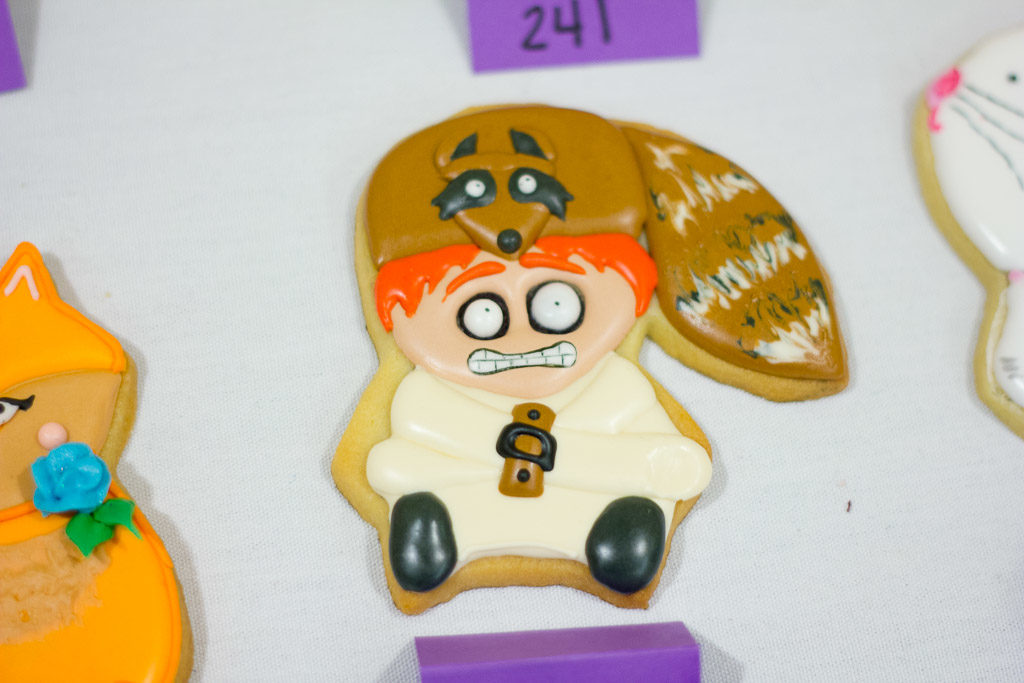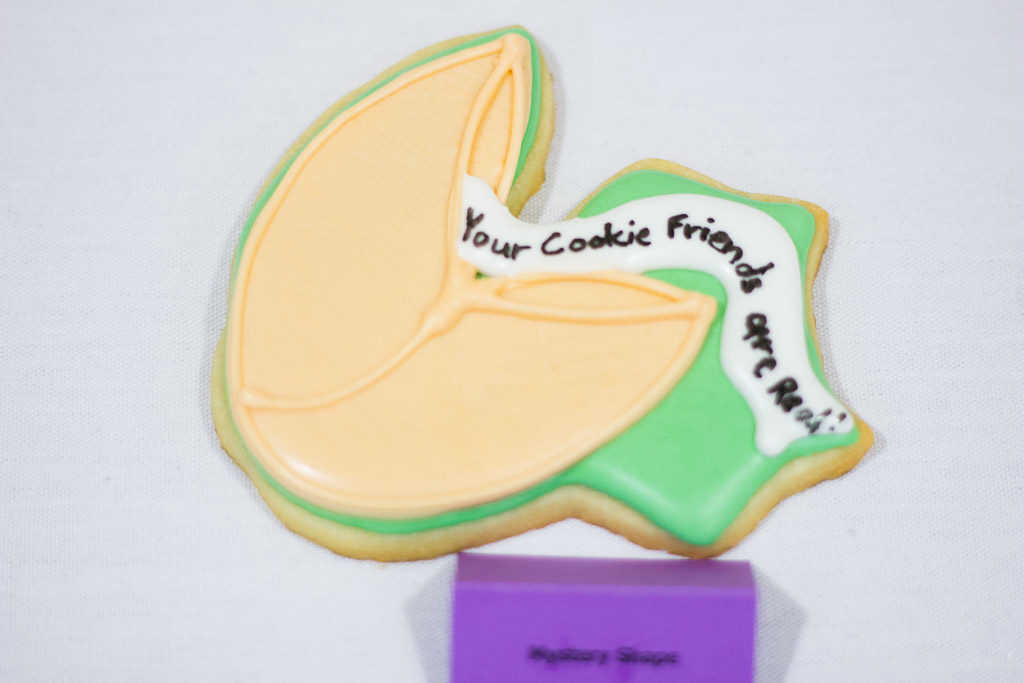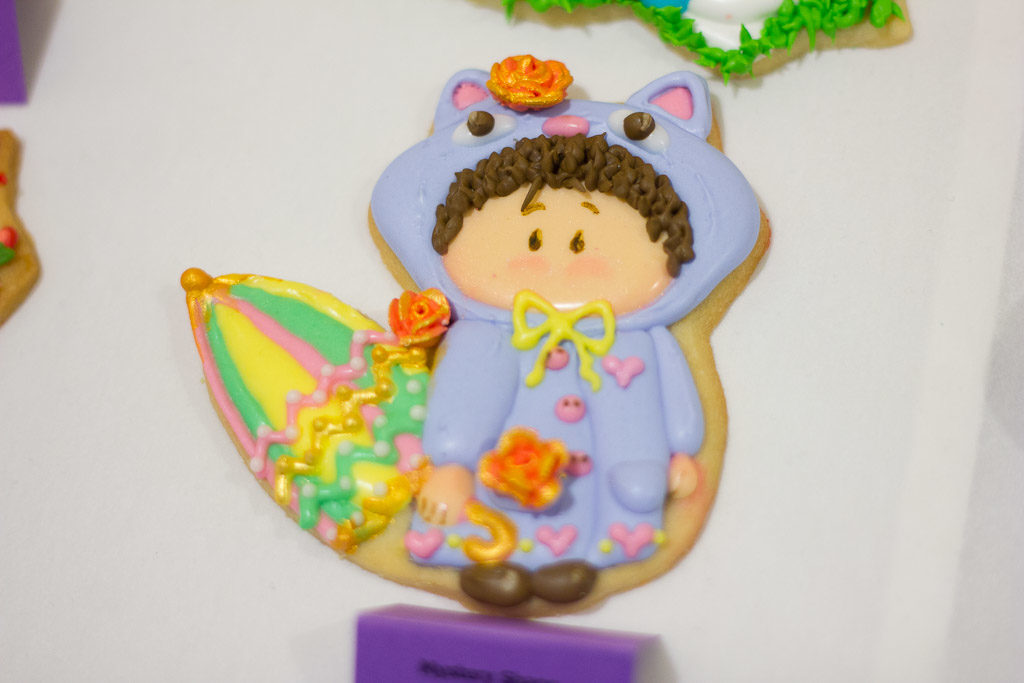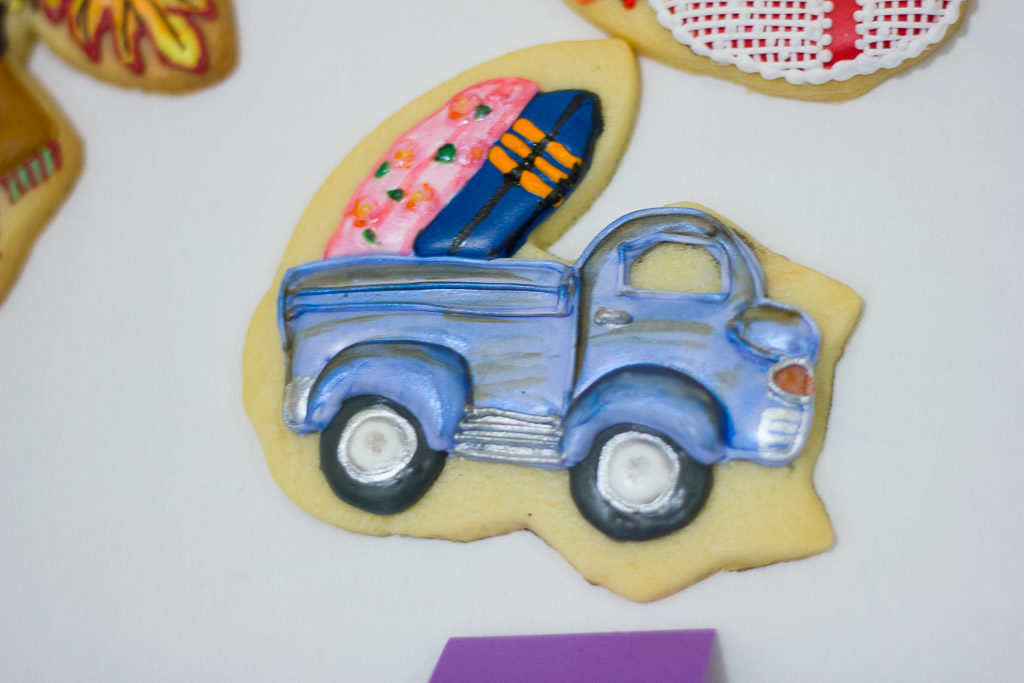 Surf Board Truck By Sprinkles N Stuff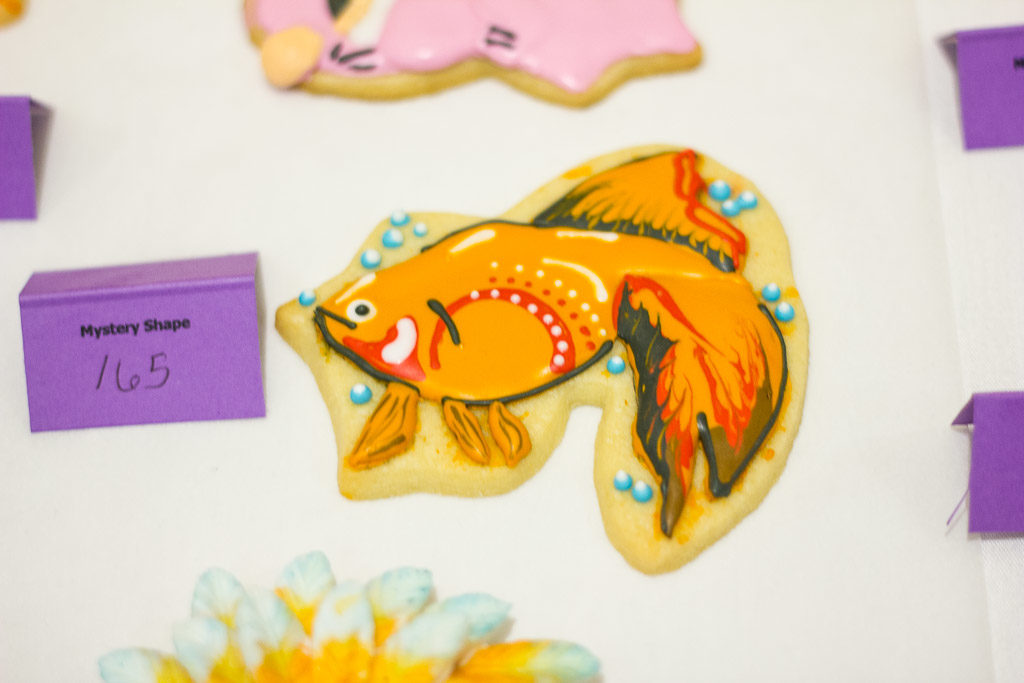 Gold Fish By Cookie Happy Jackie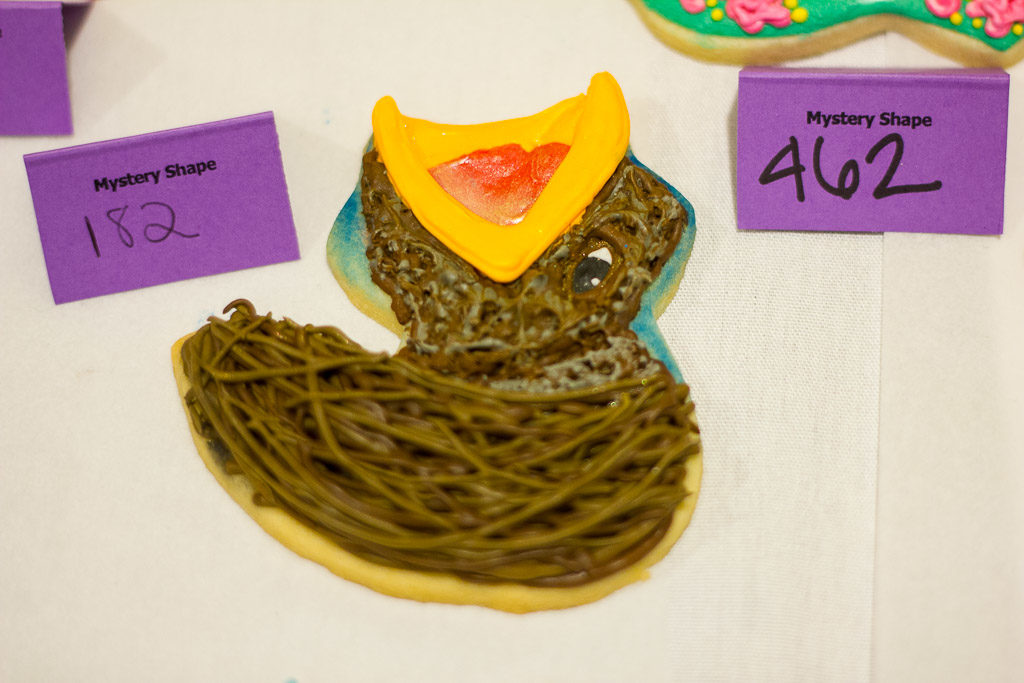 Bird in Nest by Sugar Bots Sweet Shop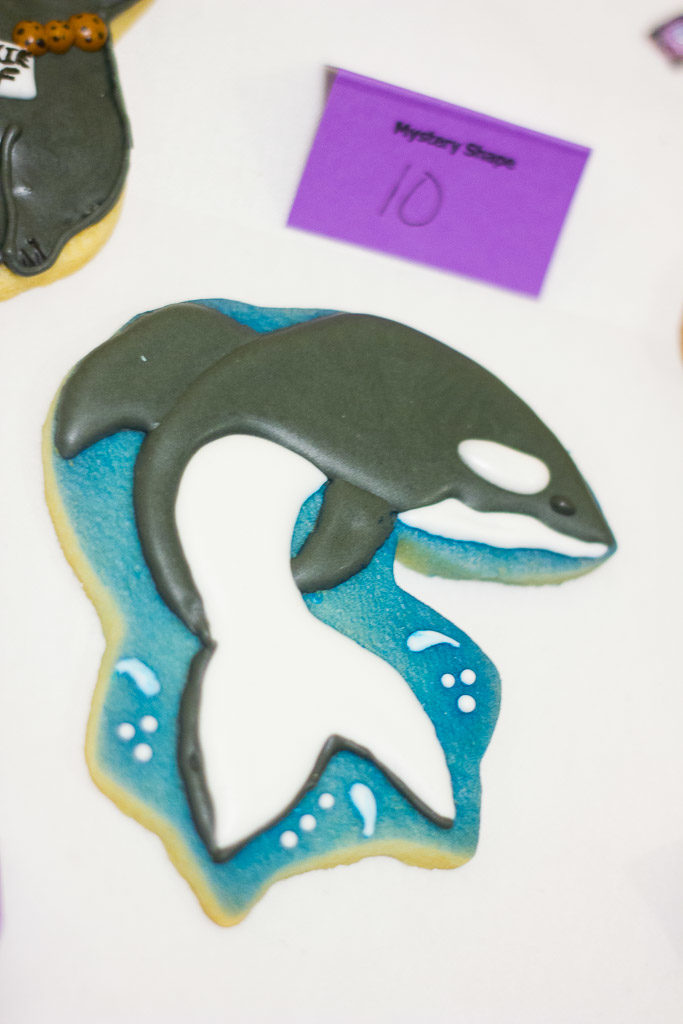 Orcha Whale by Dusty Olson from Dusty's Cookie Jar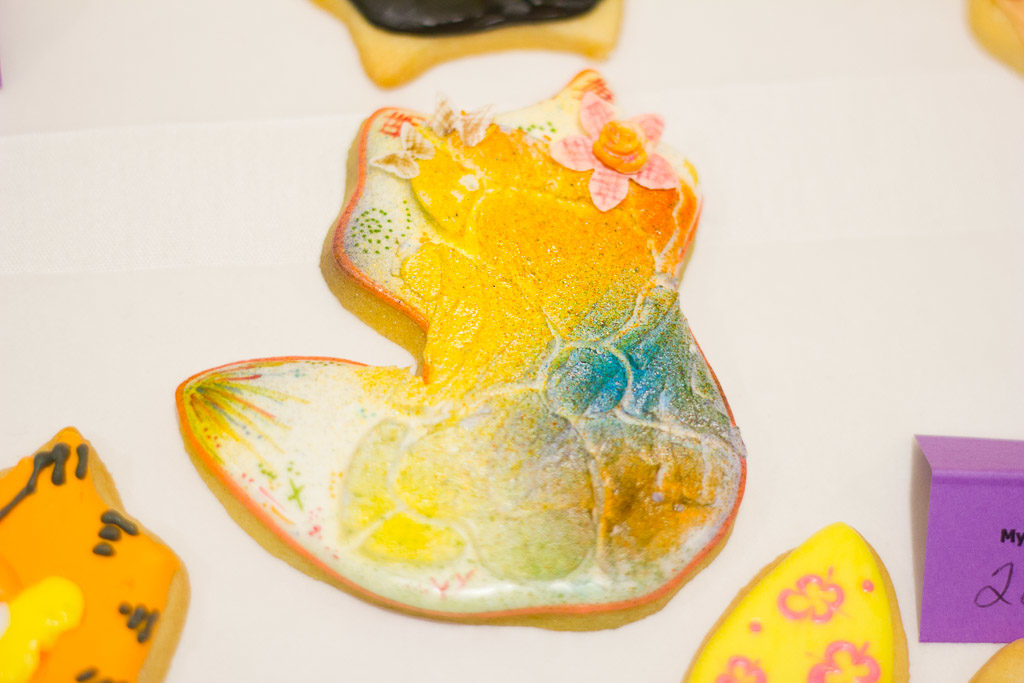 Colorful Textured Fox by Katie Matoyer, The Sugar Dayne.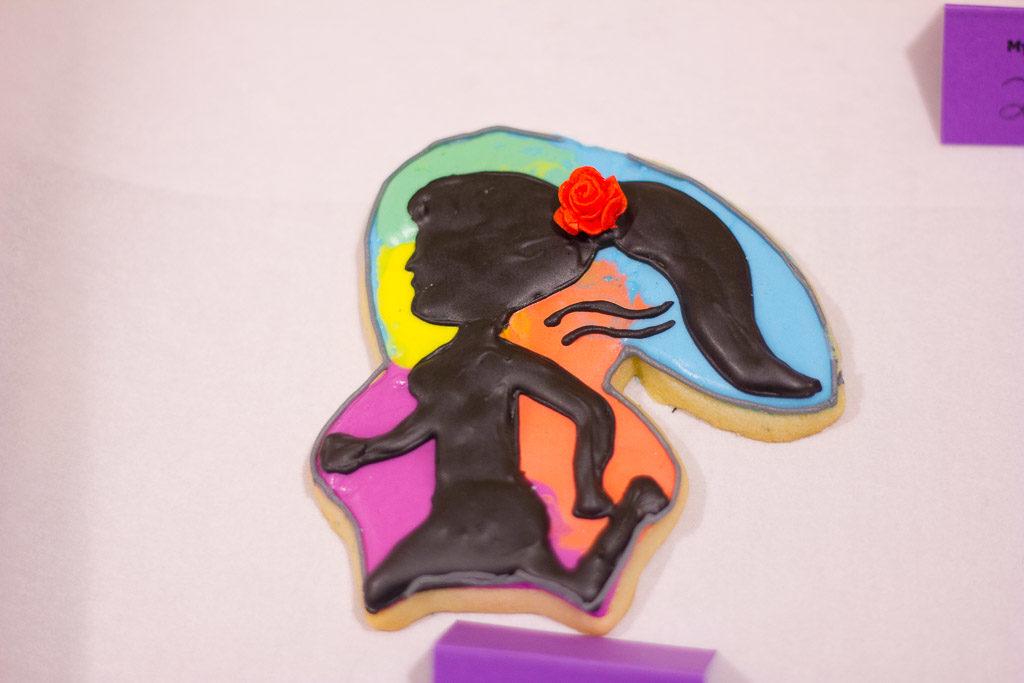 Running Girl by Not so Plain Jane Cookies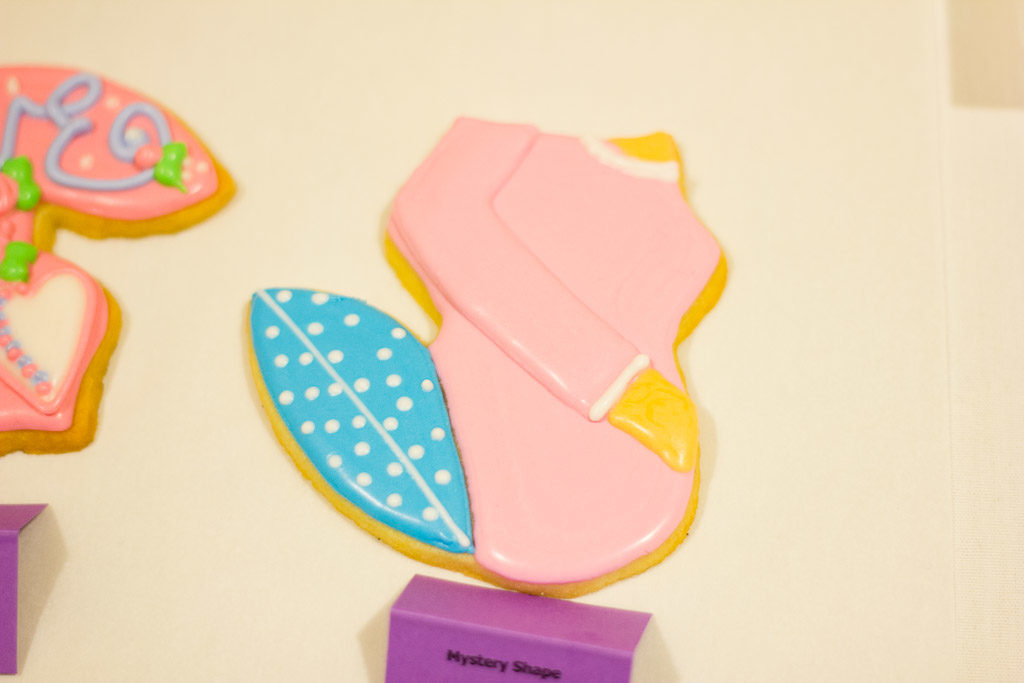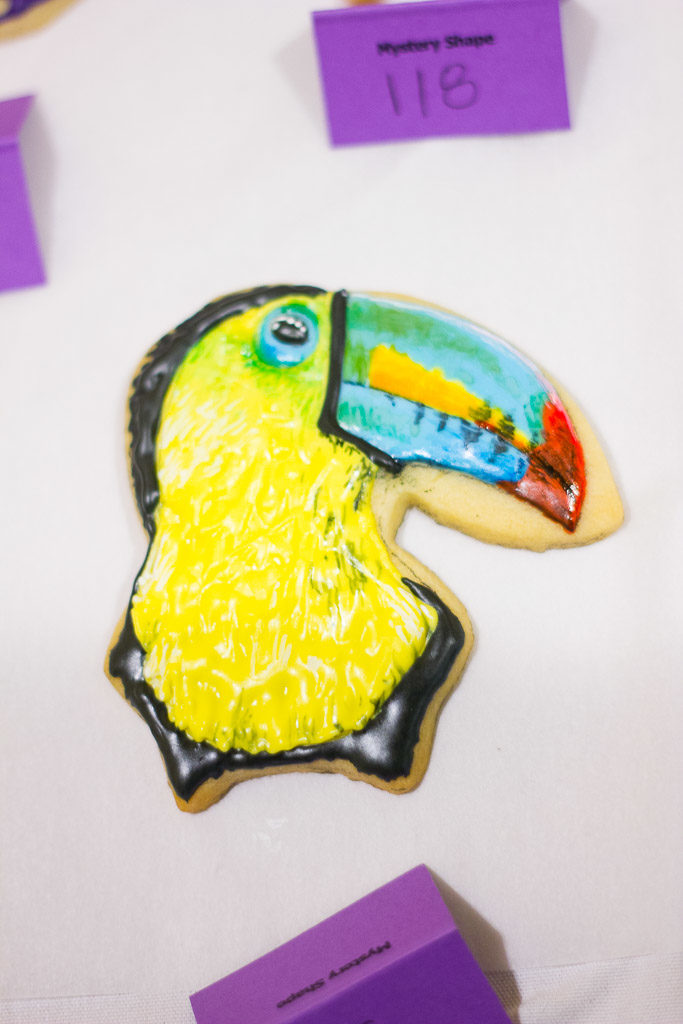 Toucan by Amanda Hansen from Cookie Concepts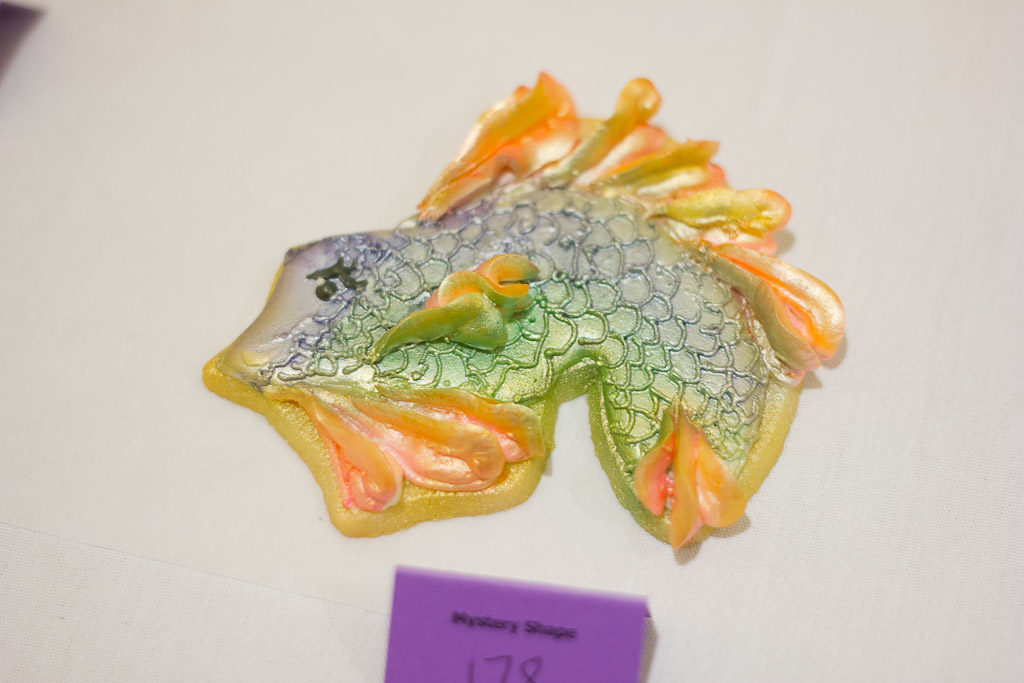 Shimmery Fish by Sandee Moss of  Sandees Sweets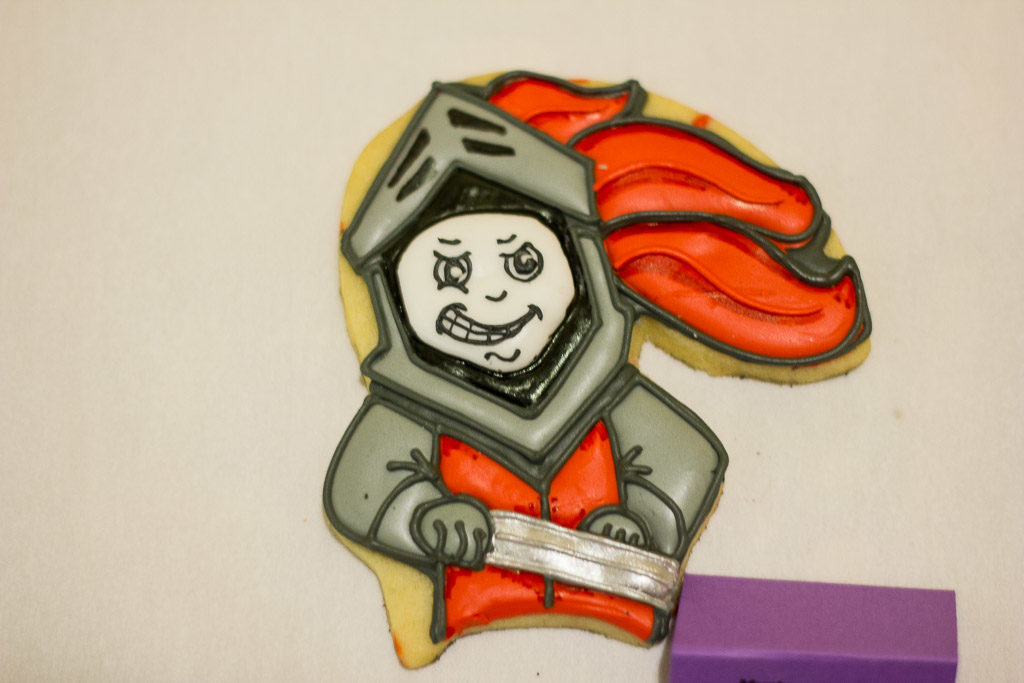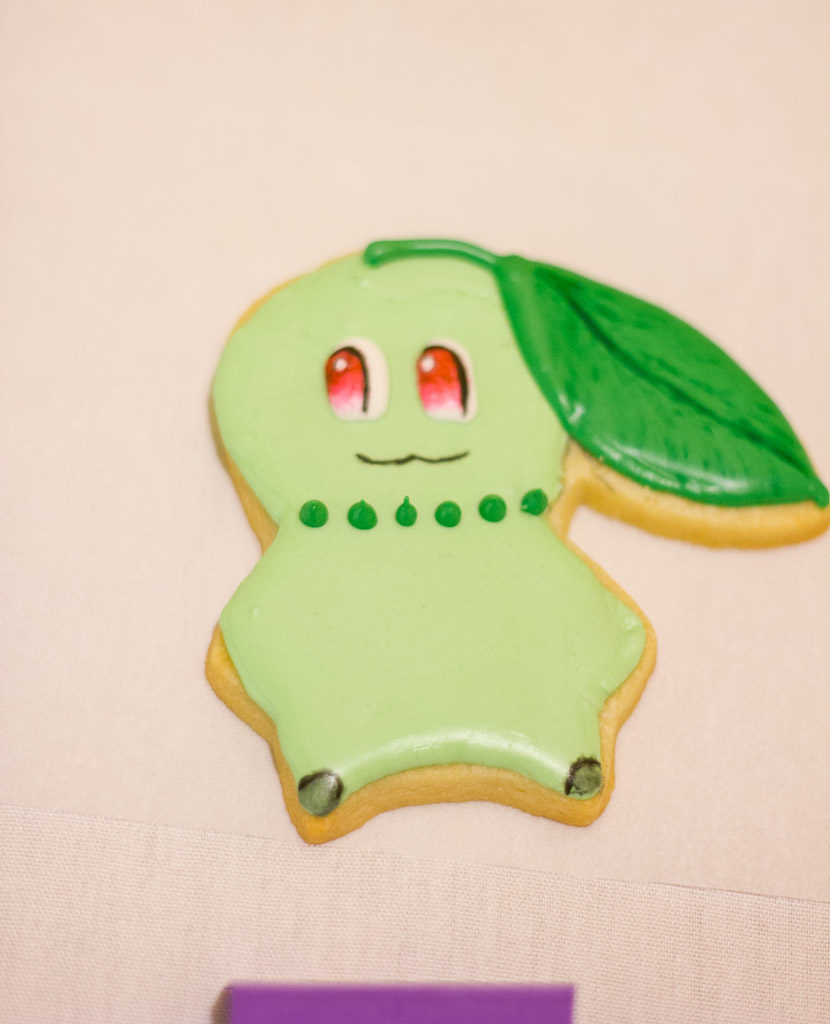 Pokemon by Amanda Hawkins
On the third day, we also had a sugar cookie taste testing event. Multiple cookiers brought bite sized cookie samples for everyone to try. Each person tried each one and then voted. At the end, we all got a recipe booklet with all the sugar cookie recipes. There were lots of plain vanilla cookies to judge and lots of sugar cookies in fun flavors. Think Pumpkin, Raspberry Lemonade, Grilled Pineapple, Chocolate. I found that my favorite vanilla cookie was the one I already use, from Bake at 350!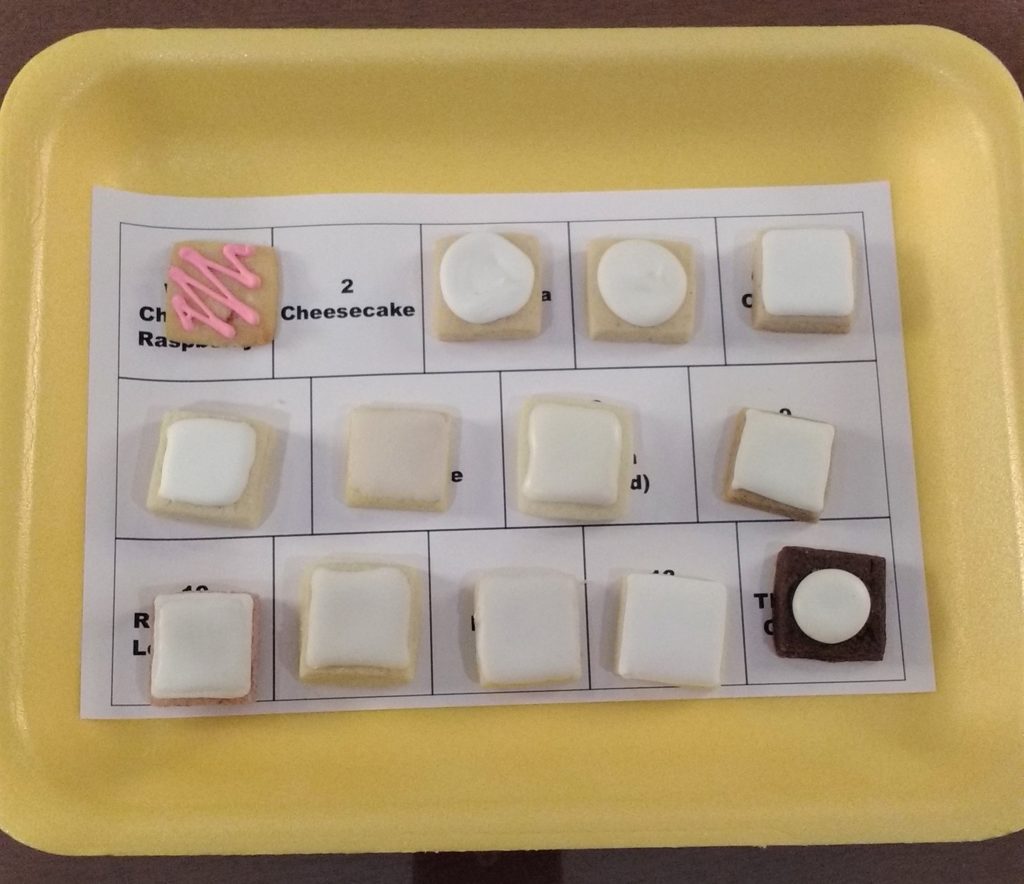 On top of open decorating there were break out classes all day that we could pick and choose between. And lets not forget about the whole big room full of vendors with everything a cookier could ever want!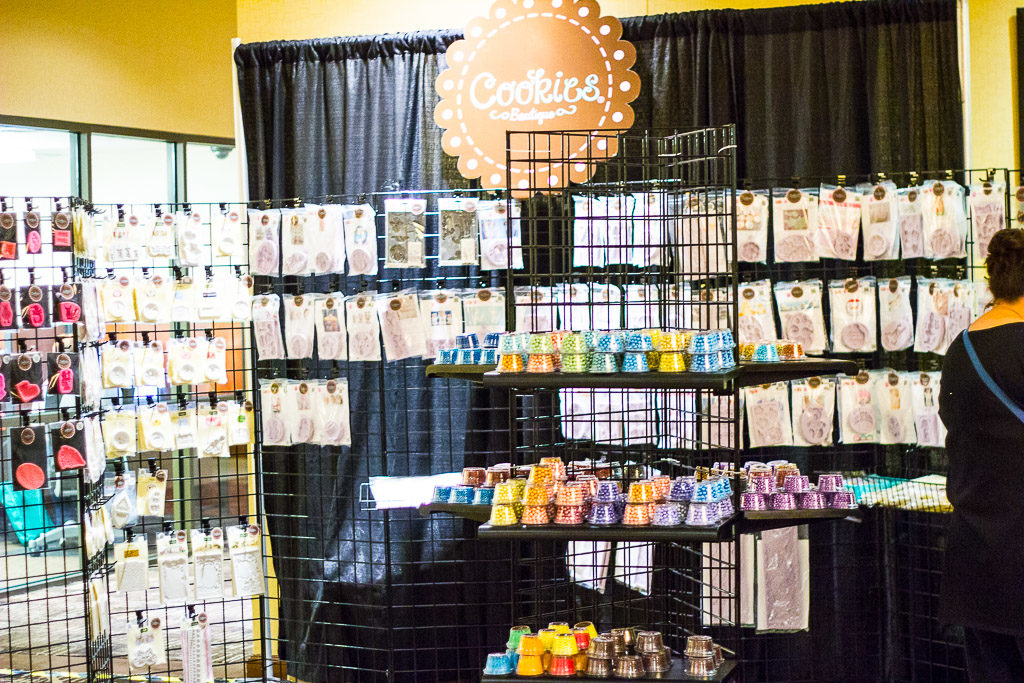 Here is a glimpse of what I bought!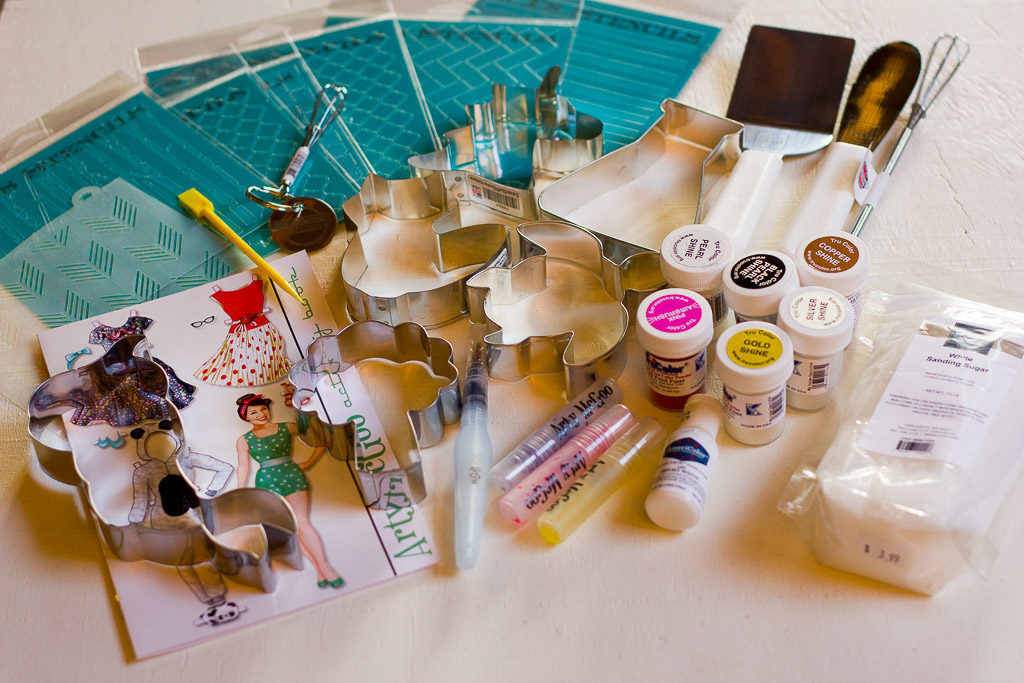 A bunch of cookie cutters from Arty Magoo and Orson & Gygi's, some food coloring, sanding sugar, and a few other kitchen tools.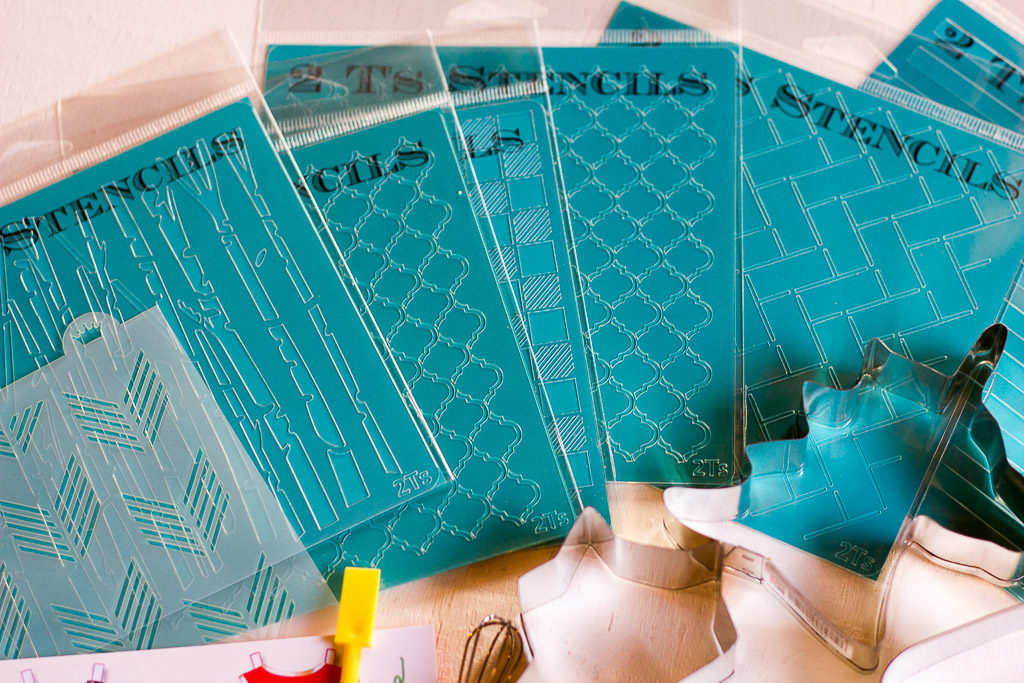 2 T's Stencils and Cookie Countess Stencils. I'm so mad at myself for accidentally buying two of the same stencil!!!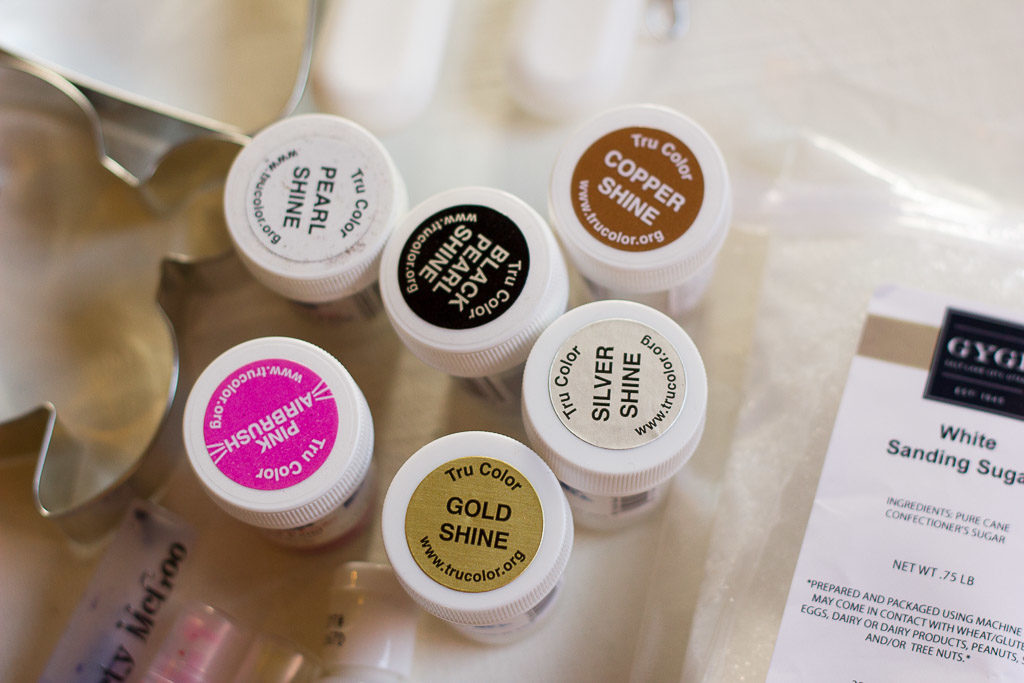 A handful of TruColor shine colors for painting and airbrushing. I love that these are made with natural ingredients.

Mister McGoo color misters and a Bristle McGoo water brush from Arty McGoo. So cool! Can you tell I have been playing around with them already?
AND I BOUGHT AN AIRBRUSH!!! Finally! After testing four different kinds in open decorating, I made the plunge and bought an Air Genie airbrush. Its still being shipped and I can't wait to bust it out and make some cookies.
We ended the night with a banquet. Dress code: blinged out aprons! Awards were given for the sugar show followed by standing ovation for Mike and Karen. Some people headed home or to their hotel rooms, but I couldn't miss the Karaoke party hosted by the Arty McGoo couple and Lila Loa. It was a hoot! I didn't have the guts to sing, but I laughed till my belly hurt.
Sadly, CookieCon can't last forever, but I will never forget the skills I learned and the friends I made. And I am already counting down the days until the next one!
*All pictures were taken by me, but a lot of the cookies pictured are not my work. I tried to attribute each cookie to its maker. To see more of each cookiers' amazing work, click the links provided by their names.