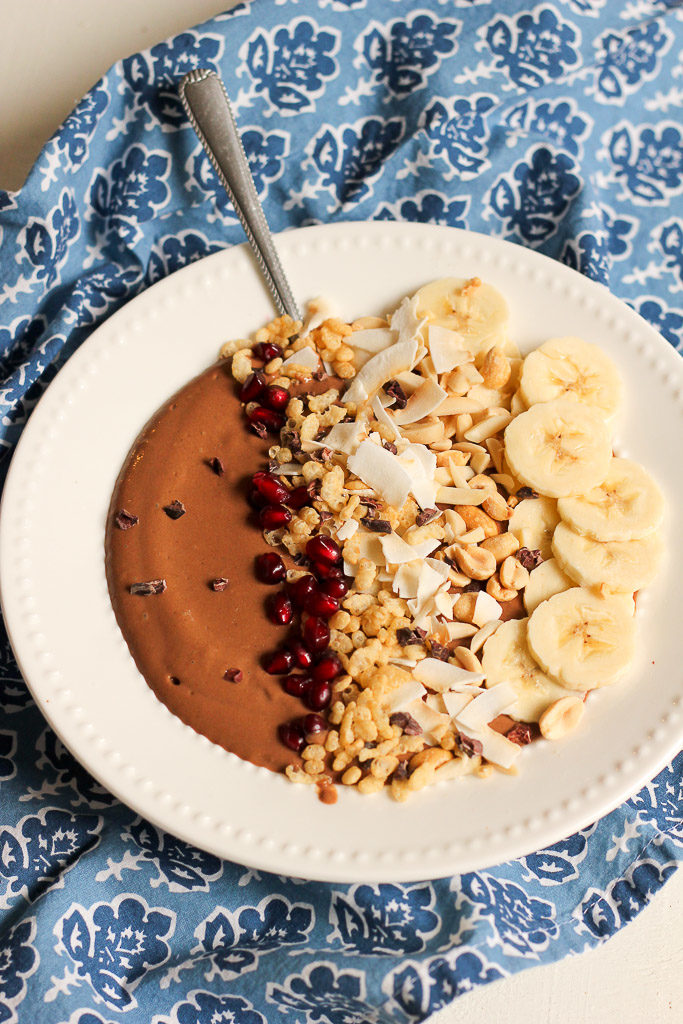 My life is so beautifully chaotic right now. So much joy and so much mess. Typing blog posts with a wee one snuggling on my belly while white noise blasts. Scarfing down one of these Chocolate Peanut Butter Smoothie Bowls and then frantically trying to shower before the baby starts screaming again. Listening to audio books at three in the morning while feeding the little snuggle bug. Playing Barbies with my four year old from the rocking chair while trying to keep baby calm. Colic, colds, car problems. Cuddles, caresses, chocolate peanut butter smoothie bowls. My life in a nut shell.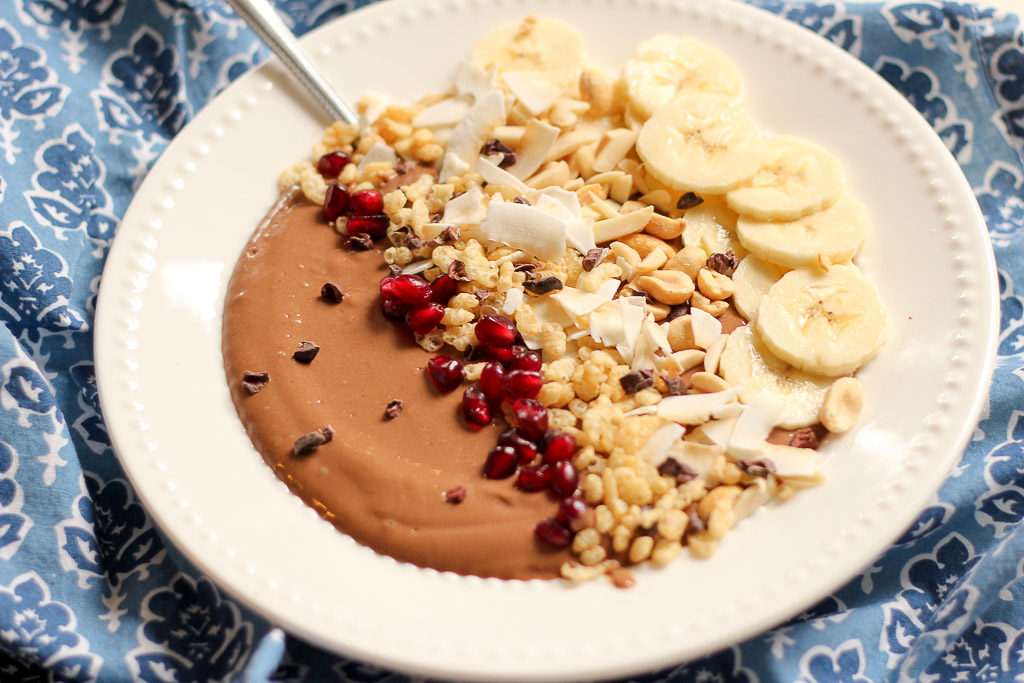 And its so great! I love this sweet little baby who joined my family, even though she is colicky and cranky. I am just riding it out and enjoying all the snuggles, knowing it will pass and I'll miss the newborn Violet. I'm not putting any pressure on myself to accomplish anything and just staying calm. We tried to go to a restaurant tonight and sweet Violet decided to start screaming the second we got our food. It was a super cute, but small crepe shop and her wails filled the whole place. We ate as if we were competing in a food eating contest and rushed right out of there. Reality check. I am so not ready to enter back into the real world of running errands and going on outings. Walmart grocery pick up is going to be my best friend for awhile.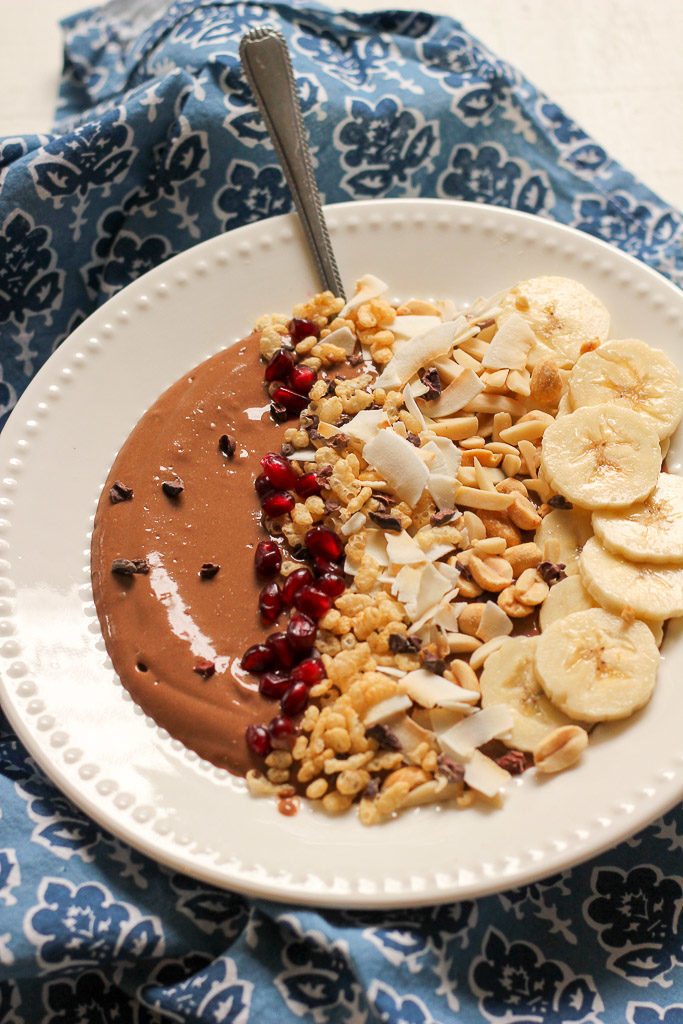 But I love it. I love that there is a perfect, fresh little person in my home. I see so much potential and possibility and beauty in her and I get these flashing glimpses of the future when I look at her. Of a chubby little thing taking her first steps. A toddler following her big sister around. A kindergartner feeling nervous about her first day of school. A teenager going on her first date. A new mother taking care of her own little baby. It it all seems so fleeting and fast. And then all I want to do is hold her tight and calm her crying and never let go. So life is good. And when it gets a little too crazy, there are Chocolate Peanut Butter Smoothie Bowls.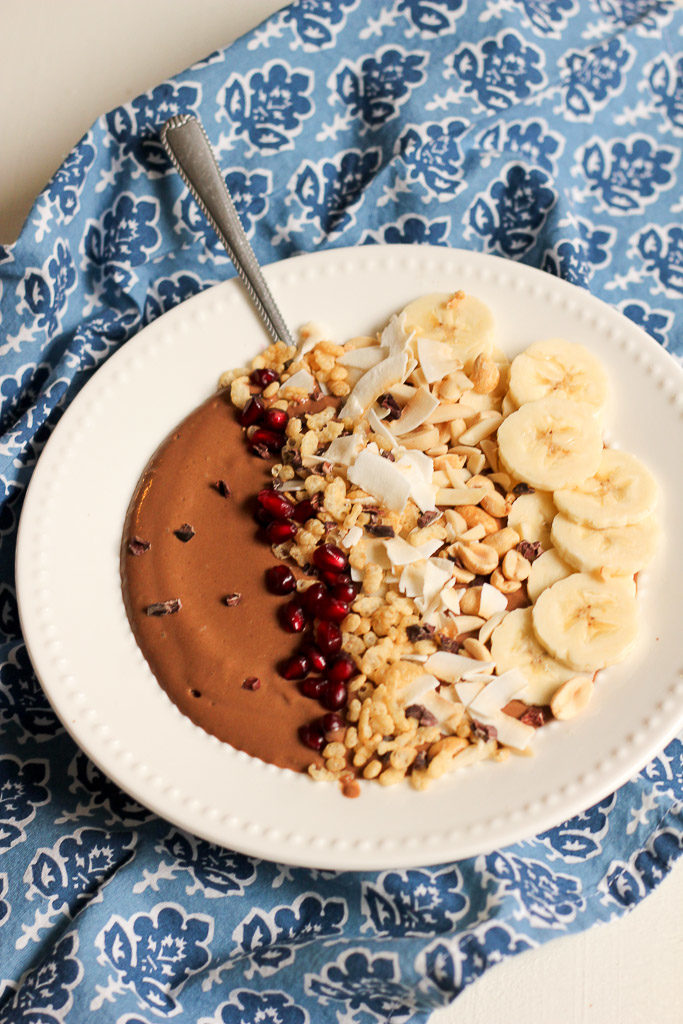 I'm so in love with smoothie bowls because I adore toppings. Its like going to those soft serve frozen yogurt shops where you pay by weight. Its all about the toppings. Except this chocolate peanut butter smoothie bowl is totally healthy and you can load it up with as many toppings as your mind can think of. The smoothie is a blend of frozen bananas, cocoa powder, peanut butter, milk, and avocado. Yup, avocado.  I started adding avocados to my smoothies one day when I had bought too many avocados and needed to use them up before they went bad. A lovely, rich thickness was the result. I loved it and have been doing it ever since. Don't worry, it doesn't taste like guacamole. You cant even tell there is avocado in it, except that its super creamy.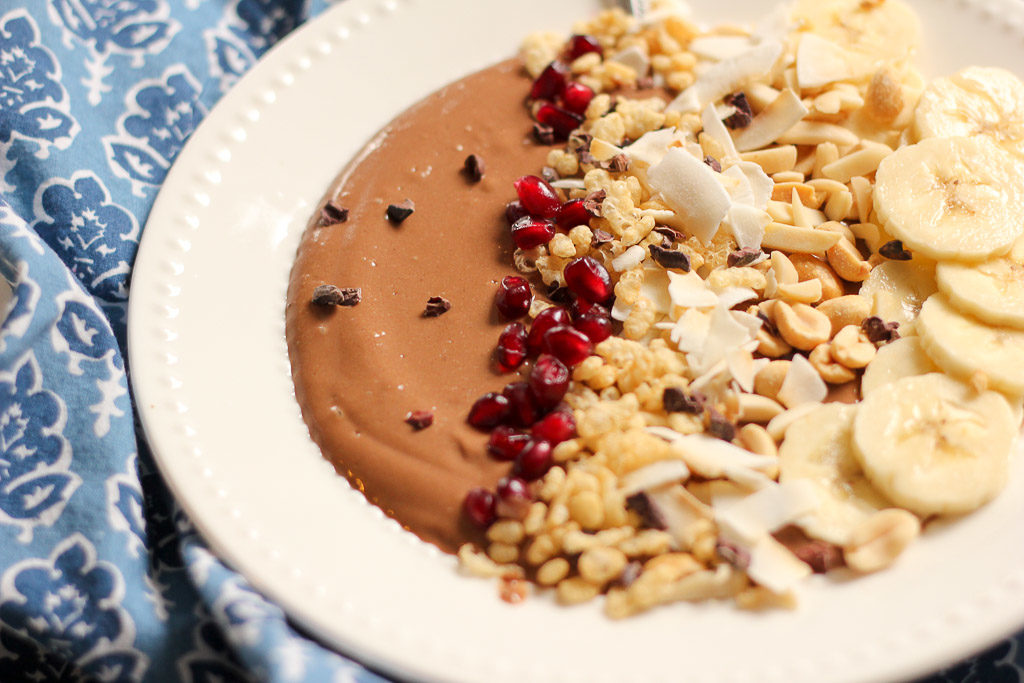 I add a date to the mix for a little sweetness, but if you don't have dates on hand you can use a little drizzle of honey, agave, or pure maple. Or you can just let the banana already in the smoothie be the only sweetener. It will likely be enough if your banana is ripe enough. I recommend tasting, then adding the date or a liquid sweetener to taste. Then get creative with the toppings! My favorites are the ones pictured. Bananas, toasted nuts, toasted coconut,Rice Krispies, pomegranates, and cocoa nibs or chocolate chips. This smoothie bowl is gluten free and can easily be vegan, depending on what kind of milk you use and what toppings you put on.
Chocolate Peanut Butter Smoothie Bowls
Thick and creamy chocolate peanut butter smoothies made with bananas, peanut butter, cocoa powder, avocados,and milk. Loaded with toppings and savored from a spoon.
Ingredients
1 large, ripe, frozen banana (if you have small bananas, use 1 1/2)
1/2 small avocado
3 TBSP. natural peanut butter
2 -3 TBSP cocoa powder (start with 2, taste, and add another if you want it more chocolaty)
3/4 C. milk of choice (plant based milk or cows milk both work)
pinch of salt
1 medjool date or other natural liquid sweetener to taste (optional)
Toppings of your choice
Instructions
Add the banana, avocado, peanut butter, 2 TBSP cocoa powder, milk,and salt to a high speed blender and blend until smooth.
Taste and if it is not sweet enough, add the date and blend until smooth. You could also use a liquid sweetener like agave or maple to taste in place of the date. If you want it more chocolaty, add another tablespoon of cocoa powder.
Pour the smoothie into a large bowl or two small bowls. Place in freezer while you prep your toppings.Top with toppings of your choice. Eat with a spoon.
Notes
TOPPING IDEAS: bananas, toasted nuts, toasted coconut, Rice Krispies, chocolate chips or cocoa nibs,pomegranates, sunflower seeds, pepitas, chia seeds, hemp hearts, berries,dried cranberries, raisins, apples, granola, buckwheat groats, more peanut butter.
If you do not have a high speed blender ( Vitamix/ Blentech), I would recommend freezing the banana in slices. You will need about 3/4 C. frozen sliced bananas. Also, if your date is dry and tough, soak it in hot water for about 30 minutes to soften it up and it will blend better.
http://ediblexperiments.com/2017/02/chocolate-peanut-butter-smoothie-bowls.html
Edible Experiments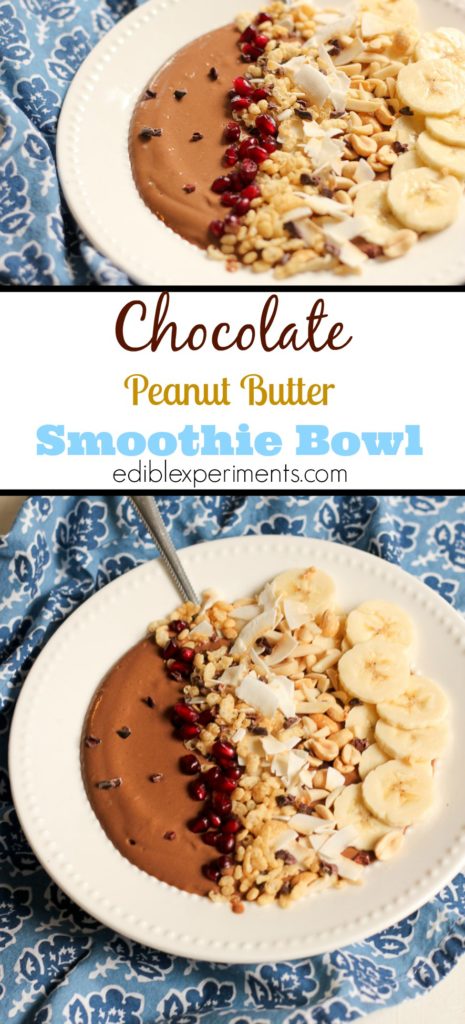 If you love smoothie bowls, check out my Pitaya (Dragonfruit) Smoothie Bowl from Fresh Dragonfruit.
Recipe by Edible Experiments