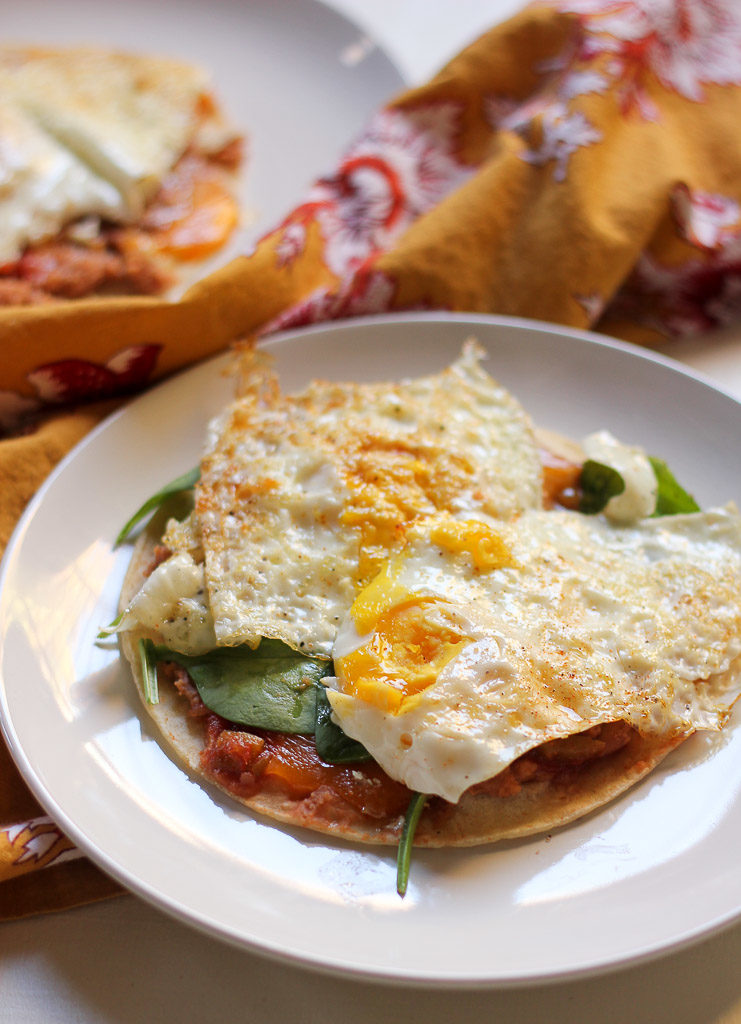 This easy weeknight Huevos Rancheros dish that I am sharing with you today isn't really a recipe, more of an idea. It's so easy and quick that it's more just a pile of ingredients. I need recipes like these huevos rancheros now more than ever. Meals that I can quickly throw together and that don't require any planning.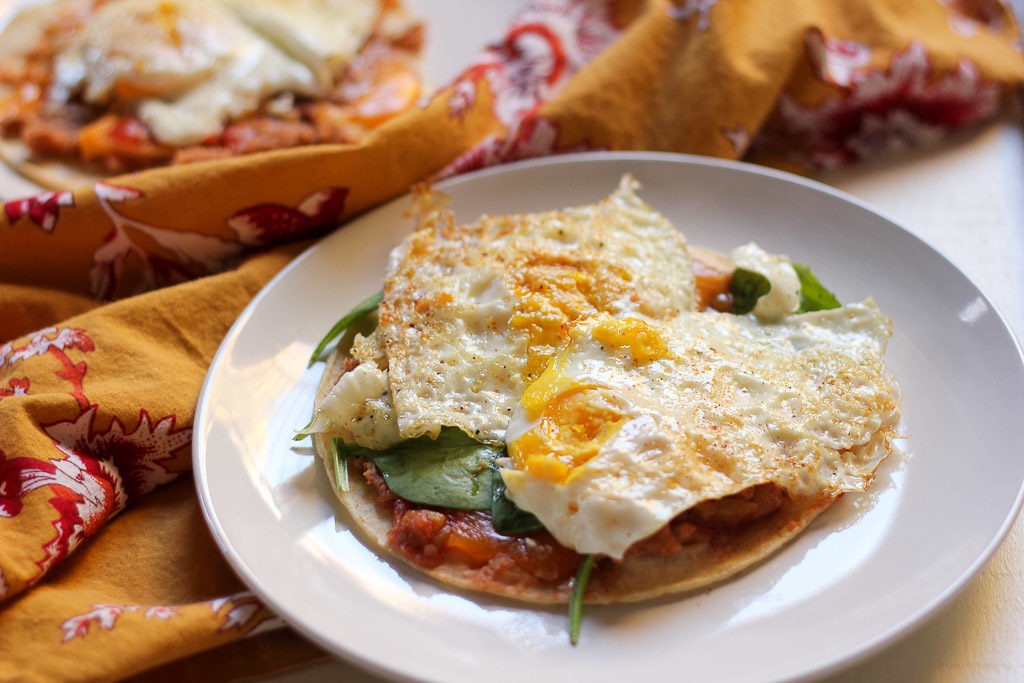 No-sweat meals that allow me to focus on this little squishy: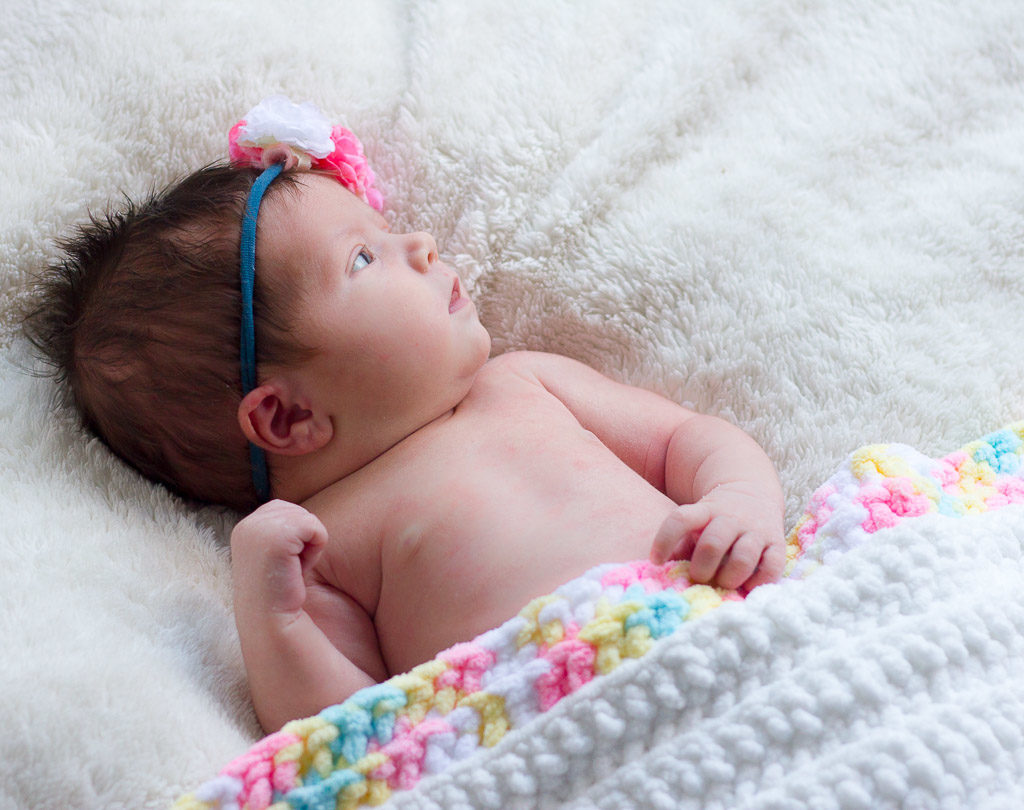 About a month ago, I gave birth to sweet little Violet. Just look at her!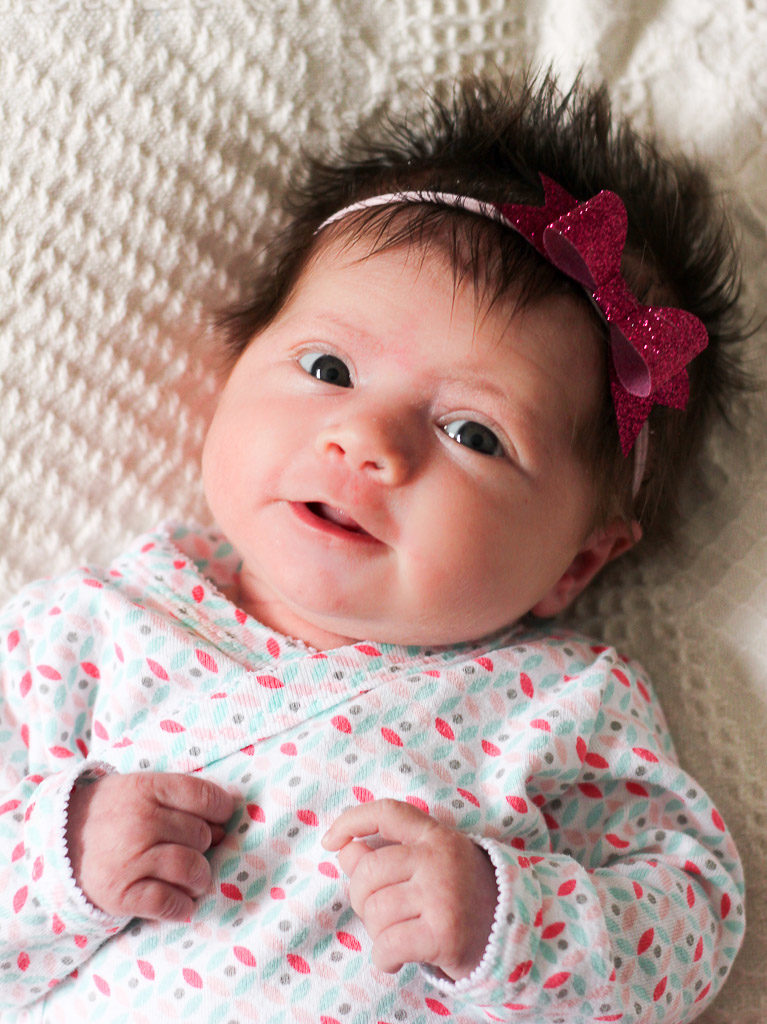 She is so incredible and beautiful and sweet. She was 8 pounds 6 ounces with so much thick dark hair. The delivery was wonderful and perfect, just like Violet. This snugly newborn stage is so fleeting and I don't want to miss a second. Well, I would like to sleep a little… But I don't want to waste a second on all the extra mundane things. That's why my house is messy, I'm staying in my jammies, and I am relying on simple meals like these huevos rancheros to feed my family.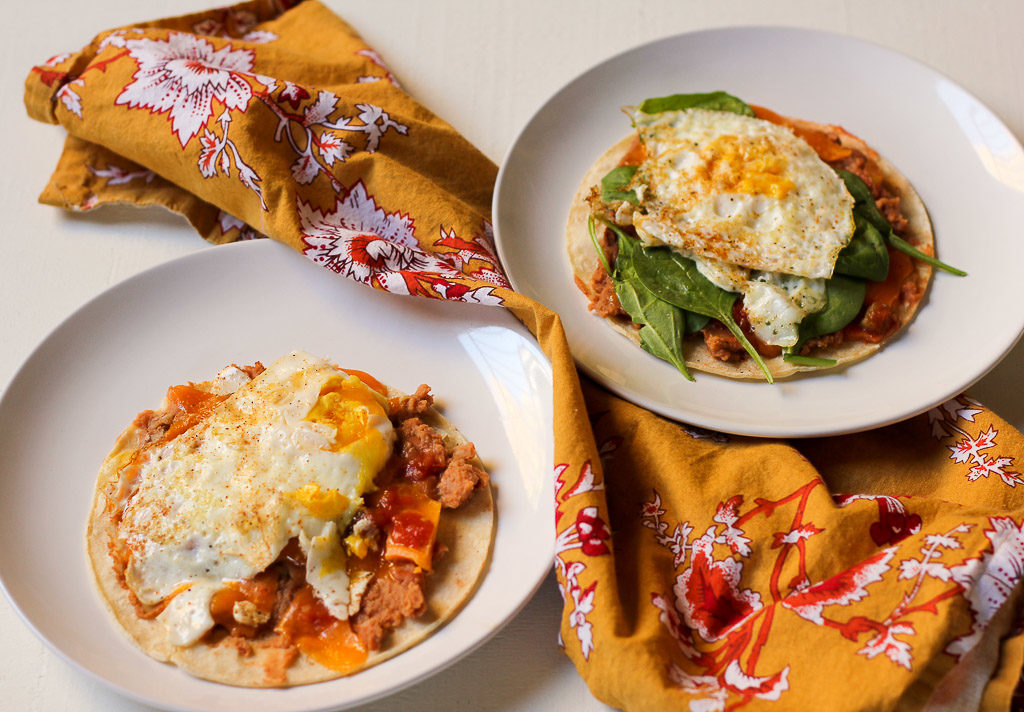 Huevos Rancheros are basically just fried eggs served over toasted tortillas with all sorts of yummy toppings. I have seen and had many different varieties, but this is the way we do it in my house. I have no idea if it is authentic or not, but it's delicious. You can add or remove ingredients to suit your tastes. Everyone in my house is in love with runny egg yolks and this dish wouldn't be the same with out that golden burst, but if it's not your thing feel free to cook the egg through. I usually let my three year old daughter decide if she wants a runny or hard yolk and which toppings she wants. She likes it different every time, but no matter how she wants it prepared, it is one of her most requested dinners.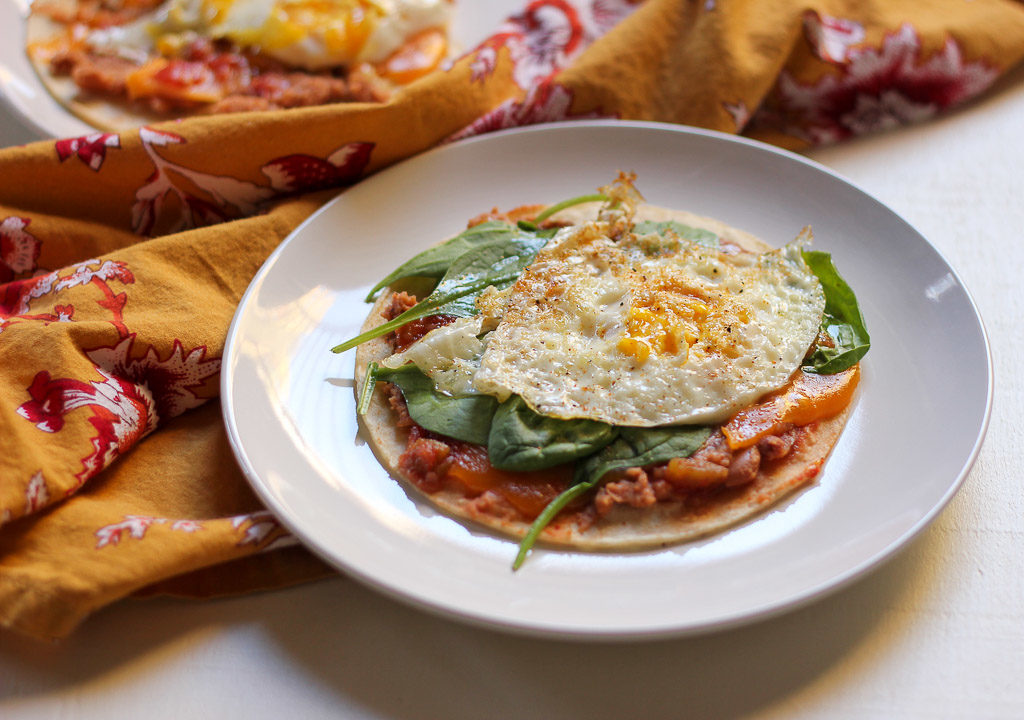 Don't be too hard on the huevos rancheros pictured, please. I literally threw them together for dinner and snapped a picture. I usually shred the cheese, pile on more fresh veg, and have a slightly runnier yolk than pictured. But I'm just keeping it real. Real life is far from perfect. But I'll take it. I'll take a messy, imperfect dinner if it means more time with my girls. I'll take typing this with one hand if it means I get to hold a  fresh little spirit against my chest with the other hand.
A toasty corn tortilla loaded with beans, salsa, cheese, spinach, and fried eggs. A really quick and easy dinner or breakfast.
Ingredients
corn tortillas (one for each person)
re-fried beans (canned or homemade)
salsa (store bought or homemade)
shredded cheese of your choice (I usually use cheddar or pepper jack)
spinach (optional)
oil or butter for greasing pan
eggs (1-2 per person)
salt and pepper to taste
additional toppings: avocados, green onions. sour cream, hot sauce
Instructions
Prepare the tortillas by generously spreading some re-fried beans on each tortilla. Top the beans with salsa, shredded cheese, and spinach to taste. Prepare one tortilla per person like this, then set aside.
Heat a large pan with a little oil or butter over medium heat. Once hot, crack as many eggs as will fit without running together (I do three at a time in my 12 inch pan). Sprinkle the tops of the eggs with salt and pepper to taste.
Cook until each egg white is cooked on the bottom side and sturdy enough to flip. Flip each egg, careful not to break the yolk, and cook for about a minute more. Just until the egg whites are cooked. Cook longer if you want the egg yolks more firm. Set aside the eggs on a separate plate. Make more fried eggs, if needed.
Wipe out the pan if it got messy in cooking the eggs and add one of the prepared tortillas to the pan. Place 1-2 fried eggs on top of the loaded tortilla. You can cook two tortillas if they will both fit in the pan. Cook until the tortilla is slightly crispy and the cheese is melted. Repeat with remaining tortillas and eggs.
Top with avocados, green onions, sour cream. and hot sauce (we like Cholula).
Notes
-To make a larger batch, use an electric griddle instead of a pan.
-I use canned vegetarian re-fried beans because they usually have the purest ingredients.
http://ediblexperiments.com/2017/01/easy-weeknight-huevos-rancheros.html
Edible Experiments