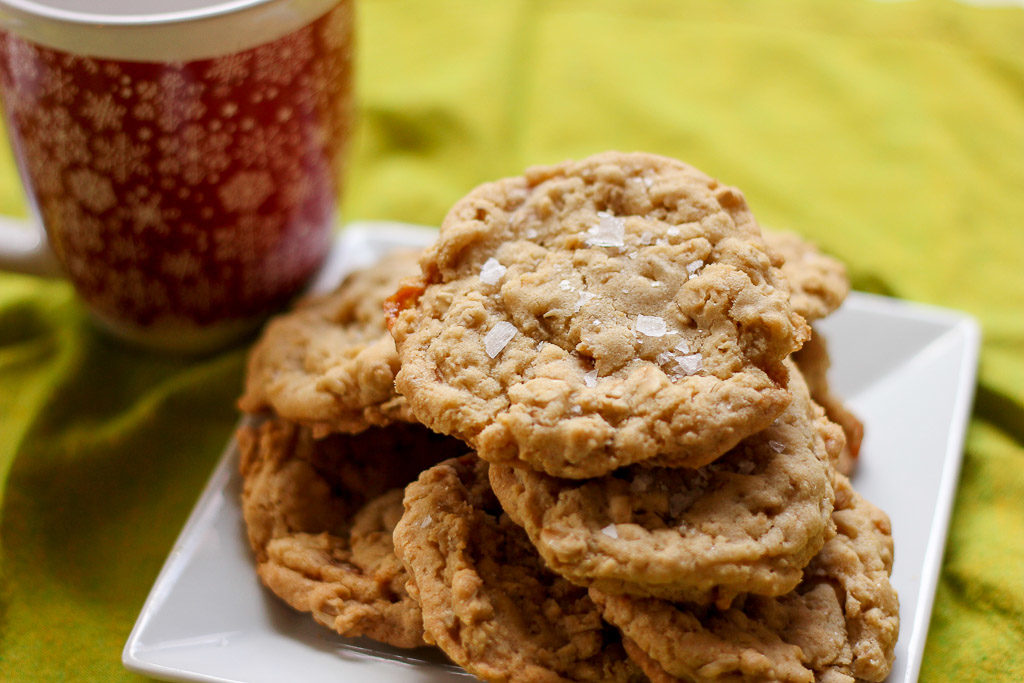 Christmas is always better with cookies. Cookie exchanges, cookie's for Santa, and cookies for all the homey feelings and smells. And these salted caramel oatmeal cookies are my cookie of choice this holiday season.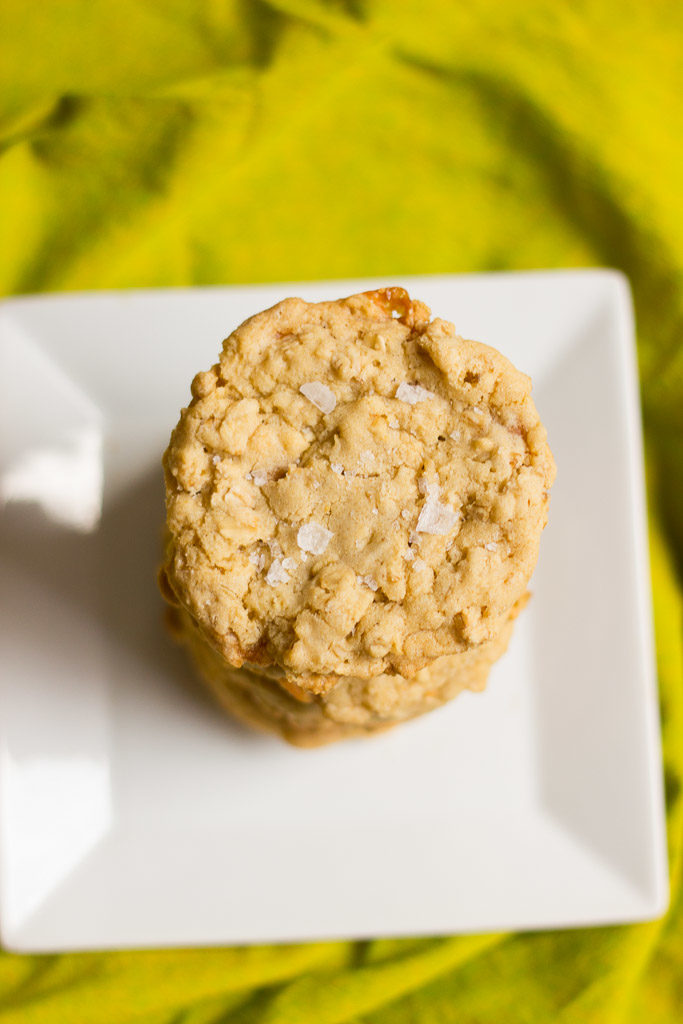 Let me tell you how these cookies came to be: A few months ago I went with my husband to a job interview (we got the job!). It was just a few hours away, but the drive took forever because half way through the drive my husband realized that he left his suit by the door at home. All he had in the car were some t-shirts and jeans. It was late at night and the interview was the next morning, so we didn't have time to buy a new outfit and interviewing in a graphic-T was not an option. We had to turn around and drive back home to get his dress clothes and start the journey over.
By the time we got to the hotel, we were exhausted and frustrated, but it all melted away when we walked in the hotel room and saw a massive basket full of Great Harvest Bread Company swag that was left for us by the company we interviewed with, including huge salted caramel oatmeal cookies. Its amazing what a stack of massive salted caramel oatmeal cookies that are as big as my toddler's head will do for a weary traveler.

Through the rest of our journey, I couldn't stop eating these cookies. They were huge and I just kept breaking off pieces as I fell deeper and deeper in love. I needed these salted caramel oatmeal cookies in my life. Of course, my brain started piecing together potential recipes so I could make my own at home.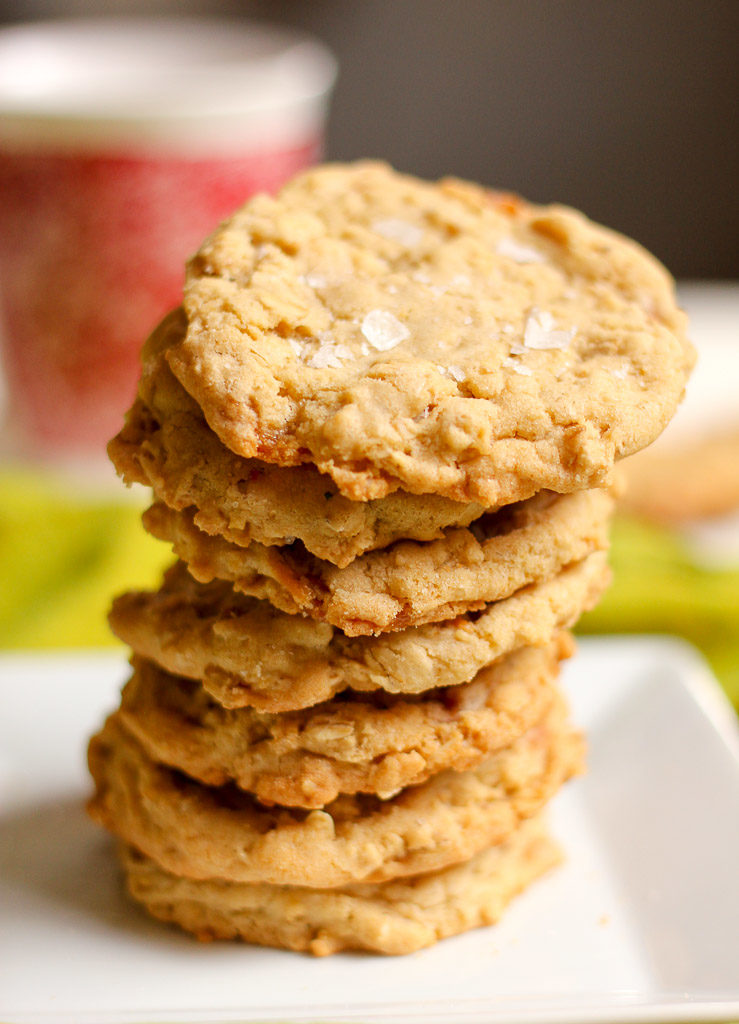 Over the last few months, I have been making these cookies over and over, tweaking them a little each time and I think I hit the jack pot. I tried different types of cookie bases, different amounts of oatmeal and caramel, with caramel extract and without, different sizes, and different kinds of salt.
In the end, I decided my favorite cookie base is one with melted butter, brown sugar and white sugar, an extra egg yolk, and a scoop of corn starch for soft chewiness. I liked them better without caramel extract so the caramel chunks inside sing out and my favorite salt option is Maldon's Sea Salt Flakes. Although the Great Harvest cookies are huge and on the slightly crispy side, I decided to go for a normal sized cookie and keep them soft and chewy. If you like them with more of a crisp, just bake them a few minutes longer, but all my instructions will be for a soft and chewy cookie.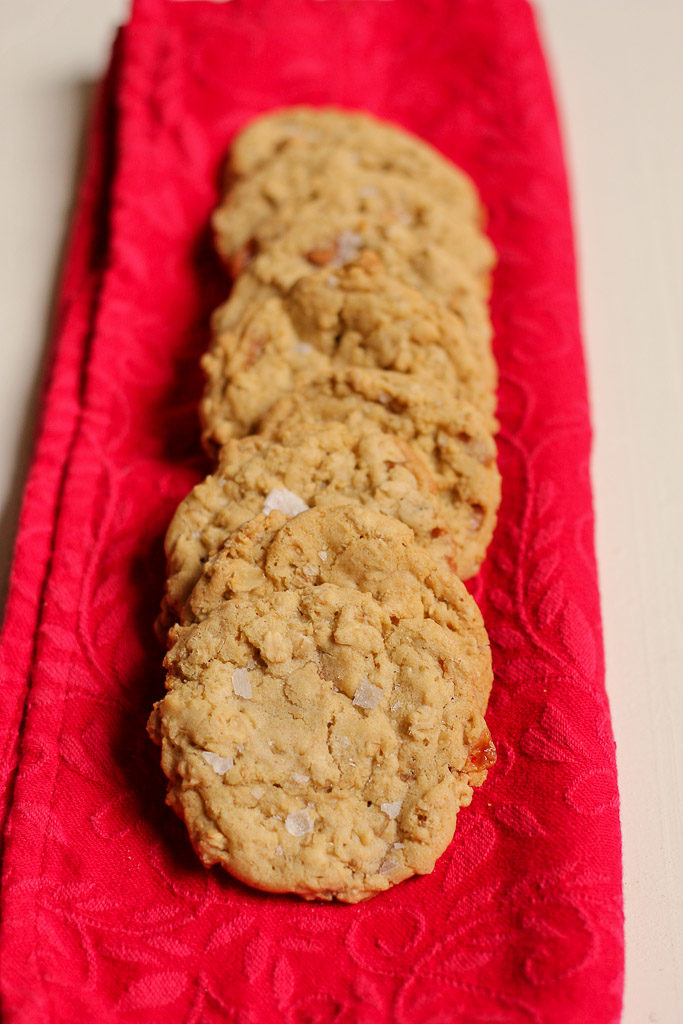 I use Kraft Caramel Bits in these cookies because they are the perfect size and so easy to deal with. I can't find them at a lot of grocery stores, but I can always find them at Walmart by the chocolate chips, so they shouldn't be too hard to find for most people.
You can adjust the amount of salt on top to your liking. I don't like a lot of salted caramel foods because they are too salty, but I find the sprinkle of salt on these cookies addicting. It brings out the caramel flavor and balances the sweetness. If you can't find Maldon Sea Salt Flakes, you could alternatively use kosher salt. If you like a more "oaty" oatmeal cookie, you can add between 1/4 cup to 1/2 cup of oats more than listed in the recipe. I have tried them both ways and can't decide which one I like more. They are both great, but I get a better shape with the less oats.
Salted Caramel Oatmeal Cookies
These Salted Caramel Oatmeal Cookies are packed with chewy caramel bits and oats, and are dusted with crunchy sea salt flakes. Perfect for Santa, cookie exchanges, and cookie jars.
Ingredients
12 TBSP (1 1/2 sticks) melted butter
1 C. brown sugar, packed
1/2 C. white sugar
1 large egg & 1 large egg yolk
1 1/2 tsp. vanilla
2 C. all purpose flour
1/2 tsp. salt
1/2 tsp. baking soda
1 1/2 tsp. corn starch
2 C. old fashioned oatmeal (you can add 1/4 to 1/2 cup more oats if you like them more oaty)
1 C. caramel bits (I can usually find them at Walmart)
Sea salt flakes (I use Maldon Sea Salt Flakes, but Kosher salt would work in a pinch)
Instructions
Preheat the oven to 325 F.
Start by melting the butter. Set it aside to cool to room temperature. Add the brown sugar and white sugar to the bowl of an electric mixer. Stir to combine. Add the cooled butter to the sugars and beat until combined.
Add the egg, egg yolk, and vanilla to the bowl and mix until smooth, well mixed, and lighter in color.
In a separate bowl, mix together the flour, salt, baking soda, and cornstarch. Add the flour mixture to the electric mixing bowl and mix until combined. Don't over mix at this point.
Add the oats and caramel bits and mix on low speed until well distributed. Scoop ping pong sized dough balls onto a cookie sheet lined with a silicone baking mat or parchment paper, about 12 per baking sheet. I like to use a small cookie dough scoop or a rounded tablespoon.
Bake for 14 minutes. At this point they will look under cooked still. That is how they should look. Leave them on the pan to cool and they will firm up and finish cooking on the hot pan. Sprinkle each cookie with some sea salt flakes, to taste. When they have cooled enough to easily pick them up without falling apart, move them to a plate. Repeat with the remaining dough.
Store cookies in an airtight container for maximum freshness.
http://ediblexperiments.com/2016/12/salted-caramel-oatmeal-cookies.html
Edible Experiments
Merry Christmas! And thanks to all the people who ate my many batches of experimental cookies until I found the perfect combo.