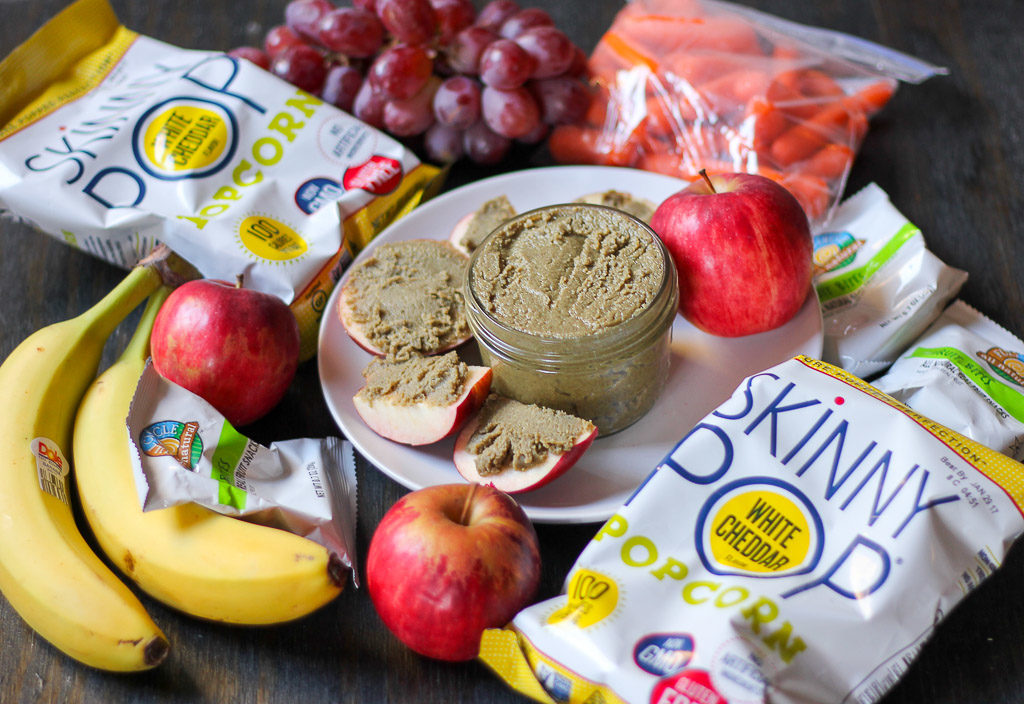 This post is jam packed, people. My thoughts on school lunches, a long list of healthy school lunch ideas, and a recipe for Homemade Nut Free Pepita and Sunflower Seed Butter. Stick with me, even though it is long.
For quite awhile, I have been wanting to compile a list of healthy school lunch ideas and healthy snack foods for kids. My daughter is a bottomless pit and is always hungry, so I am constantly trying to think of healthy snacks for her. So I decided to write a post about my best healthy snack ideas with a focus on allergen free and gluten free lunch packing tips!
While my family isn't gluten free and doesn't have significant allergies, there was a time in my life when I was avoiding every possible food allergen. When I was first diagnosed with Ulcerative Colitis, almost nine years ago, I decided to strip my diet down to the bare bones and slowly add things back in to rule out possible food allergies and triggers for relapse. So for a very long time, I wasn't eating gluten, dairy, eggs, nuts, soy, shell fish, fructose, etc. As I added foods back in and had tests done, I found that I don't have any major allergies. I did notice that I did much better when I ate meat less often and processed and sugary food less often. As time went on, I got much better at cooking healthy food made with lots of plants and no processed ingredients.
For the last five years, I have been mostly stable, with a few minor relapses. I do take medicine every day, and I couldn't function without it,  but its not enough on its own to keep me in remission and I have to put in some effort to eat well and stay emotionally healthy.  So, while I don't currently eat gluten free or allergen free, I have before. Also, many of my recipes are naturally gluten free and I have lots of gluten free readers, so its not a stretch for me to write this post. And you don't have to have a food allergy to enjoy allergen free food, like the homemade nut free pepita and sunflower seed butter in this post. We love it just because its something different from our usual choice of peanut butter.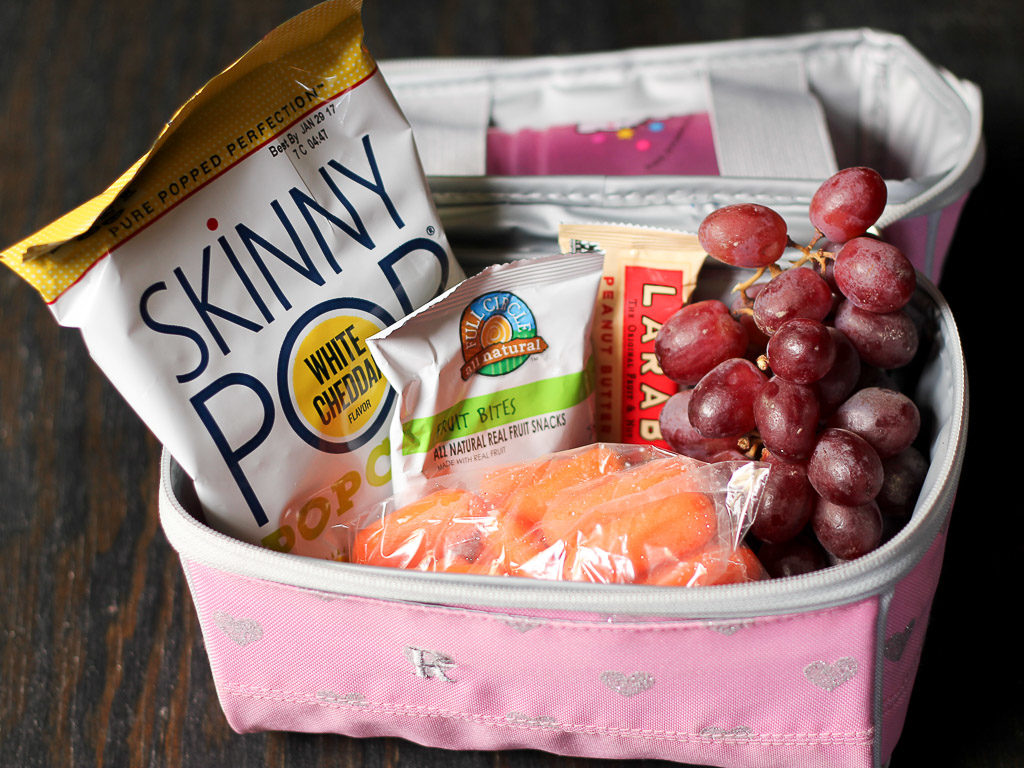 When my daughter was old enough to start eating solid foods, I decided I wanted to get her used to healthy, whole foods and interesting flavors right at the start. I wrote a whole post about preventing picky eaters, if you want more info on that topic. I loved watching her try new things and now that she is nearing four years old, she is still an adventurous eater. She loves Indian food, spicy food, runny eggs, Greek yogurt without any sweetener, the sharpest of cheeses, and raw veggies straight from the garden. She is currently going through a stage of hating her food being mixed together, but I can get her to eat almost anything if I play Goldilocks and the Three Bears with her and pretend her food is porridge.
She still has one more year until she starts school, but I know that I will for sure be sending a lunch with her. In my school as a kid, we had amazing school lunches. Homemade, delicious, from-scratch meals every day and everyone ate at the school. Even the chicken noodle soup had those amazing thick homemade noodles. Very few people brought lunches and we did not have the option of hitting up a local fast food place for lunch as high schoolers.  But today, homemade wholesome school lunches are a rarity and bringing lunch from home is more common than it used to be. So, unless my daughter's school has really good school lunches, I am planning on packing her a lunch everyday. And I am excited about it. Sure, it can be a drag to prep a lunch every day, but I can't wait to sneak little surprises in her lunch box. Love notes, jokes, eyes drawn on fruit with a food coloring marker. She will only be little for so long, and I am taking advantage of this time when she thinks that kind of thing is still cool.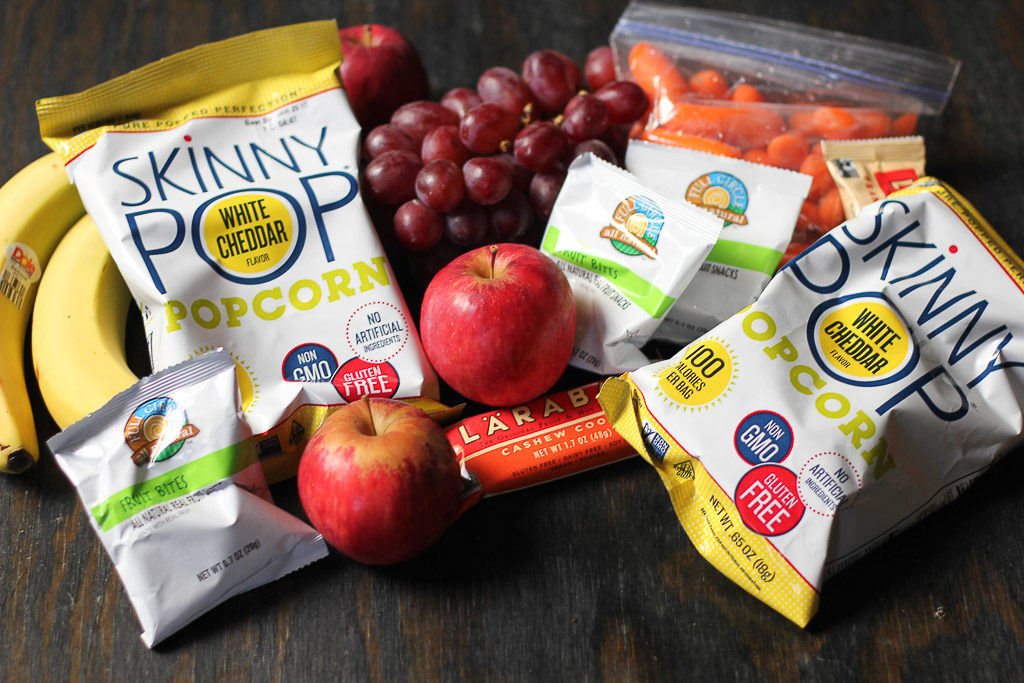 So while I don't pack her a lunch every day right now, I have been thinking up ideas and pinning things to my Snacks and Lunch Box Ideas Pinterest board, for quite awhile. And today I want to share with you my list of healthy school lunch ideas. These also all work as snacks for kids at home. I will do my best to categorize them as gluten free, nut free, or both.
A few disclaimers:
1). I am not including any sort of sandwich, because I feel like that is a given.
2.) I am including pre-packaged foods in my list, because sometimes we need something super convenient to just throw in. I am not including snacks that are highly processed. I try to list foods with simple ingredients that you would have in your own kitchen. I actually walked slowly through the isles of two stores, reading hundreds of labels, ruling out the snack foods that have any kind of added sugar (I was ok with some honey and fruit based sugar) or crazy processed ingredients. I know I am probably missing some great healthy school lunch ideas, so if there is something you love that I left off the list, write it in a comment.
3.) Always check the labels yourself to make sure the food you are buying is allergen free. Don't buy it just because its on this list without making sure you can eat it.
I know the list is super long, but if you can just stick with me for a bit, there is a great recipe for Homemade Nut Free Pepita and Sunflower Seed Butter at the bottom of this post. Its a great alternative for peanut butter, whether your kid has a nut allergy or just goes to a nut-free school.
Gluten Free and Nut Free Healthy School Lunch Ideas:
Skinny Pop Popcorn: We like it because it has simple ingredients and you can buy single serving pouches, which makes lunch prep so easy. They are completely gluten free and allergen free, too. In addition to the Original flavor (just salt), they also come in lots of other flavors like Sea Salt and Pepper, White Cheddar, and Jalapeno. If you want something sweet, they have a Naturally Sweet variety and a Dusted Dark Chocolate variety, but they do have a little bit of sugar added.
Roasted Chickpeas: You can make these at home or buy them premade. My Whole Food Life has compiled a list of 20 Roasted Chickpea Recipes with all sorts of flavors, if you are interested in making your own. Its super easy. If you are going for convenience, we like Biena Snacks Sea Salt Chickpeas because of their simple ingredients.
Roasted Seaweed Snacks: Go for a brand with simple ingredients like GimMe or SeaSnax. To be fair, at first these snacks can be kind of weird and its possible your kid wont like them. I didn't like the first bite, but by the third bite I was addicted and couldn't stop. So give them a few bites to grow on you. My three year old likes them, so I say, give them a shot!
Rice Cakes: Not all rice cakes are created equal. We like Lundberg Organic Brown Rice Cakes in the Lightly Salted variety. The only two ingredients are brown rice and salt. They are good with all kinds of spreads, like cream cheese, nut or seed butters, goat cheese, and hummus.
Cheese: Baby Bel or cheese sticks.
Cottage Cheese: Some cottage cheese is pretty processed and some is pretty simple.  Many brands include lots of added ingredients and thickeners. Daisy brand was the purest cottage cheese at the stores we shop at. My daughter loves cottage cheese and I love that it has lots of protein.
Yogurt: I recommend buying it Plain or Greek in a larger container and portioning it out yourself and adding some fruit and a little drizzle of honey or agave. A note about buying Greek yogurt: many Greek yogurts are impostors. Real Greek yogurt is strained and has simple ingredients like milk and good bacteria. Fake Greek yogurt will have all sorts of thickeners and extra stuff. Some brands that are the real deal: Fage, Chiobani, Siggi's, Stonyfield, Wallaby's, Smari Pure, Oikos 0% Plain, and many store brands. I also had a really hard time finding any yogurt without added sugar in the smaller personal containers. The one brand I do love for smaller containers is Dreaming Cow. Its lightly sweetened with honey and fruit juice, it has that lovely layer of cream on top, and its all from Grass Fed cows. I love the flavors, too. Blueberry Cardamom and Honey Pear are my favorites. The downsides are that it can be spendy and sometimes harder to find.
Seeds: Sunflower seeds, pumpkin seeds, even watermelon seeds. You can buy them in bulk, raw or toasted. You can also buy them packaged and flavored. Superseedz has some great dry roasted pumpkin seeds and Go Raw has salted watermelon seeds.
Sunflower Seed Butter: A great alternative to nut butters in schools that are nut free. Sunbutter is a good brand. Or you can make your own! There is a homemade nut free pepita and sunflower seed butter recipe at the end of this post!

Hummus: I am a fan of homemade hummus and there are so many varieties. Just go to pinterest and search "hummus" and you will have endless options. It is so easy to make and a batch can last all week. Use as a dip for fresh veggies, crackers, rice cakes, bread, or use as a spread for sandwiches. If you are going to buy hummus, just double check the ingredients. Most brands have some flavors with good ingredients and some flavors with less great ingredients. Sabra, Hope, and the Organic varieties of Cedar's are pretty safe bets.
Seedy Crackers: Mary's Gone Crackers Super Seed Crackers are great because they are gluten free and nut free and only have real ingredients. They don't even have oil! Oh She Glows' Endurance Cracker is a great recipe for a homemade nut free, gluten free cracker, too.
Some Granolas: I love making homemade granola and prefer it to store bought. There are lots of gluten free and nut free recipes out there, like this Banana Coconut Granola from The Pretty Bee and this Double Pumpkin Granola from Live Eat Learn. When it comes to store bought granola, I look for one that is low in sugar and other not-real ingredients. New England Naturals Organic Gluten Free Unsweetened Berry Coconut Granola is a great one and I love how it is lightly sweetened with raisin puree. Udi's Au Naturale Granola is also a good choice with only three, real ingredients.
Hard Boiled Eggs: Cook up a bunch and have them ready to go for the whole week in the fridge. Peel before you pack them.
Pickles: Just look for a kind without added sugar.
Olives: Perfect for sticking on fingers!
Oatmeal: Make from rolled oats and your own mix ins. Store hot in a thermos. Overnight oatmeal served cold is also a great option and there are a million healthy recipes out there, like my Mango Coconut Overnight Oatmeal. 
Smoothies: Pack either in a thermos or frozen in smoothie pop molds.
Homemade Soup: Pack hot in a thermos. I love my Healthy Black Bean Soup and Savory Pumpkin Soup. I also love all the soup recipes in The Oh She Glows Cookbook.
Gluten Free Pasta: Cook and toss with salt, cheese, butter, pesto, or whatever you have on hand. I love Trader Joe's Brown Rice Quinoa pasta because it has a higher protien content than plain pasta. Its my go to pasta in my pantry. If you don't have a Trader Joe's nearby, you can usually find Tinkyada or Ancient Harvest brown rice pasta in most stores.
Apple sauce pouches: Most of them are sugar free, but I always check because there are still a few brands sneaking corn syrup and other sugars into their apple sauce pouches.
Mamma Chia squeeze pouches: Similar to apple sauce pouches, but made from chia seeds hydrated in fruit/veggie puree and juices. There is no added sugar and lots of different flavors.
Juice boxes with 100% juice: I usually just stick with water as my family's main beverage. But if you want to add a juice box to lunch, choose one that is 100% juice. Capri Sun, Langer's, Honest Kids, Juicy Juice, Minute Maid, and Back to Nature all make 100% juice in pouches or boxes.
Raw veggies: baby carrots, sweet peppers, cucumbers, broccoli, cauliflower, cherry tomatoes, sugar snap peas, jicama, avocado, celery.
Roasted Veggies: Sweet potatoes, beets, butternut squash, carrots, broccoli, cauliflower, asparagus, kale.
Canned Veggies: green beans, corn, peas, beets. I have also seen Libby's green beans, corn, and peas in small single serving cups.
Edamame: Buy frozen, shelled or still in the pods. Microwave and toss with salt. This is one of my daughters favorite snacks and its packed with protein. We buy from Sams Club or Costco in the big packs. Trader Joe's and even most normal grocery stores also sell frozen edamame.
Beans: Whole or re-fried. I buy vegetarian refried beans because they have the purest ingredients.
Kale Chips: Homemade or store bought. I make my own by tossing some kale with olive oil and salt and roasting until just a little crispy, but not crumbly. Store in an airtight container or baggie.
Fresh Fruit: Grapes, bananas, apples, berries, clementines, pineapples, melons, kiwi, mango, peaches, pears. Make it fun by cutting out shapes with cookie cutters or making fruit skewers.
Fruit Cups or Canned Fruit: Lots of fruit cups now offer fruit in their own juices. Avoid fruit stored in any kind of syrup or sweetened juice.
Dried Fruit: Lots of dried fruit has added sugar, so read the labels. Raisins are usually safe. Trader Joe's has delicious dried mango called, Just Mango. Peeled Snacks also makes dried fruit that has no added sugar or oil. You can also make your own with a dehydrator!
Crispy Fruit Chips: Again, some brands have added sugar and oil. Look for just the fruit listed in the ingredients. Bare makes apple chips and banana chips in lots of different flavors and varieties with no added sugar or oil.
Freeze Dried Fruit: Lots of different brands have freeze dried fruit with just the fruit as the only ingredient. My daughter loves it, although it doesn't fill her up as much as other forms of fruit. Crispy Green is a great brand of freeze dried fruit because they have a great variety and you can buy them in single serving pouches, which are perfect for school lunches. Brothers-All-Natural is another brand that we like because we can find it at Walmart, sometimes they have Mickey Mouse on it, its cheaper than other brands, and it comes in single serving pouches.
Fruit Leather: We like Stretch Island Fruit Co. The only ingredients are fruit and you can get them in bulk at costco. The only down side is that they are a little hard for young kids to open on their own. You can also make your own fruit leather in the oven or dehydrator. This Sneaky Green Apple Fruit Leather from Oh My Veggies is a good one.
Fruit Snacks: I usually avoid fruit snacks because they really are just candy, even if they boast using real fruit. But sometimes they are a fun treat for a kid. My favorite fruit snacks are Full Circle All Natural Fruit Bites because they are completely sweetened with fruit juices and puree's.
Gluten Free Healthy School Lunch Ideas (But not nut free):
Nuts: peanuts, cashews, pecans, almonds, walnuts, macadamia nuts, pistachios
Trail Mix: make your own by tossing together nuts, seeds, dried fruit, and chocolate chips.
Nut Butters: We love Kroger Natural Salted Peanut Butter. Two ingredients: salt and peanuts. But so creamy and smooth.
Larabars: These are really the only granola bar type food that I have found that isn't chuck full of added ingredients. Other brands come pretty close, but are usually super expensive. Most of them have nuts, but their ingredients lists are small and real. Most flavors contain only nuts, dates, and other fruits. There are a few flavors that are a little more decadent and have added sugar, but most do not. They are a little bit of an acquired taste and I can't eat one quickly, even though I love them. But if you like dates, you will love these.
Nut Free Healthy School Lunch Ideas (But not Gluten Free):
Whole Wheat Crackers: Triscuits Original flavor, Ryvita, Ok-Mak, Wasa.
Toast: Great for dipping or as a receptacle for spreads.
Whole Wheat Pasta: Toss in any kind of sauce, cheese, or just butter and salt.
Whole Wheat Mini Bagels or English Muffins: Check the ingredients lists for simple ingredients.
Other Healthy School Lunch Ideas (Not Necessarily Gluten or Nut Free, but could be made so):
Muffins: Healthy Apple Cinnamon Muffins and Blender Banana Oatmeal Muffins, to name a few.
Homemade Granola Bars: I love the Glow Bars in the Oh She Glows Cookbooks.
Energy Bites: Little energy balls of dates, nuts, and other yummy mix ins. Bless This Mess has a great post of how to make these with 9 different flavor options.
Quesadillas, tacos, or wraps: fill with hummus or beans, cheese, salsa, and fresh veggies.
Mini Pizzas: make on English muffins, toast, or even pizza dough.
Pasta salad
Chickpea salad: We love these Chickpea Salad Sandwiches from Oh She Glows. Its great in sandwich form or just eaten with crackers or with a spoon. There are tons of different varieties of chickpea salad sandwiches. Just search it in Pinterest.
Whole Grain Waffles or Pancakes: Breakfast for lunch is fine by me!
Garden salad: Does your kid like salad? Make a yummy homemade dressing and add some fun toppings and they might!
Seasoned rice, quinoa, or other grains: Cook a grain in veggie broth and add some veggies.
Left overs!: We use left overs for lunch as much as possible. Some left overs wont work for sending in a lunch box, but many will, especially if you use a thermos to keep them hot.
Hopefully that massive list inspired some healthy school lunch ideas. These would work great for adults and kids who need to pack a lunch, or just lunch ideas for kids who are at home still.
Packaging School Lunches:
When it comes to packaging school lunches for kids, I am not really an expert, yet. But I love the recommendations and advice from 100 Day's of Whole Food. She has some great posts for packing school lunches where she reviews her favorite containers and accessories.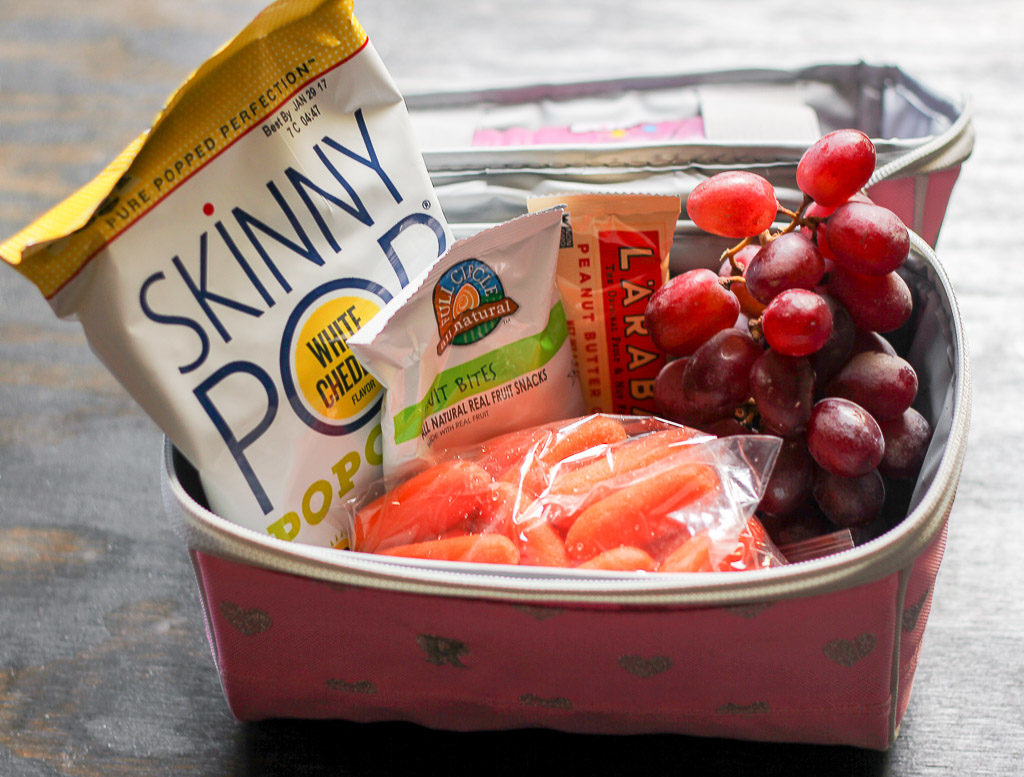 Also, I just wanted to assure you that even though I posted mostly healthy, whole food snack ideas, I'm not snooty or judgey. I do my best to make healthy food, but I believe in splurges. In fact, just today, my daughter and I ate a doughnut at the grocery store with some friends right before shopping for whole food ingredients. I know I am occasionally going to sneak a candy or a treat into my daughters lunch box and we have way too many days where we end up going through a drive-through rather than putting together a perfect lunch. She has a massive stash of Halloween candy, just like any other kid (although I am making her spread out eating it). But I really do believe in trying to make the majority of food eaten, real food, because I know I feel so much better that way. I love making things from scratch and I love trying to save money, so not all of the items I listed are practical for me. But there are times in life, where you need something quick and pre-made. So take what helps you and use it, and don't worry about the rest. No mom guilt here. There is enough of that to go around already!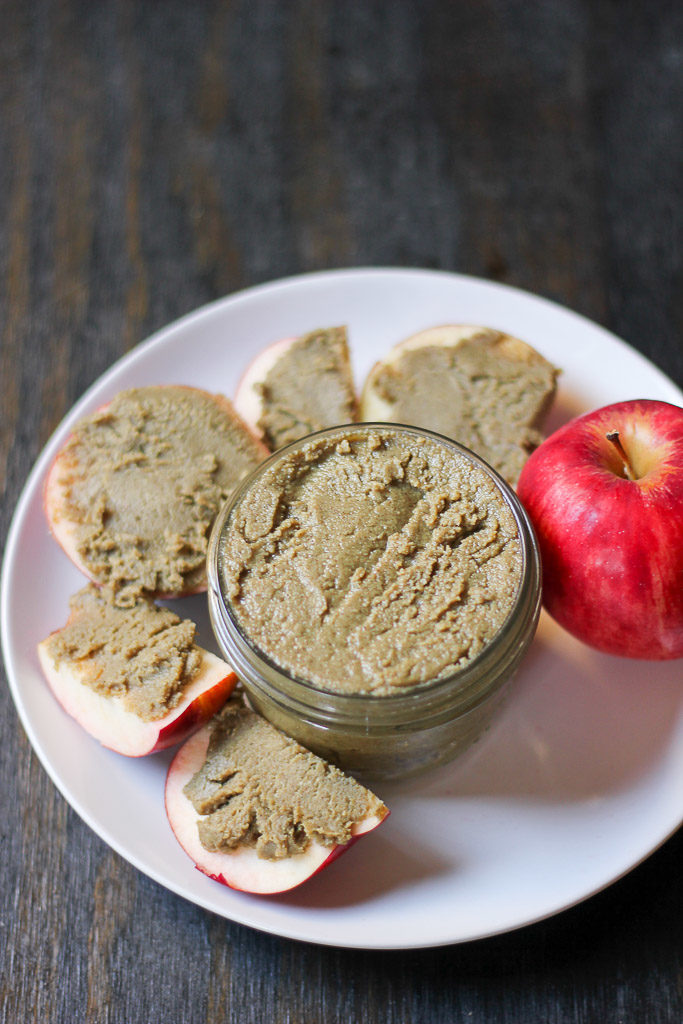 Lets also admit that sometimes a good old PB & J is the easiest thing to throw together in a hurry. But so many schools or class rooms are nut free these days, which is great when there are children with severe allergies to protect. But you can make a PB & J with seed butter instead of peanut butter! Problem solved! I made up this recipe for Homemade Nut Free Pepita and Sunflower Seed Butter. Pepitas are the green insides of pumpkin seeds. You can usually find them easily in bulk bins. I love having them on hand to put in granola and granola bars, as a topping on oatmeal or yogurt, and as a salad mix-in. This pepita and sunflower seed butter is lightly flavored with maple, vanilla, and cinnamon, but you can customize it to suit your tastes. You can make this recipe in a food processor or blender. I have found that a food processor is a little easier to deal with and much easier to scoop out.
Homemade Nut Free Pepita and Sunflower Seed Butter
Homemade nut free seed butter made from pepitas and sunflower seeds and lightly flavored with cinnamon, vanilla, and maple. A great alternative to nut butter for people with allergies or for nut-free school lunches.
Ingredients
1 C. raw pepitas
1 C. raw sunflower seeds
1 1/4 tsp. cinnamon
1/2 tsp. salt
1 tsp. vanilla
2 TBSP. maple syrup, or to taste (optional)
2-4 TBSP. melted coconut oil or any other kind of oil
Instructions
Preheat the oven to 325. Spread the pepitas and sunflower seeds out on a baking sheet. Cook for about 8 minutes, or until slightly golden and toasty.
Place the pepitas, sunflower seeds, cinnamon, salt, and vanilla in the bowl of a food processor. Add the maple and some of the oil and process until a thick butter forms. You will have to let it run for a few minutes before it will really start to come together.
Add more oil as needed to thin up the mixture and help the food processor do its job. Scrape down the sides as needed. Add oil a little at a time until it is the desired consistency. I keep mine pretty thick, but still spreadable.
Feel free to add more or less maple syrup to taste. Store in air tight container in the fridge.
Notes
-If you choose to use a high speed blender instead of a food processor, you will need to scrape down the sides more often and add a little more oil.
-Feel free to leave out the maple and cinnamon. Or you can use coconut sugar instead of the maple.
http://ediblexperiments.com/2016/11/healthy-school-lunch-ideas-homemade-nut-free-pepita-sunflower-seed-butter.html
Edible Experiments