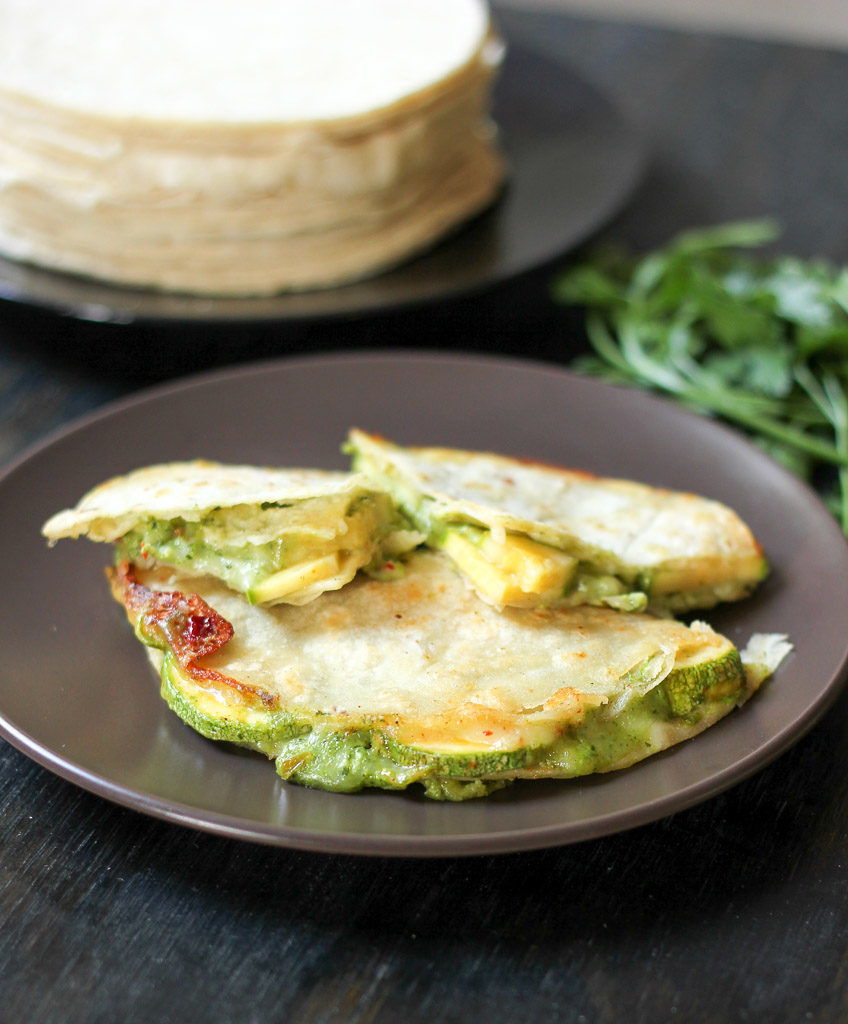 Summer seems to be slipping away, so I wanted to post these Zucchini Chimichurri Quesadillas as one last summer produce recipe before it's full on fall. This recipe is perfect for a busy week night dinner. Especially if you make the chimichurri sauce ahead of time.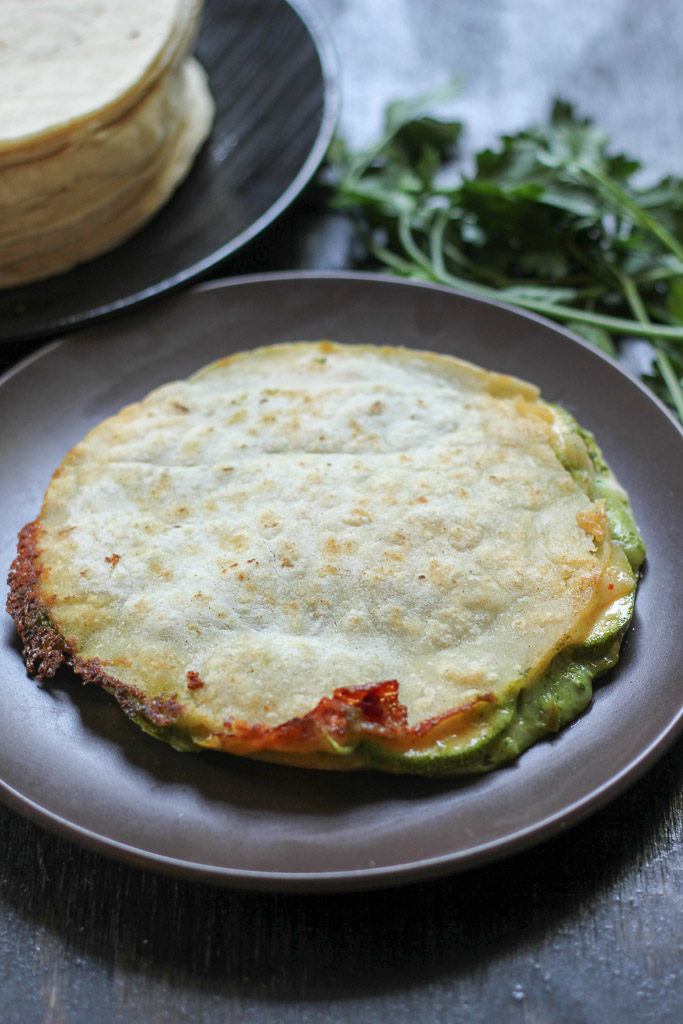 Being pregnant has drained every speck of my energy and a lot of my desire for food in general. Not much sounds yummy to me these days, especially vegetables, which I normally love. Besides my ever constant craving of hot cocoa, my only cravings hit around midnight when I feel like I could eat anything and everything. I guess its a good time for a craving to hit, because I usually just make myself go to bed instead of indulging. At normal meal times, when most food sounds gross to me, cooking becomes more of a chore. So a quick, simple meal like these zucchini chimichurri quesadillas is perfect for me right now.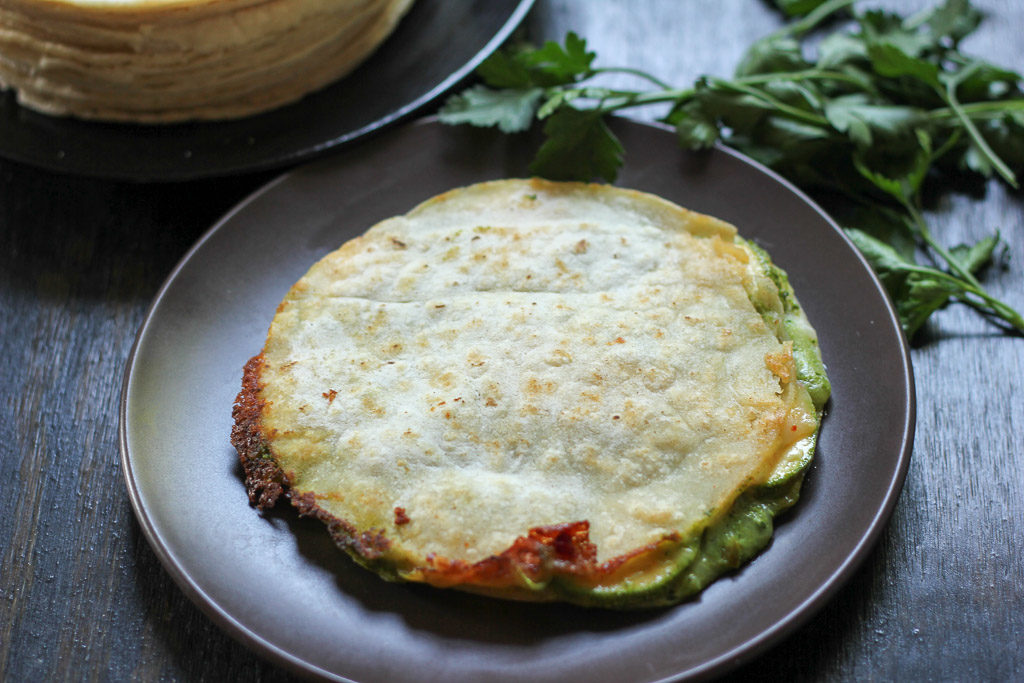 I posted the Creamy Chimicurri Sauce in my last post. Its a creamy, tangy, herby sauce. Stuff some tortillas with this parsley based sauce, zucchini, and pepper jack cheese and you have a great low key meal. These zucchini chimichurri quesadillas would also be amazing with grilled zucchini and cooked on the grill. Spinach would be a great addition, too, if you would like to up the veg content. Feel free to use flour tortillas, but keep in mind that the yield is based on standard corn tortillas sized quesadillas.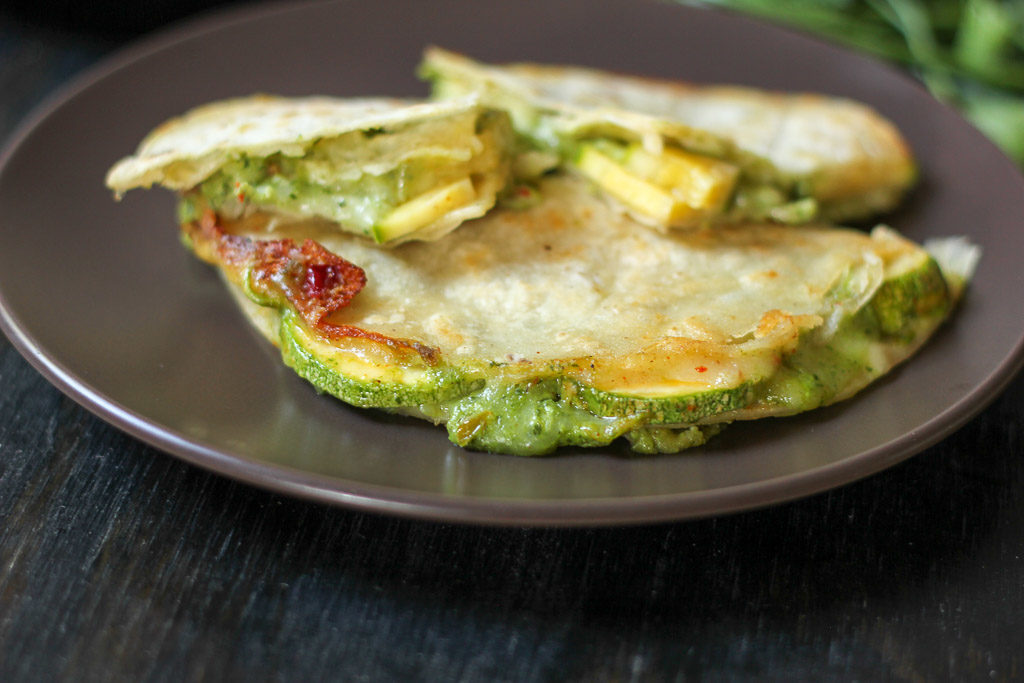 You will probably have leftover chimichurri sauce. Use the rest to add to sandwiches, tacos, grilled veggies or meat, salads, scrambled eggs, etc. Just store it in the fridge for about a week. It's delicious on this Grilled Cauliflower Steak Burger, which is also a great summer-fall transition recipe.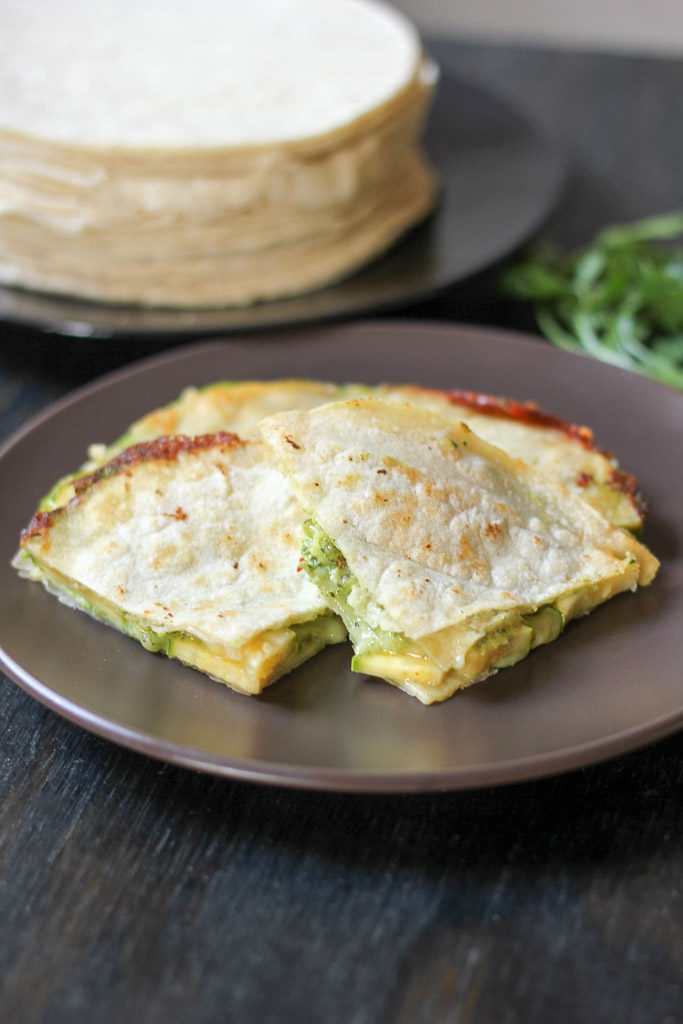 Besides missing my garden, for once I am not sad to see summer go. Bring on the hot cocoa, long sleeved shirts, and bring on the baby!!!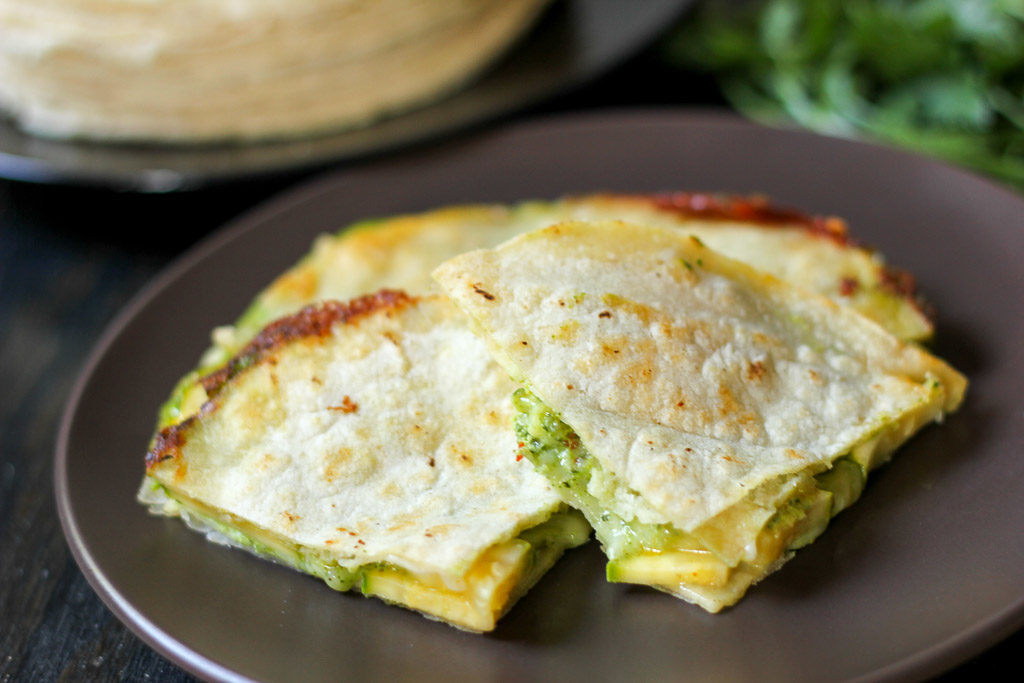 Zucchini Chimichurri Quesadillas
Quick and easy quesadillas stuffed with zucchini, pepper jack cheese, and a creamy chimichurri sauce. The perfect meal for a busy week day.
Ingredients
10-12 corn tortillas
drizzle of olive oil
2 medium zucchini, washed, halved, and sliced
salt, to taste
small pat of butter
2 C. pepper jack cheese, shredded
1 batch Creamy Chimichurri Sauce (you will have some extra)
Instructions
Prepare the zucchini and grate the cheese. Prepare the chimichurri, if you haven't already. Heat the oil in a large pan. Once hot, add the zucchini slices. Add a generous sprinkle of salt to taste and let cook for a few minutes until the sides touching the pan are golden and seared. Flip or stir the zucchini to cook the other sides. Once cooked through (tender, but not soggy), transfer the zucchini slices to a plate and wipe out the pan. Place the pan back on the heat.
Add a small pat of butter or a fresh drizzle of oil to the pan. On a plate, assemble the first quesadilla. On top of a corn tortilla, add some pepper jack cheese, sliced zucchini, and chimichurri sauce to taste, topped with a little more cheese. Add a second tortilla on top. Place the whole thing on the hot, buttered pan and smash down a little with a spatula.
Cook one side until crisp and golden then flip and cook the other side. Repeat with the remaining tortillas and ingredients. Slice with a sharp knife or pizza cutter.
Notes
-You will have leftover chimichurri sauce. Use the rest to add to sandwiches, tacos, grilled veggies or meat, salads, scrambled eggs, etc.
-Feel free to use flour tortillas. They are delicious, too.
-Spinach would be a delicious addition. Also, grilling the zucchini and quesadillas, would be a delicious adaptation.
-The amount of quesadillas this makes is variable depending on how big your zucchini is. It may make more or less than the amount listed. I like to shred up some extra cheese and buy extra tortillas to use the next day if there is more zucchini and sauce than I need for one meal. Just store left over zucchini and chimichurri sauce in an air tight container and assemble more quesadillas the next day. The sauce and zucchini will heat up again inside the quesadilla when you cook it.
http://ediblexperiments.com/2016/09/zucchini-chimichurri-quesadillas.html
Edible Experiments
Recipe by Edible Experiments