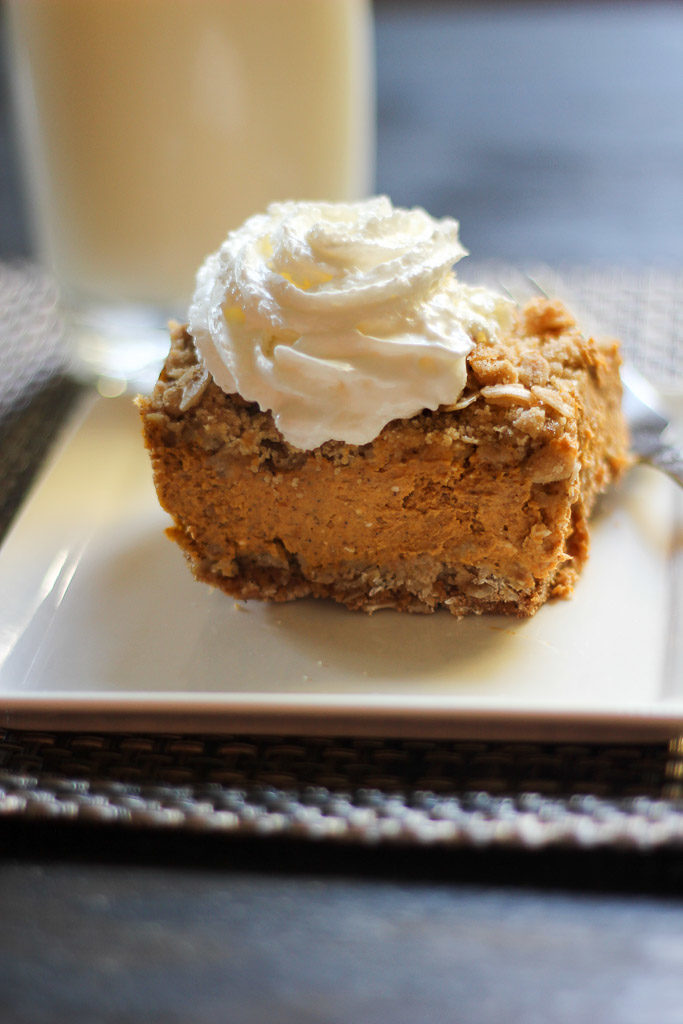 These Pumpkin Pie Oat Crumble Bars were inspired by a late night treat making episode with my sister. She was staying with me for a few days and  we were doing what we do best: binge watching Gilmore Girls and putting together a puzzle from the thrift store. We always pick out an ugly thrift store puzzle when one of us visits the other, always crossing our fingers that there aren't any missing pieces.
Abandoning our puzzle, we started hunting on Pinterest for the perfect late night treat. Something easy and something with chocolate was a must. We chose some chocolate chip oat bars and set to making them. Sadly, the chocolate chip oat bars were not meant to be. After making the oat base, I realized I was actually out of chocolate chips! Ahhh! So we just threw the oat mixture into a pan and cooked it, after which we realized we left out the eggs. Nevertheless, it ended up being a layer of oaty goodness that would have been absolutely perfect with some sort of fall filling. We were wishing for apples, or pears, or pumpkin, ….or chocolate.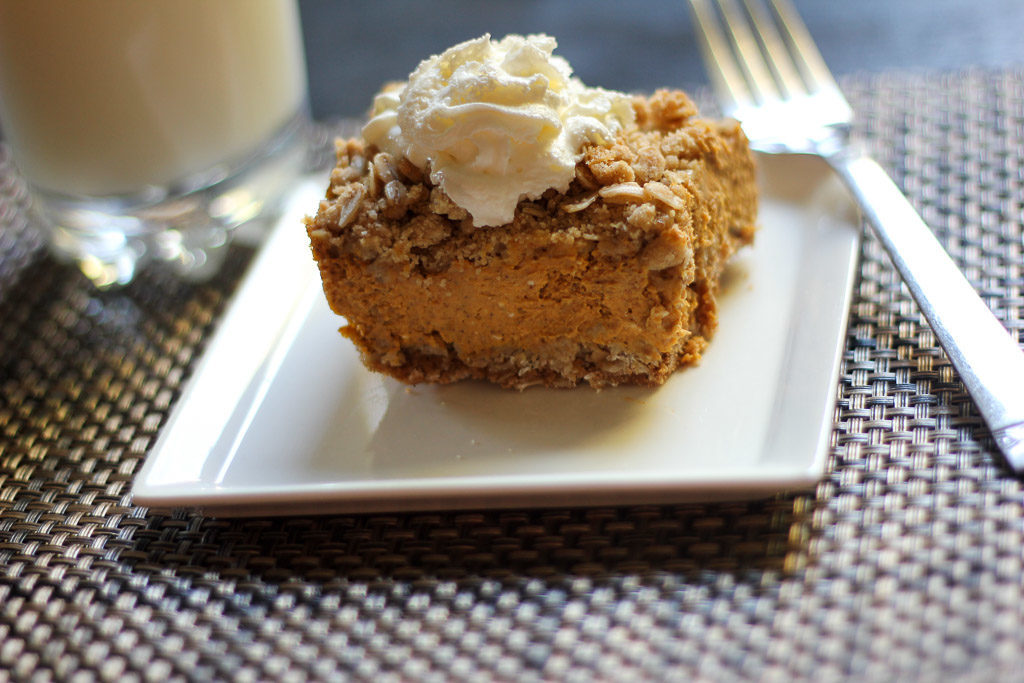 I immediately started brainstorming what I could turn this oat stuff into and these Pumpkin Pie Oat Crumble Bars were born. I took the idea of the oat layer and ran with it, but I didn't follow the same recipe from our sister night. It had a lot more butter and sugar than I am ok with using, even in dessert. I took the concept and made up my own lighter recipe and stuffed it full of a creamy pumpkin pie layer.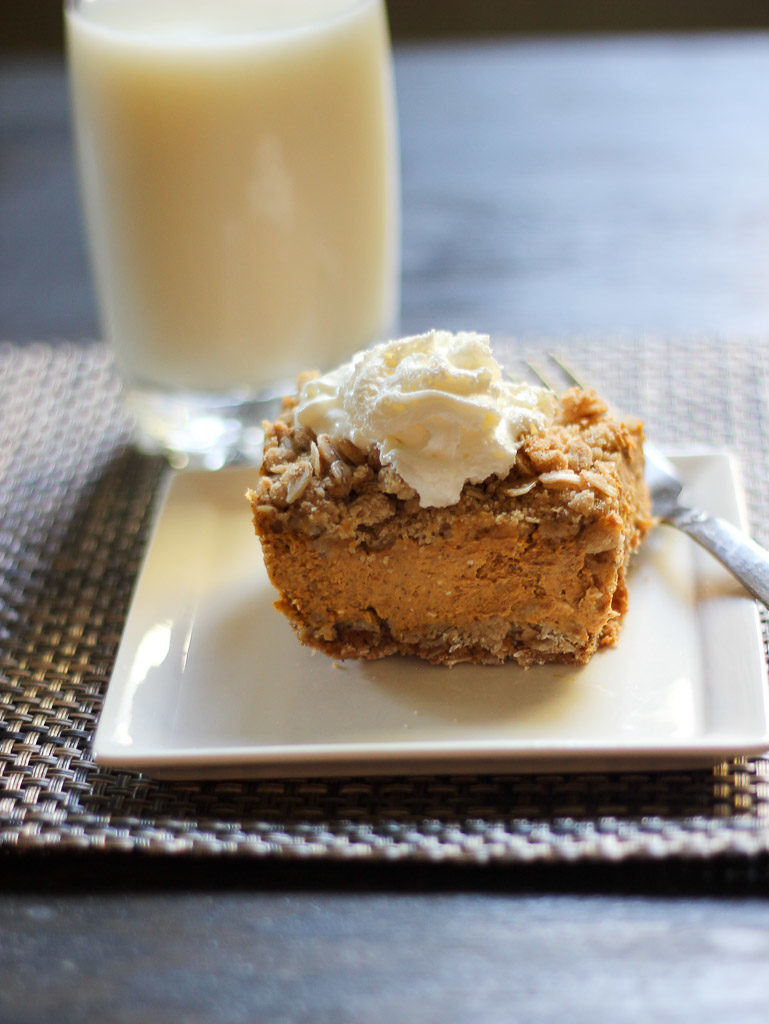 I tested these pumpkin pie oat crumble bars a few times before I got the pumpkin layer just right. The first time, I took my Pumpkin Dump Cake  recipe (if you have never made this, go make it NOW!) and halved the pumpkin filling. It didn't work for this recipe as well. It wasn't thick enough or stable enough. So I decided to bulk it up by nixing the evaporated milk and adding an extra egg, cream cheese, and sour cream. That was the ticket! I loved the rich cheesecake flavor the cream cheese and sour cream added. It also gave it just enough bulk and stability to stand its own between the oat crumble layers.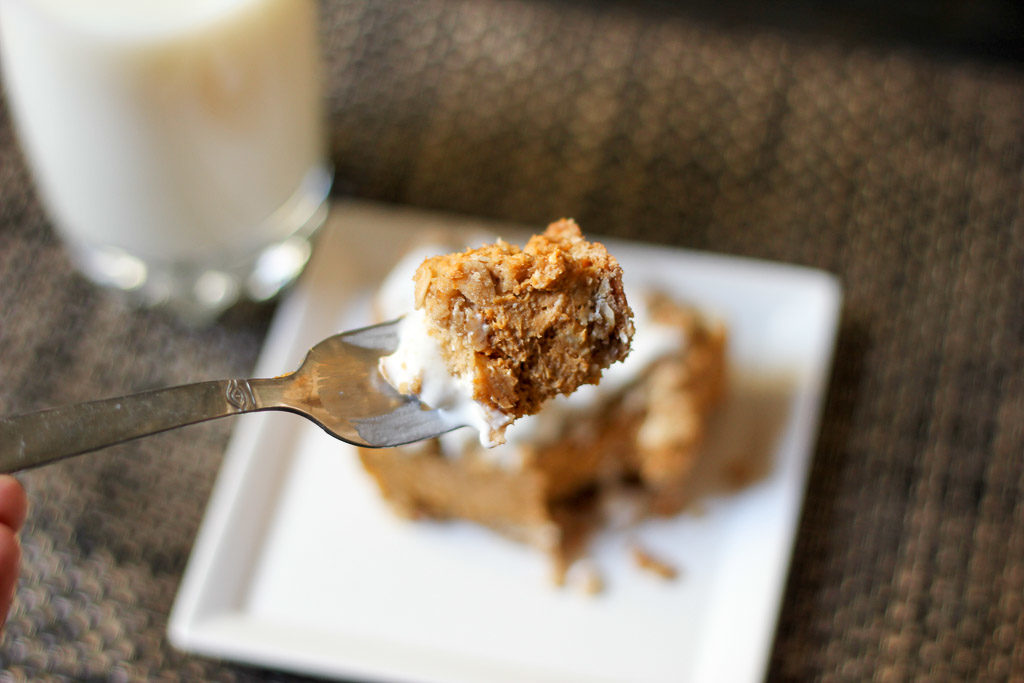 My daughter was begging me to take a picture of her taking a bite. After the picture,she quickly dug out another big piece of it and ran away as fast as she could, shoving it in her mouth as she ran. Sheesh, blogging with a kid can be tricky! But I wouldn't have it any other way.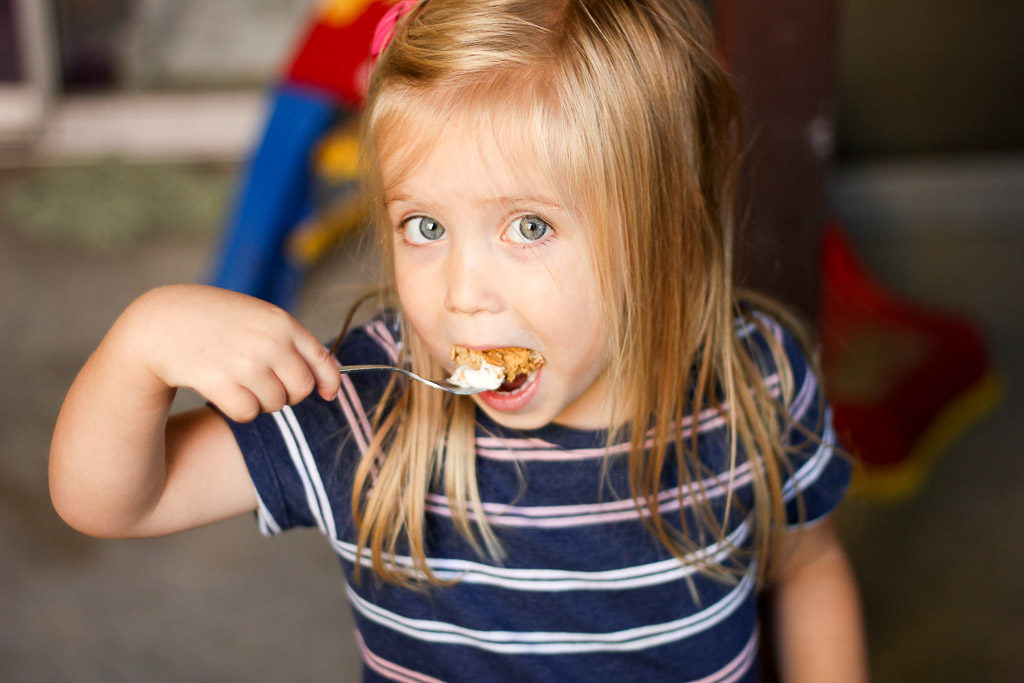 Looking for more pumpkin goodness this fall? Then make sure to try my Pumpkin Dump Cake or Chocolate Pumpkin Dump Cake. They are my most viewed posts on this blog. For a more savory fall feast, try my Savory Roasted Pumpkin Soup with Mushrooms and my Jack-O-Lantern Stuffed Bell Peppers.
Pumpkin Pie Oat Crumble Bars
A creamy pumpkin pie cheesecake layer sandwiched in between a crisp oat crumble.
Ingredients
Oat Crumble Layer

2 C. flour
2 C. rolled oats
1 C. brown sugar
3/4 tsp. baking soda
1/2 tsp. cinnamon
3/4 C. butter ( 1 1/2 sticks), melted
1 tsp. vanilla
Pumpkin Layer

1 (8 oz.) package cream cheese, softened to room temp
1/2 C. sugar
3 eggs
1 (15 oz.) can pumpkin puree
1/2 C. sour cream
1 1/2 tsp. cinnamon
1/4 tsp. ground ginger
1/4 tsp. ground cloves
1/4 tsp. nutmeg
1/2 tsp. salt
Whipped Cream for topping
Instructions
Preheat oven to 350 F. Make the oat layer. Combine the flour, oats, brown sugar, baking soda, and cinnamon in the bowl of an electric mixer. Mix until all the ingredients are combined. Add the melted butter and vanilla and mix on low until the butter is evenly distributed and the mixture starts to clump together. I use clean hands at the end to squeeze everything together.
Grease a 9 x 13 glass dish and add 2 1/2 cups of the oat mixture to the bottom of the pan. Press it into the bottom so that it covers the entire dish bottom evenly and is packed together. Bake for 7 minutes, then remove and set aside.
While the crust is cooking, make the pumpkin filling. Transfer the remaining oat mixture to a small bowl and wipe out the bowl to the electric mixer you were using for the oats. Whip together the cream cheese and sugar until smooth.
Add the eggs and beat again until smooth. Add the pumpkin, sour cream, cinnamon, ginger, cloves, nutmeg, and salt. Mix until smooth.
Pour the pumpkin mixture over the crust and smooth out so it is evenly distributed. Cover the pumpkin layer with the remaining oat crumble mixture. Bake for 35 minutes. Cover with foil and bake for ten minutes more.
You can eat it hot, but I think it is best after being chilled in the fridge. Top with whipped cream.
Notes
-You can make this without an electric mixer. Just use a bowl and a spoon for the oat crumble and a bowl and a hand mixer for the pumpkin layer.
-These bars will keep covered in the fridge for up to three days.
http://ediblexperiments.com/2016/09/pumpkin-pie-oat-crumble-bars.html
Edible Experiments