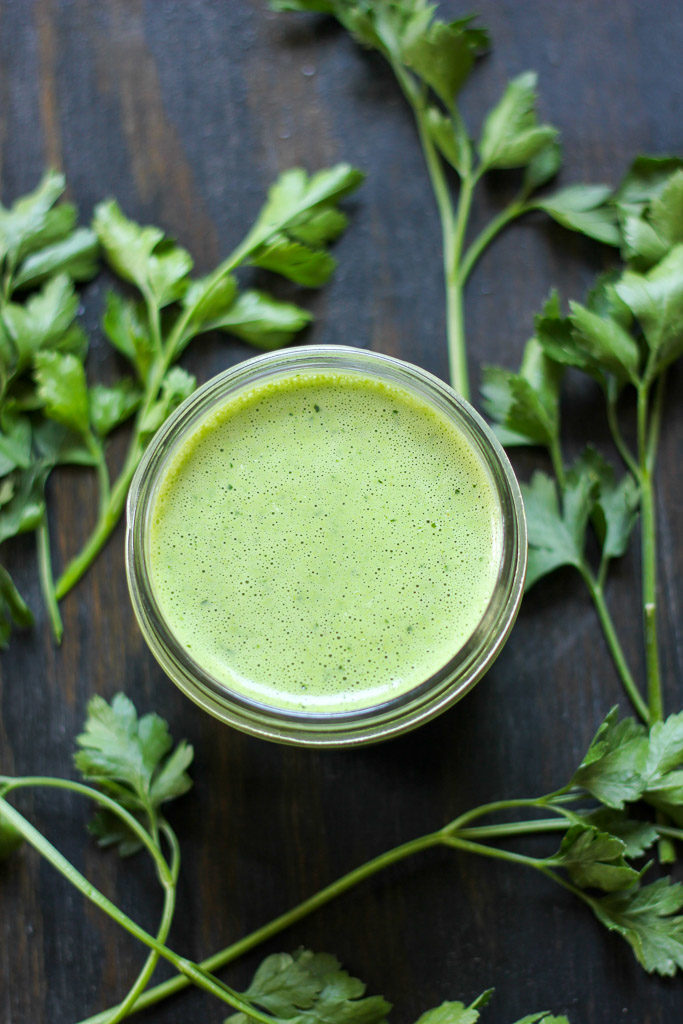 A party of me wants summer to last forever. The part that loves picking tomatoes and herbs from my garden, making fresh pesto and creamy chimichurri sauce, grilling by the pool, and wearing flip flops all the time. Another part of me cannot wait for fall and winter. The pregnant part of me.
But, as the summer starts to wind down a little, I find myself dreading the days when I can't walk outside and grab a handful of basil or parsley for the night's meal.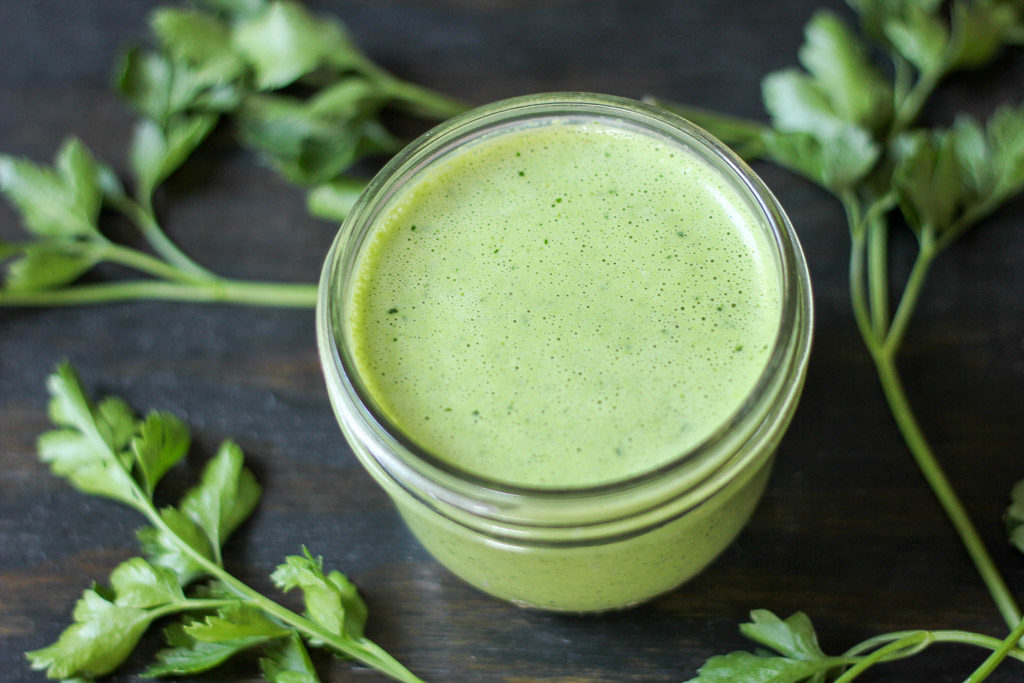 My parsley bush is huge and I always feel like I neglect it a little more than my basil. When it starts to get a little unruly, I trim it down by making this Creamy Chimichurri Sauce. It uses a whole bunch of parsley and is a great sauce for tacos, burgers, grilled veggies or meat, salad, toast, sandwiches. You name it. The tangy vinegar and yogurt balance out the parsley and the creaminess makes it go on anything. Chimichurri sauce is a traditional South American sauce made with parsley, garlic, vinegar, and oil. It is usually a little more chunky and not creamy, but I love this smooth creamy chimichurri sauce even more than the original. Its zingy and fresh and is perfect for  using up those last crops of herbs before cold weather sets in.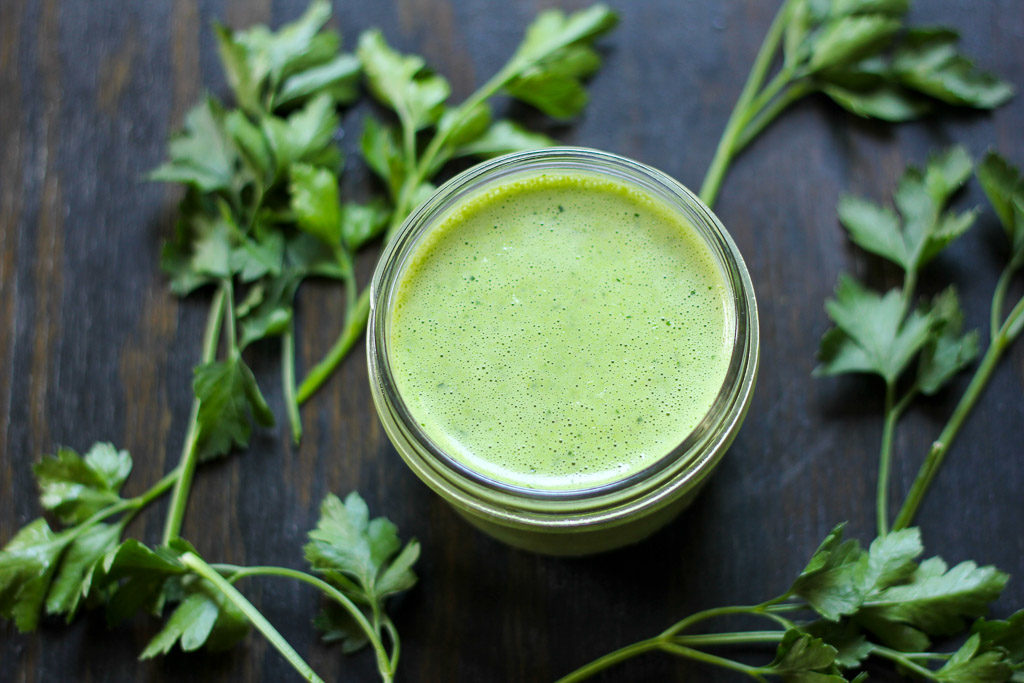 This can easily be made vegan. Simply replace the yogurt for a dairy free yogurt, dairy free sour cream, or cashew cream. You can also just leave the yogurt out for a more basic chimichurri sauce. It will still taste great, it just wont be creamy.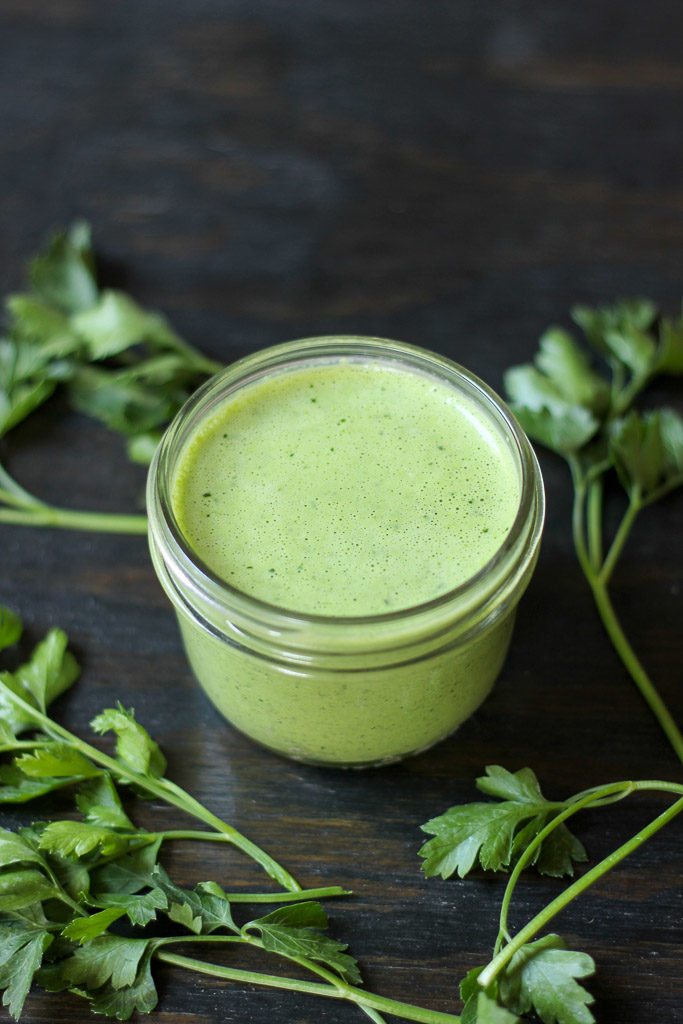 I love to use this sauce on these Grilled Cauliflower Burgers. And next week, I have a simple and quick lunch or dinner recipe using this creamy chimichurri sauce that also uses zucchini! This time of year, I am always trying to find ways to use the plentiful zucchini, too.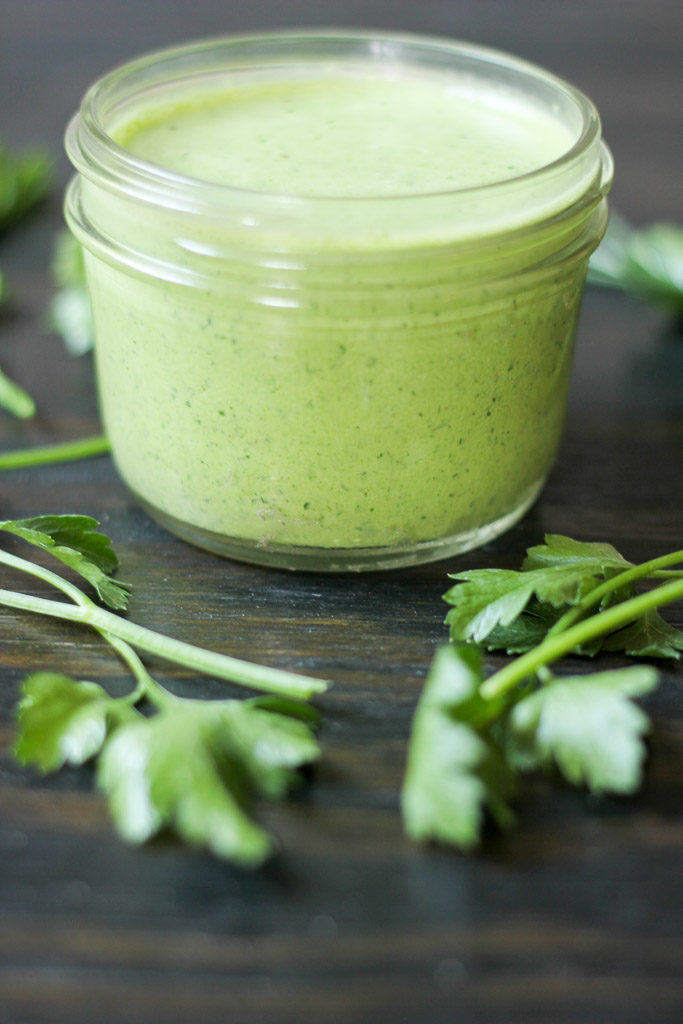 Take traditional chimichurri sauce to new, creamier level. Delicious on grilled veggies, meat, in tacos or burgers, or as as a salad dressing.
Ingredients
1 bunch of fresh parsley, washed with stems removed (1 cup packed)
3 cloves garlic
1 tsp. salt
1/4 tsp crushed chili flakes
1/4 tsp. pepper
2 TBSP. white wine vinegar (you could also use red wine vinegar)
2 TBSP. olive oil
4 TBSP. greek yogurt
1–4 TBSP water
Instructions
Put all the ingredients, except the water into a blender and blend until mostly smooth.
Add water to thin to desired consistency. I like mine pour-able, but not too runny. If you would like a chunkier sauce, don't blend as much.
Store in fridge, covered for up to a week.
Notes
To make vegan, use soy yogurt or cashew cream. Or leave out yogurt for a more traditional, less creamy chimichurri. Still good!
http://ediblexperiments.com/2016/08/creamy-chimichurri-sauce.html
Edible Experiments