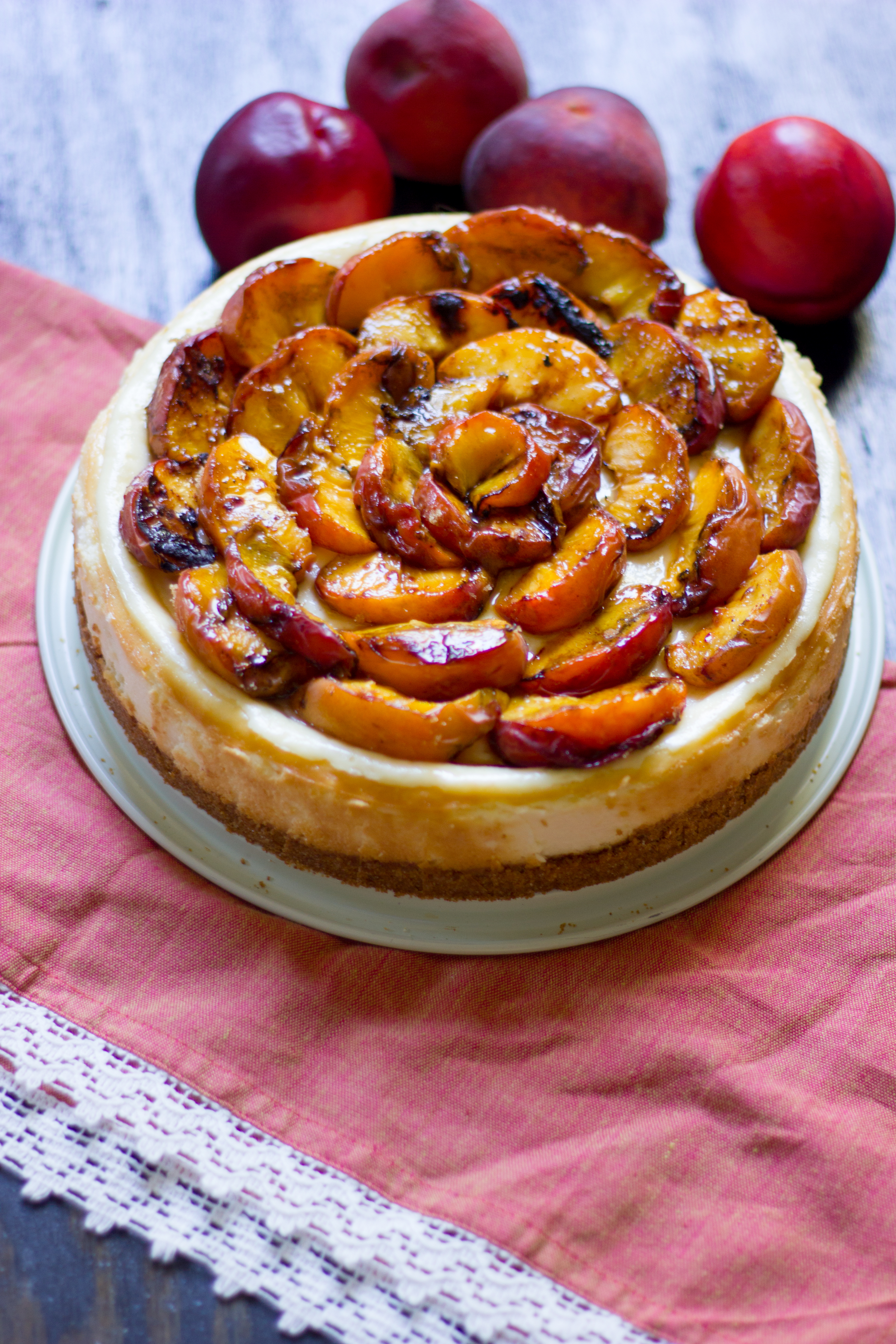 Isn't summer just glorious? Pool time, family reunions, bike rides, picnics, festivals, grilled peach cheesecake. We are really soaking up the summer in our house. My daughter and I made a cute check list of all the things we want to do this summer and hung it on our fridge. She made sure I wrote down "play pirates as a whole family" and "dance like a rock star". It is really easy to check things off our list because she has a super fun dad.  His schedule is lighter than usual right now and he has taken her to a Lego festival, on many long bike rides, shaved ice trips, swimming about a million times, and so many other fun things.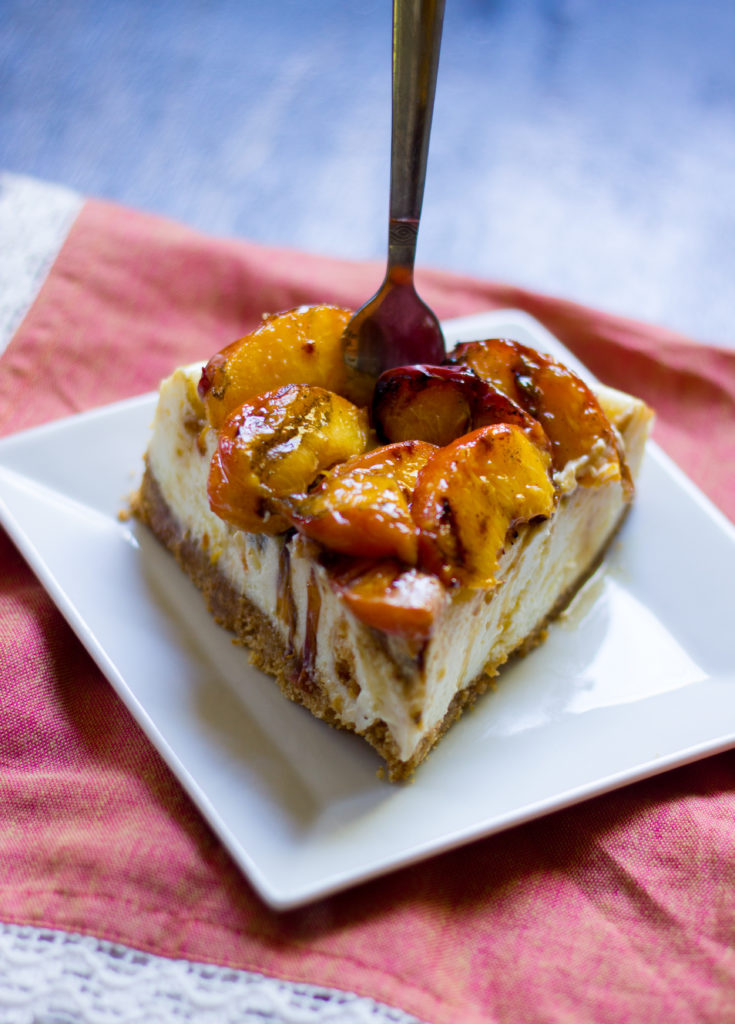 When I lived in Ohio our neighbors gave us their old grill and I got really obsessed with grilling things. I was grilling all sorts of fruits and veggies. Grilled romaine lettuce and grilled kale make the best salads. Grilled French bread with everything. Grilled Mexican street corn. Caprese skewers. Cauliflower steaks. You name it and I probably grilled it during our time in Ohio. Oh, except for meat. I don't know the first thing about grilling meat. But I am a veggie grill master!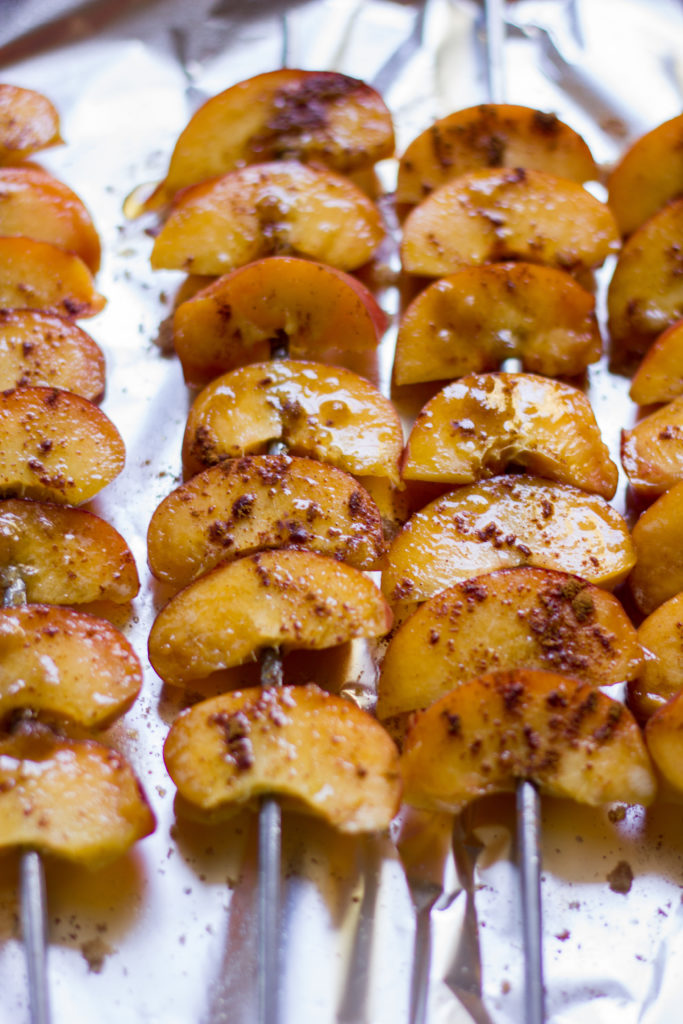 One of my favorite things to grill is fresh peaches. Especially when you smother them with something creamy (ice cream, whipped cream, honey butter, whipped sweetened cream cheese) after grilling them. This summer, I am using the community grill at my condo, so I don't grill nearly as often. But I knew some grilled peaches were in order this summer. And then I went and made them super decadent and packed them on top of a thick, creamy cheesecake. Man, Oh, Man. Grilled Peach Cheesecake.

Here's the thing about cheesecakes. They can be a pain to make. My two biggest complaints about making cheese cake: using 5 packs of cream cheese and water bathing. I hate spending that much money on cream cheese! This one only calls for three! And I hate the occasional water bath leakage that happens, giving you a soggy crust. Its just such a pain to do a water bath, but no one wants a big crack down the middle of your perfect cheesecake, right? So I did a ton of research and experimenting on cheesecakes and cracking. This grilled peach cheesecake requires no water bath!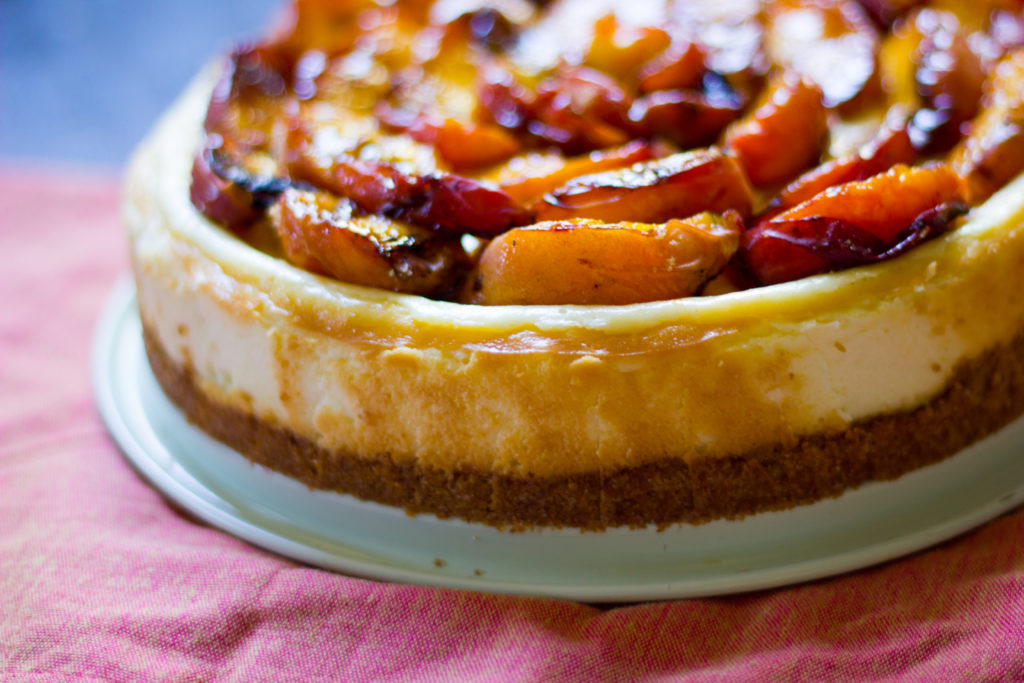 These are my cheese cake cracking solutions without the hassle of a water bath:
Don't over mix the filling, especially after adding the eggs. If you beat too much air in, it is more likely to crack.
Add a little bit of cornstarch for stability.
Cook at a lower temp for longer.
Pour boiling water into a glass dish placed on the bottom rack of the oven. Let it stay in the oven while cooking the cheesecake. The steam will mimic a water bath, without the need for an actual "bath".
Let the cheesecake cool in the oven with the door open. Abrupt changes in temperature cause cracks.
Run a knife around the cheesecake once its done cooking, so it can stay compact as a whole. Cheesecake shrinks a little bit after cooking and if its stuck to the pan sides while is shrinks it can pull a crack down the middle.
Be careful when lifting it so that you don't pop-in the middle of the metal base of the spring form pan.
If you do all these things, you are less likely to have a giant crack down the middle of your cheesecake. If for some reason, it still cracks, just cover it with peaches and whipped cream.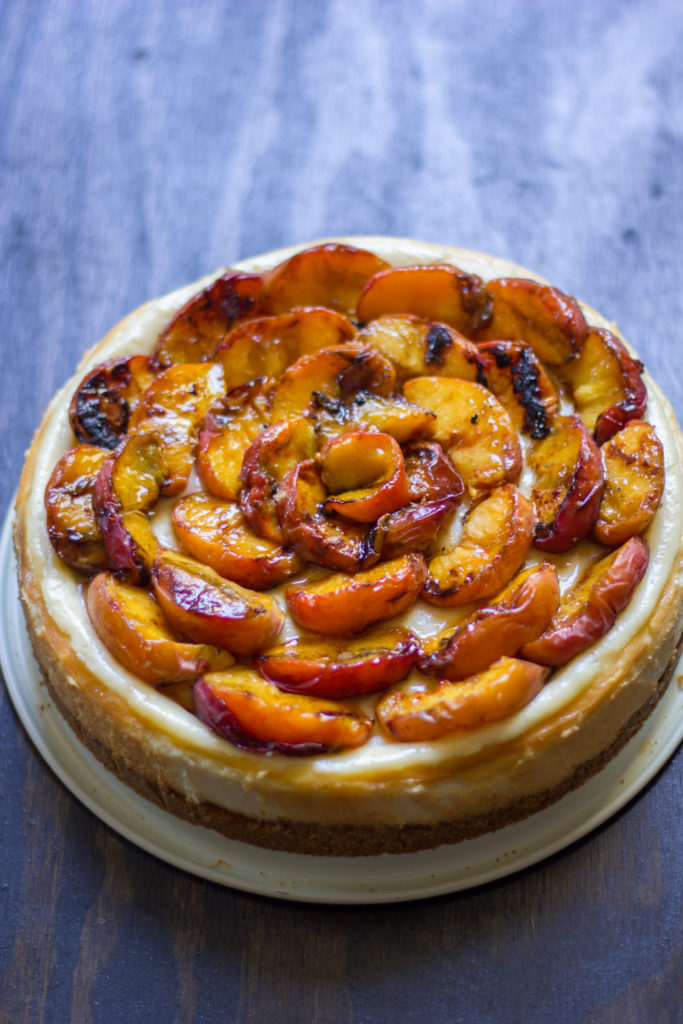 Soft grilled summer peaches topping a creamy, thick cheesecake. This cheesecake is easy and does not require a water bath.
Ingredients
Crust

11 graham crackers (or 1 1/2 C. graham cracker crumbs)
1/4 C. sugar
1/2 tsp. cinnamon
5 TBSP. salted butter (if using unsalted add a pinch of salt to the crumb mixture)
Cheesecake

3 8 oz. packages (24 oz. total) cream cheese, room temperature
1 C. sugar
1 TBSP. cornstarch
1/2 tsp. lemon juice
2 tsp. vanilla
1 C. sour cream
4 eggs
3 C. boiling water
Grilled Peach Topping

4-6 ripe peaches
melted butter or oil for brushing peaches
brown sugar to taste
whipped cream (optional)
Instructions
Preheat oven to 350 F. Break the graham cracker crumbs into chunks and place into a food processor (a blender would probably work too). Process until very fine. Stir in the sugar and cinnamon. Add the melted butter and stir by hand until all the crumbs are moistened and starting to stick together.
Transfer crumbs to a 9 inch spring form pan. Use clean hands to pat down the crumbs on the base of the pan, making a flat and compact layer of crust. Bake for 10 minutes. Remove and set aside to cool. Lower heat to 300.
While the crust is cooking and cooling, start on the filling. Start by beating together the softened cream cheese and sugar until smooth.
Add the corn starch, lemon juice, vanilla, and sour cream and mix again, just until combined. Add all the eggs and mix until just combined. When making this filling, do not over mix, especially after adding the eggs. You don't want to whip extra air into it or it will be more likely to crack on top.
Boil a small pot of water. Pour the filling onto the cooled crust. Place in the 300 F oven on the top rack. On the bottom rack place a glass 9 x 13 dish. Pour the boiling water (about 3 cups) into the dish and quickly shut the door. Bake cheesecake for 1 hour and 15 minutes. The edges should be set firm and the inside a little jiggly still.
Once the timer goes off, turn the oven off. Open the door and slide out the rack. Run a sharp knife around the edge of the cheesecake, separating it from the pan. Slide the rack back in and let the cheesecake cool in the oven with the door open. When it has cooled to room temperature, place plastic wrap on top and transfer to the fridge. Let chill overnight.
About 20 minutes before you are ready to serve the cheesecake, prepare the peach topping. Slice the peaches. Skewer them, so that the slices will lay flat on the grill.
Heat the grill to medium high heat. While it is heating up, brush the skewer of peaches with oil or melted butter and give them a sprinkle of brown sugar.
Place the peach skewers on the hot grill and cook for about 5 minutes, or until peaches are soft. Flip the skewers and cook for another 3 minutes.
Remove the peaches from the skewers and give them all another sprinkle of brown sugar, to taste. Arrange the peaches on the cheesecake. The cheesecake pictured has four regular sized peaches on top, but it yummiest with at least 5.
Slice with a hot, sharp knife. If you choose, top with whipped cream,too.
Notes
- Remember to set your cream cheese out on the counter ahead of time so it can soften.
-Plan for an overnight chill before serving.
-If you don't have skewers, you could also grill the peaches in halves and then slice them. Sprinkle on brown sugar after slicing.
http://ediblexperiments.com/2016/07/grilled-peach-cheesecake.html
Edible Experiments

Grilled Peach Cheesecake Recipe by Edible Experiments