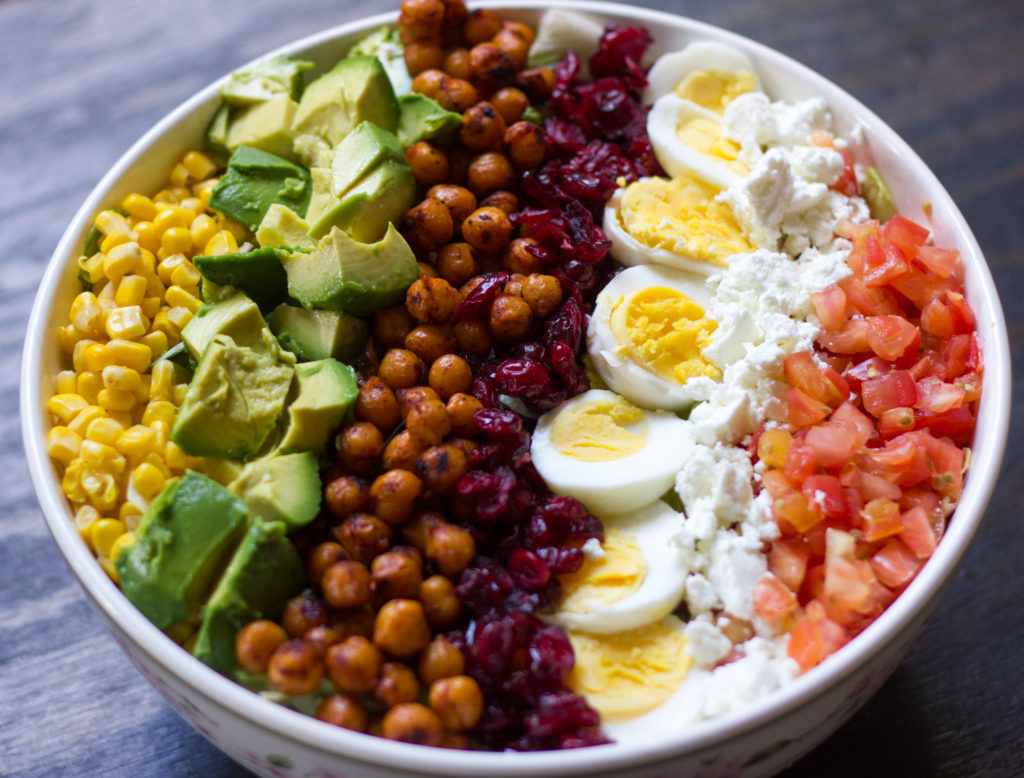 I have always thought Cobb salads are so pretty. The way all the toppings line up, making it look so vibrant and colorful. I made this vegetarian Cobb salad with smoky chickpeas because I was in the mood for a beautiful Cobb salad that maintained some of the aspects of a classic Cobb salad, like hard boiled eggs and sharp cheese, but that was out of the box enough to be exciting and flavorful and vegetarian.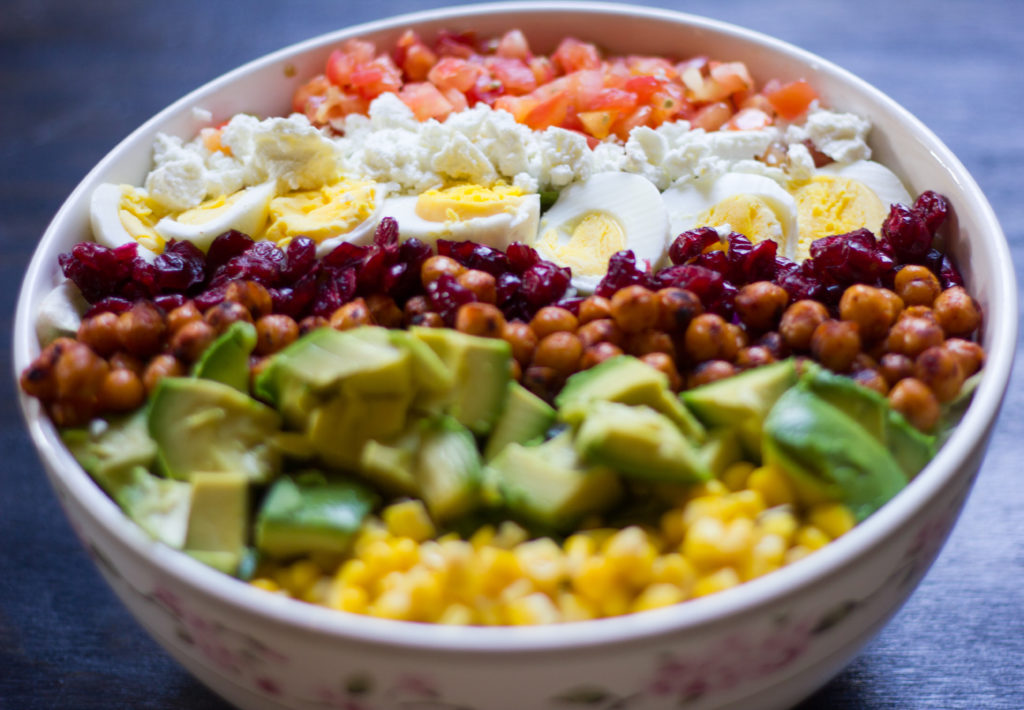 I wanted a vegetarian cobb salad that wouldn't feel like it was missing the bacon. So I marinated some chickpeas in a smoky sauce and pan cooked them until roasty toasty. Not in imitation of bacon, but to fill that flavor space with something smoky. My daughter loves them and could eat the whole batch all on her own. She calls them "core memories" and pretends she is Joy from Inside Out.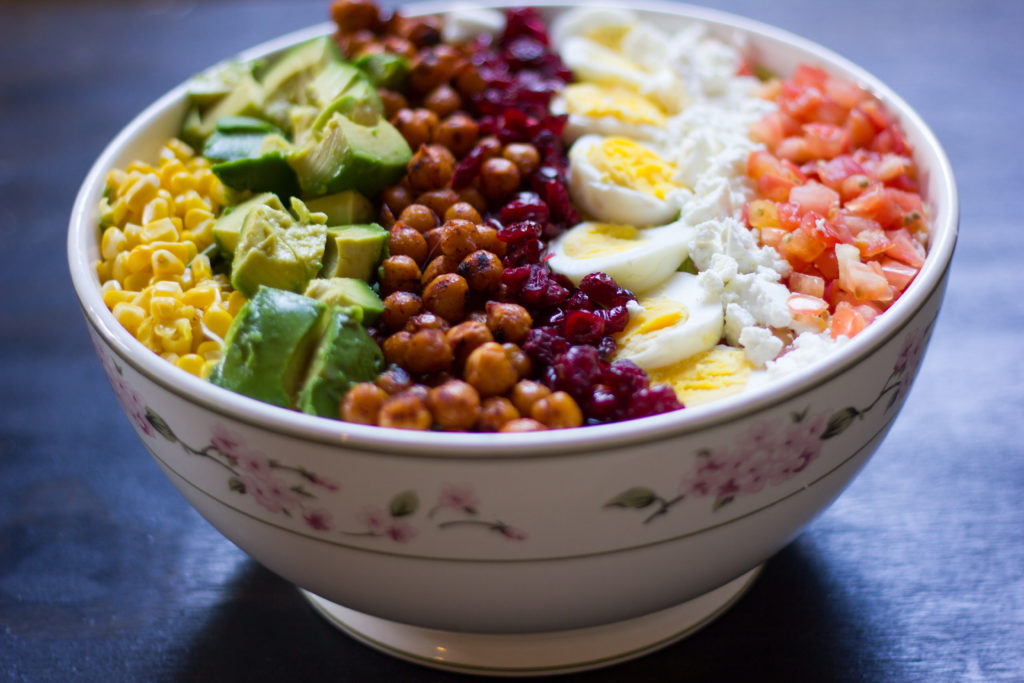 I chose to top this vegetarian Cobb salad with corn and cranberries for a pop of sweetness, avocado for a little creaminess, eggs because they are classic Cobb salad, goat cheese because I'm obsessed with it, and tomatoes to add a little acidity. It all went really well with the smoky flavors of the chickpeas. You can mix up the toppings however you like and use whatever you have on hand. However I suggest definitely keeping the eggs, chickpeas, some sort of sharp cheese, and some sort of sweet element.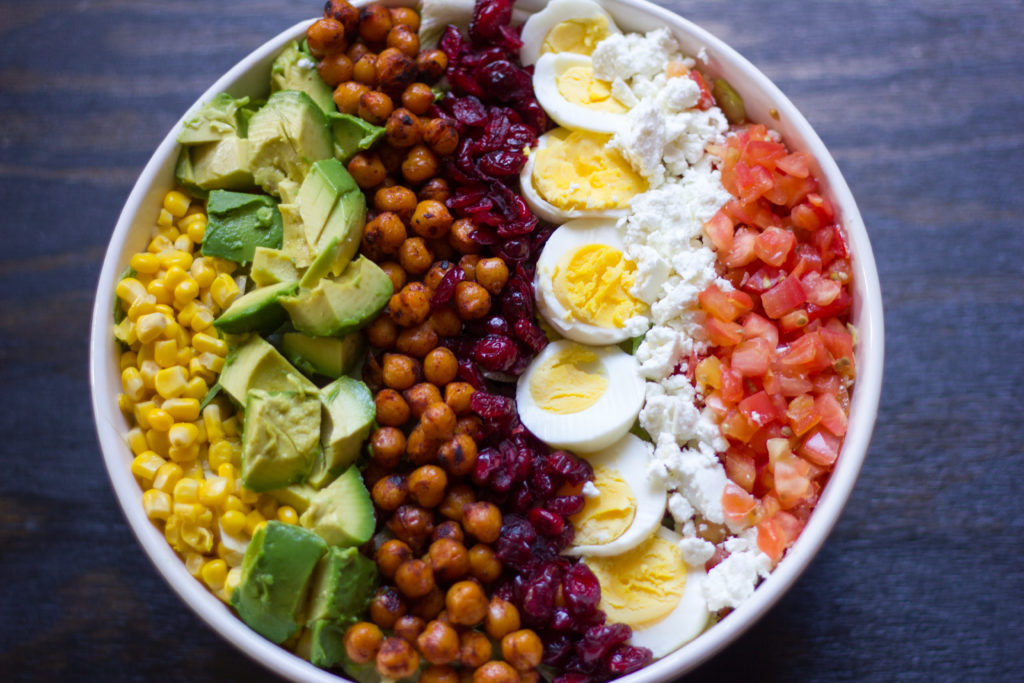 I love love love this salad with my Chick-fil-a Sauce Inspired Salad Dressing from my last post. Its smoky and sweet and pairs perfectly with the smoky chickpeas.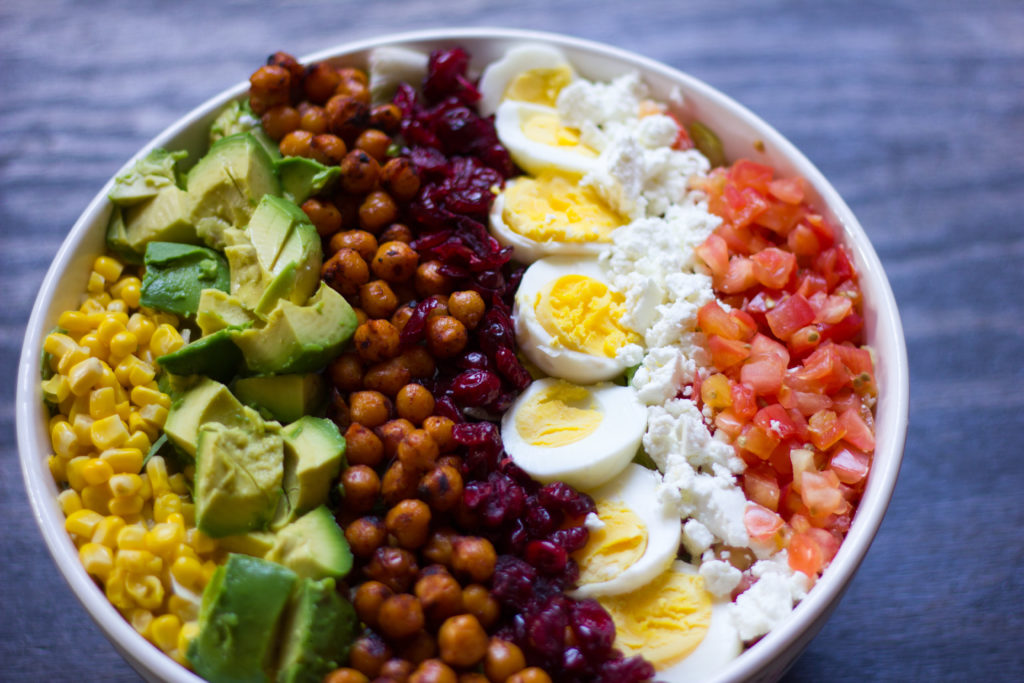 As you make this, just remember to plan enough time to boil the eggs, marinate the chickpeas, and whip up the dressing. Other than that, it comes together pretty quickly. You could boil your eggs and make the dressing up to a couple days early. And the marinade can be started 24 hours ahead of time to make dinner time even quicker. You are going to love this colorful vegetarian cobb salad!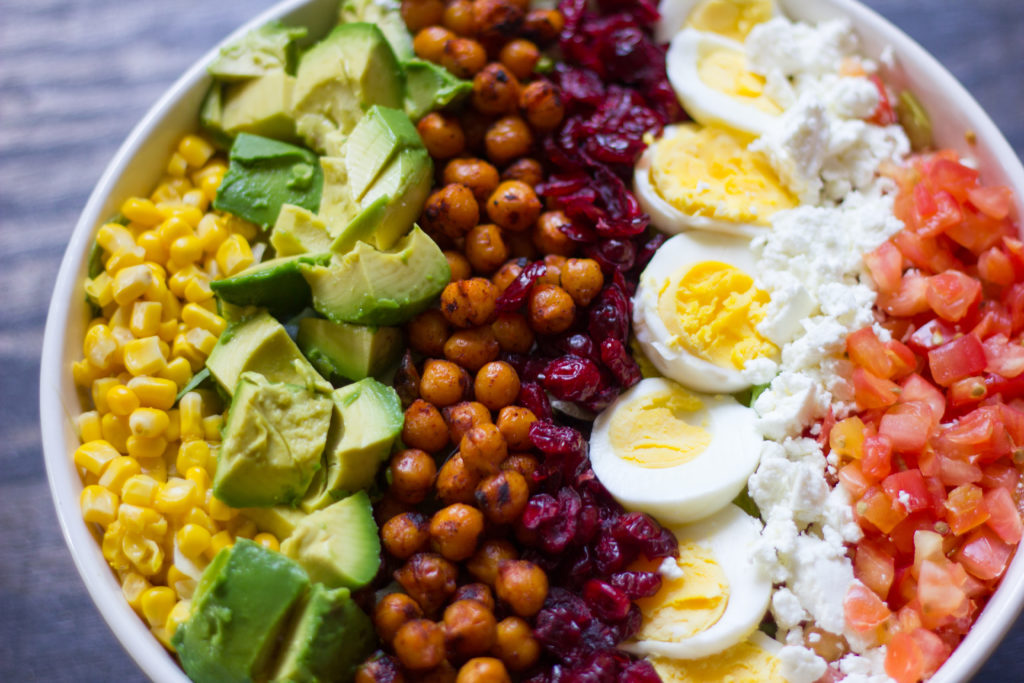 Vegetarian Cobb Salad with Smoky Chickpeas
A flavorful vegetarian Cobb salad topped with a rainbow of tomatoes, eggs, corn,cranberries, goat cheese, avocado, and smoky toasted chickpeas. With the smoky chickpeas, you wont miss the bacon at all!
Ingredients
Smoky Chickpeas

8 tsp. soy sauce
8 tsp. apple cider vinegar
2 TBSP. agave nectar (pure maple would work too)
2 tsp. liquid smoke ( I use Wrights Hickory)
2 tsp. grapeseed oil
3/4 tsp. smoked paprika
1 can chickpeas, drained and rinsed
Salad Assembly

1 head lettuce (enough to fill a large bowl)
1 tomato, diced
3 hard boiled eggs, sliced with a sharp knife
1/2 C. dried cranberries
1/2 C. crumbled goat cheese or blue cheese
3/4 C. corn (canned or sliced from the cob)
1 avocado, diced
smoky chickpeas
dressing (I love it with my Chick-fil-a Sauce Inspired Dressing )
Instructions
Start by whisking together the all the ingredients in the smoky chickpea recipe, except the chickpeas, in a shallow container (not too big). Add chickpeas and toss until coated. Place in fridge and let marinade for at least 30 minutes, but up to 24 hours.
When ready to make the salad, add the chickpeas to a hot, oiled skillet and cook over medium heat until toasty and slightly crispy. About ten minutes. Stir as needed. This would be a good time to start boiling your eggs, if you haven't already.
Prepare all the ingredients for the salad and the salad dressing. Place the lettuce in a large bowl. Place each topping, including the smoky chickpeas, on top of the lettuce in a line across the bowl, so there are stripes of toppings. You could also dish the lettuce up in individual bowls and top them in the same way.
Pour dressing on top after dishing up individual servings.
Notes
-My favorite dressing is my Chick-fil-a Sauce Inspired Dressing. I love the sweet and smoky flavor that pairs well with the smoky chickpeas.
-Total time does not include marinating time or egg boiling time.
http://ediblexperiments.com/2016/06/vegetarian-cobb-salad.html
Edible Experiments