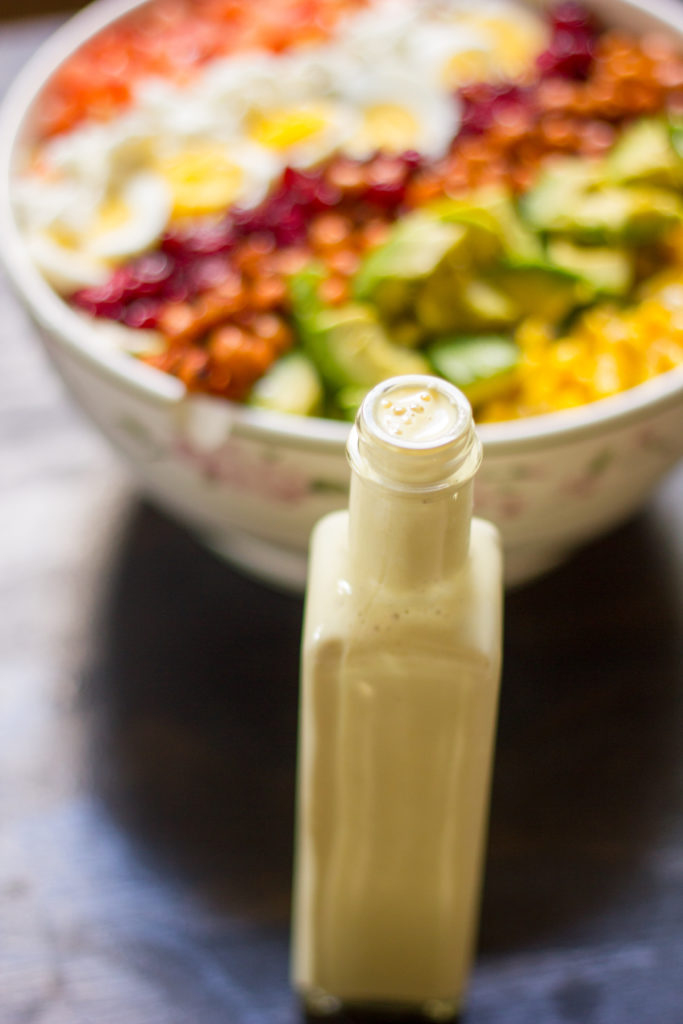 For someone, who doesn't eat hardly any meat, I sure am addicted to Chick-fil-a sauce. I crave it. I think I could drink it. There is nothing better than hot waffle-cut french fries dipped in Chick-fil-a sauce. If you examine the taste of Chick-fil-a sauce, it really has two elements. Some sort of honey mustard flavor and smoky bbq flavor. But the ingredient list on those little packs of sauce are scary! I knew that I could create a simple version with more wholesome ingredients.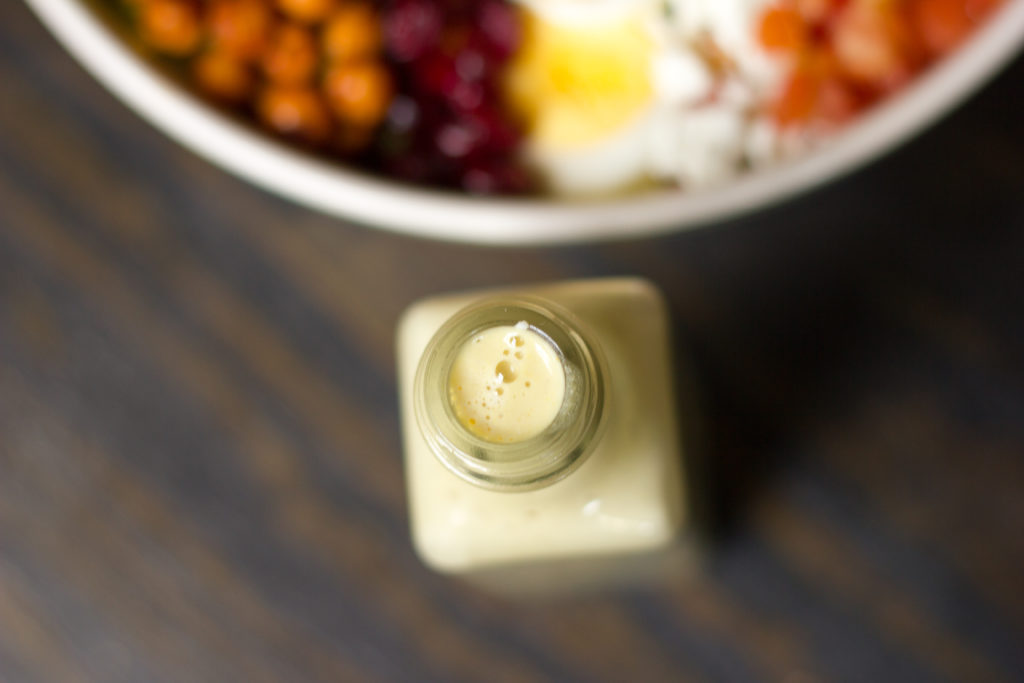 So I mixed together some mayo, two kinds of mustard, some honey, salt, lemon juice, and a drop of hickory liquid smoke. Perfection. I got right to throwing some potato wedges in the oven.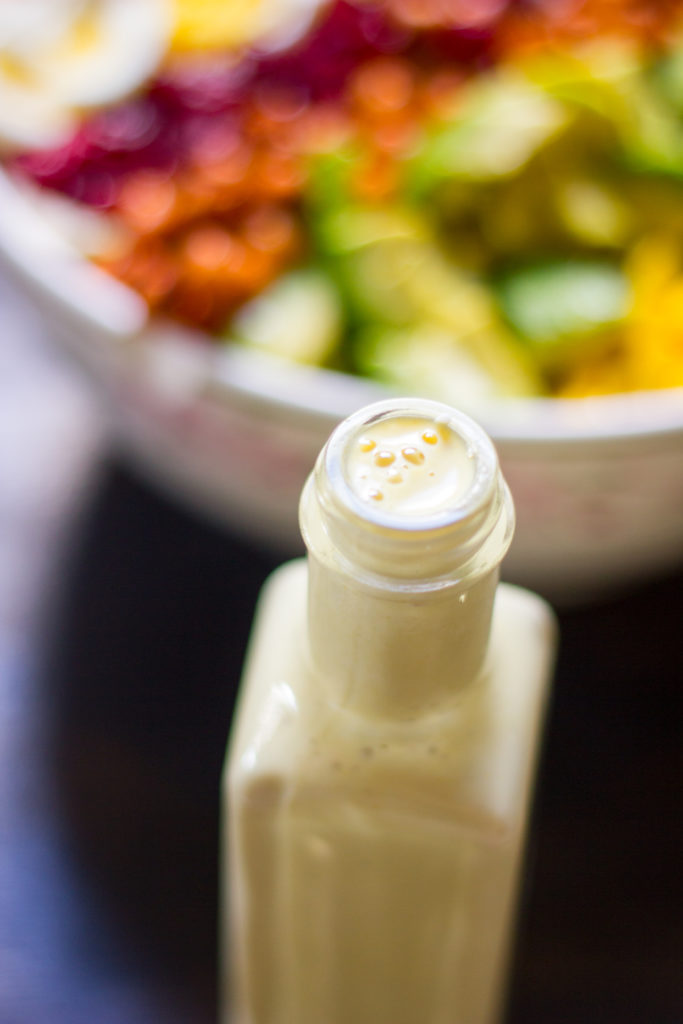 A few days later, I was about to eat a salad and could not think of a single salad dressing that sounded good in that moment. I found myself wishing I could just put some Chick-fil-a sauce on my salad. I have been in a serious salad slump, mostly because I have fallen out of favor with so many dressings. So I set to it and created a totally healthy, easy Chick-fil-a sauce inspired dressing. Something more pour-able and with no mayo. Completely vegan and gluten-free.  It is a dressing I feel great about putting on my salad. With this salad dressing, I think I am finally over my salad slump!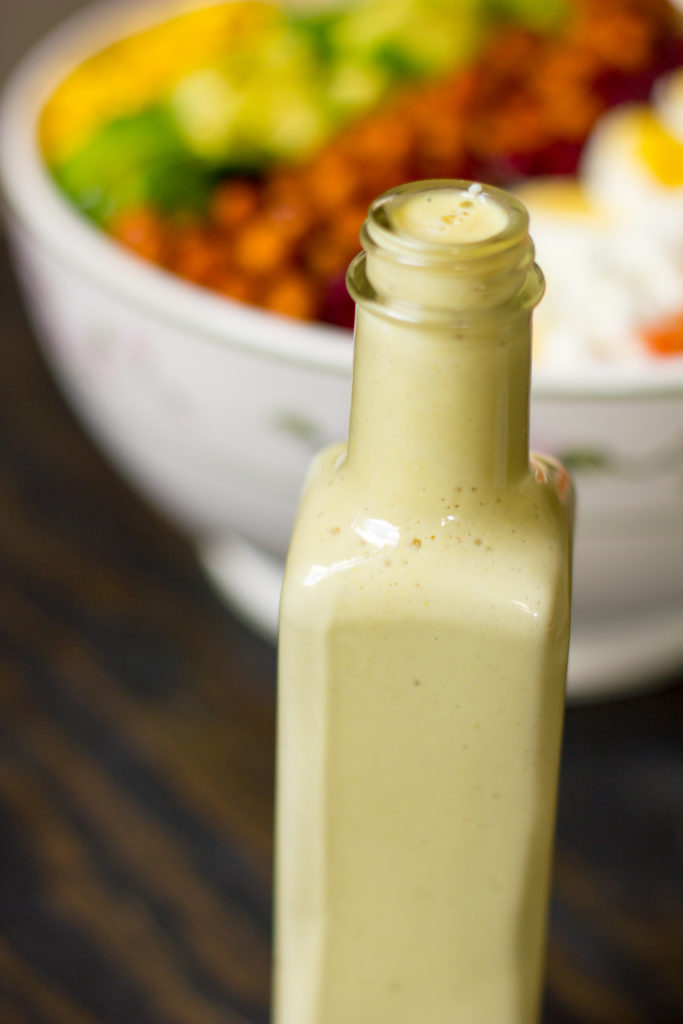 Chick-fil-a Sauce Inspired Salad Dressing
Chick-fil-a sauce inspired salad dressing. Healthy, vegan, gluten-free, and easy. Tastes amazing on everything!
Ingredients
1/2 C. raw cashews (soaked in water for a few hours, then drained)
2/3 C. fresh water
4 tsp. agave nectar (it would probably work with honey or maple, too)
2 tsp. yellow mustard
2 tsp. Dijon mustard
1 tsp. lemon juice
1/2 tsp. salt (plus more to taste)
1/4 tsp. liquid smoke (I use Wrights Hickory because it has a simple ingredient list. If you are against liquid smoke, you could try adding a good bbq sauce to taste.)
Instructions
Add everything to a high speed blender and blend until perfectly smooth. If you have a high speed blender like a Blendtec or Vitamix, this will be no problem. If you have a slower speed blender just make sure you soak your cashews for at least four hours before blending and then just keep blending until silky smooth. (I use a Vitamix and I don't even need to soak my cashews.)
Taste and add more salt if needed. Use as salad dressing on pretty much anything.
http://ediblexperiments.com/2016/05/chick-fil-a-sauce-inspired-salad-dressing.html
Edible Experiments
By
Edible Experiments