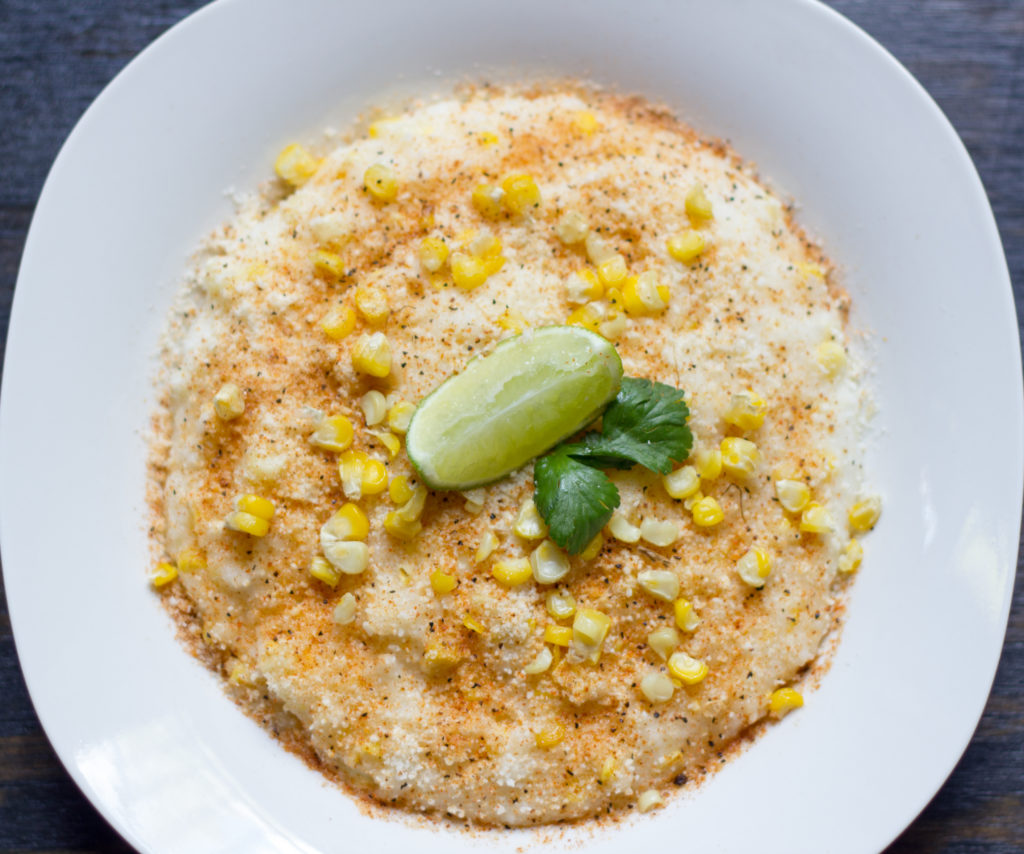 These Mexican Steet Corn Grits are like a Cinco De Mayo party in your mouth. I know this recipe is a little bit random. Mexican street corn grits? What? You just have to trust me because, it really is so delicious. I actually would have never thought of it on my own, but my husband can be pretty ingenious when searching for food during those times when I have put off grocery shopping for too long. He created this recipe and we have been eating it for months and loving it.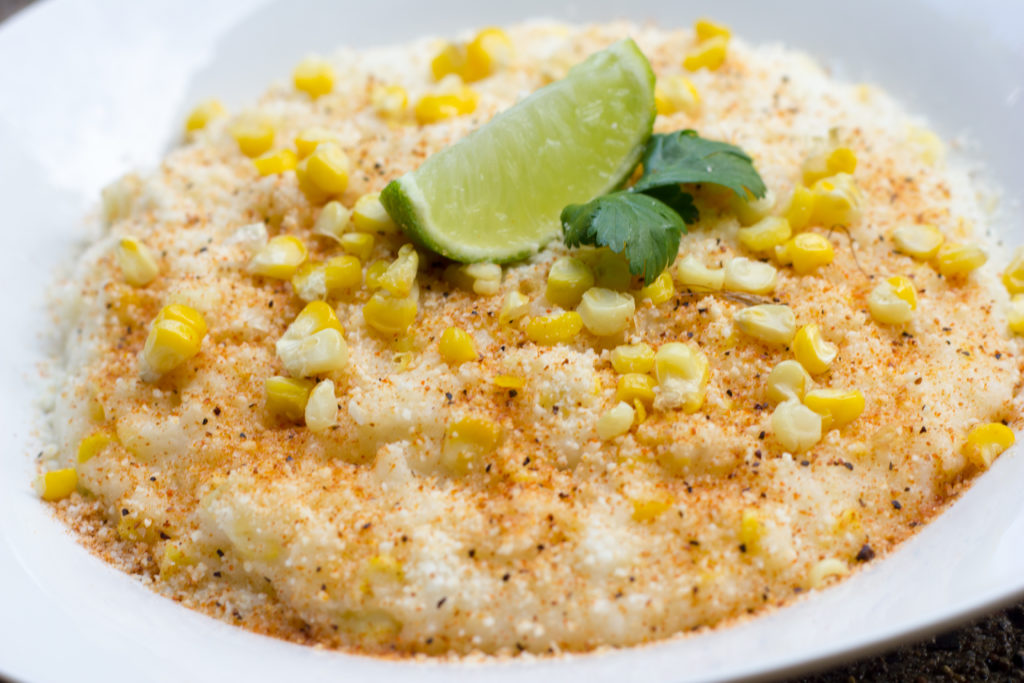 If you have never had Mexican street corn, you really need to try it. It is a hot cob of corn, rolled in sour cream (or crema or mayo), and sprinkled with crumbly cotija cheese and chili powder, topped off with a squirt of fresh lime. I love Mexican street corn fresh off the grill, but it still works roasted or boiled. And grits? I lived to the age of twenty something before ever trying them. So if the idea seems weird to you, I understand, but you really should give them a chance. You can buy them for cheap and they are so easy and quick to make and kind of addicting. They are the perfect vehicle for mix-ins and toppings. You can use either instant grits, quick grits, or old fashion grits (I like old fashioned grits the best, but they take longer to prepare.) I usually find my grits next to the oatmeal in most grocery stores.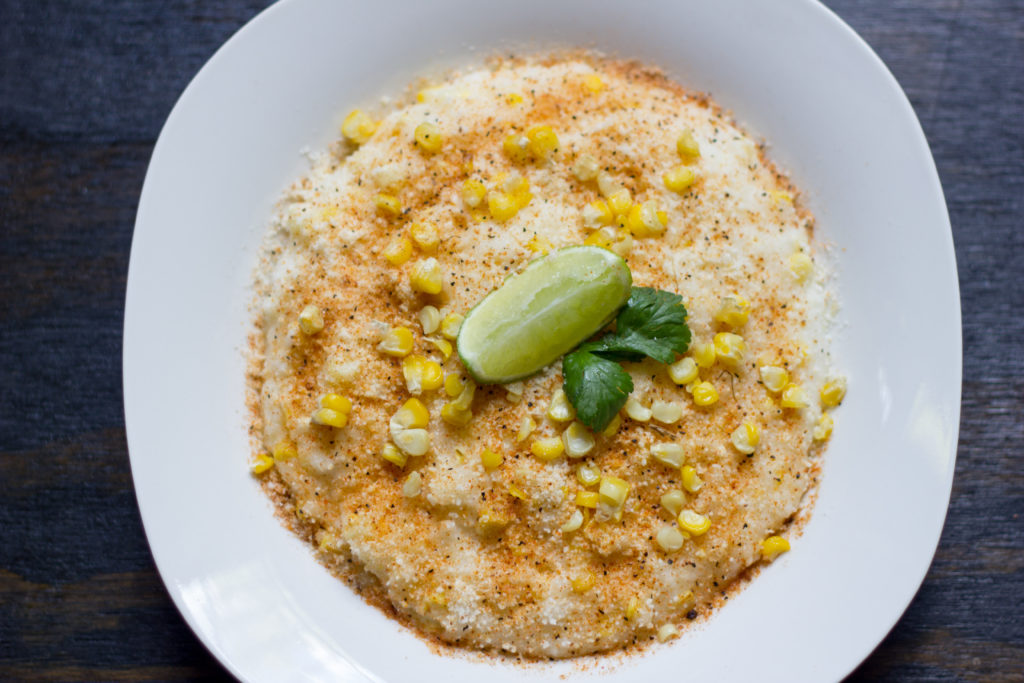 So combine creamy, hot grits with bursting kernals of sweet corn and some classic street corn toppings and you have the perfect easy, quick meal. Perfect for a low key Cinco De Mayo dinner.

You have a couple options when it comes this dish. You can make it super simple and quick and microwave instant grits and use canned corn. Still really yummy. Or you can take a little more time and effort and cook old fashioned grits on the stove top with roasted or grilled corn. Or any combination in between. We have done it all and it all works. When we are making a batch for a bunch of us, we use the stove top. If I'm just making it for myself I just microwave one bowl and toss in some canned corn. It really is up to you.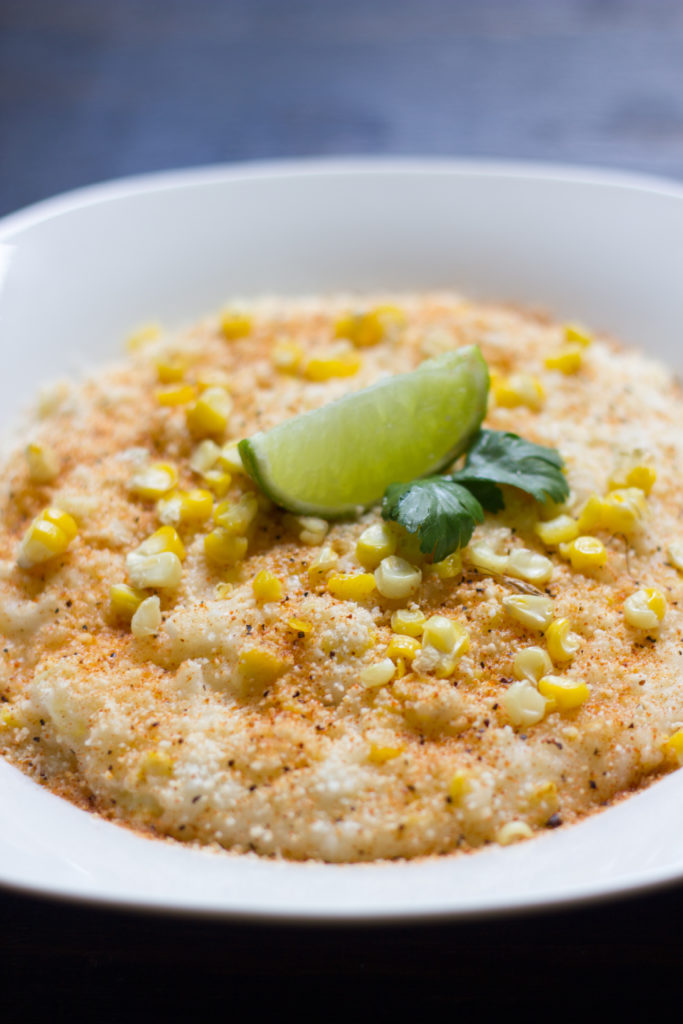 A sprinkle of cotija and chili powder is a must for this dish. At most grocery stores in my area, there is a section dedicated to Mexican cheese. If you are having a hard time finding it, look in both the fancy cheese section by the deli and the cheese section in the aisle or outer aisle. Some stores have it near the refrigerated tortillas. I got it pre crumbled in a bag from Walmart, but you could buy it in a brick and grate it, too.
Mexican Street Corn Grits
Combine creamy, hot grits with bursting kernals of sweet corn and some classic street corn toppings and you have the perfect easy and quick meal.
Ingredients
3-4 corn cobs or 1 1/2 to 2 C. canned corn
water called for on grits package (this will depend on which kind of grits you use)
1 C. grits (instant or old fashioned, but cooking times will vary)
1/2 -3/4 tsp. salt, more or less to taste
4 TBSP. sour cream
cotija cheese for sprinkling
chili powder to taste
black pepper to taste
pinch of cayenne pepper (optional)
1/4 C. chopped cilantro
1 lime, sliced
Instructions
Start by preparing the corn. You can either grill it, oven roast it, or boil it. (Grilling is my favorite.) Once it is cooked, use a sharp knife to slice off the kernals into a bowl. If you are in a hurry or if corn isn't in season, you can use canned corn. Over all you will need between 1 1/2 and 2 cups of corn kernals.
Now start the grits.(If you are using instant grits or microwaving, start cooking after the corn is cooked. If you are using old fashioned or stone ground grits, you can start them while the corn is cooking. You just don't want the grits to sit for too long before serving.) Start by boiling the amount of water called for on the package in a medium sized pot. Quaker instant grits call for 3 C. of water and Quaker Old Fashioned call for 4 C. of water. Once it is boiling, stir in the grits. Lower the heat and cover. Stir occasionally. You can also follow the microwave instructions, but just adjust the water according to the package instructions.
Once the grits are smooth and creamy (you don't want them thick and gluey), stir in the salt and sour cream. Taste the salt and add more if needed, but remember the cotija cheese is very salty.
Stir in the corn kernals. Dish grits out into four separate bowls.
Sprinkle a layer of cotija cheese on top. Next sprinkle on a layer a chili powder and a few shakes of black pepper. Sprinkle on a pinch of cayenne if you want a spicy kick. Top it off with a sprinkle of the chopped cilantro and a squeeze from the fresh lime.
Serve immediatly. Its best when hot and fresh.
Notes
-Prep time and cook times listed are for cooking old fashioned grits on the stovetop and corn on the cob at the same time. If you used canned corn and/or the microwave or instant grits, the cook time will be much shorter.
-You could also use Slap Ya Mamma spice blend instead of the chili powder, spices, and cayenne. It has some heat though, so be warned.
-I buy my cotija cheese crumbled in a bag from Walmart, where there is a section for Mexican cheese near the refrigerated tortillas. You could also look in the fancy cheese section by the deli or the main cheese aisle. It could also possibly be by the feta and parmesan, if that is in a different part of the store.
-For a single serving, just microwave 1/4 C. grits with the called for amount of water right in your bowl. Stir in salt to taste and 1 TBSP. sour cream and some corn kernals to taste. Top as desired.
http://ediblexperiments.com/2016/04/mexican-street-corn-grits.html
Edible Experiments