Meal plan number 3! This plan has 5 meals because you will most likely have left overs for a couple of these meals that could be used another night's dinner. All recipes are gluten free and vegetarian and couple are vegan.
Like always, make sure you read through all the notes I have made before going grocery shopping. I explain my changes, adaptations, and tips to make it all easier. Click the name of the meal or the picture to go to the actual recipe.
Here is the Printable Shopping List. CLICK HERE and then click "print" in your browser.
Cross off things you already have and don't forget to add ingredients for breakfasts, lunches, sides, and snacks.
The blogs these recipes come from are truly beautiful and delicious and I encourage you to browse all their recipes for healthy meal ideas.
MEAL 1: CROCKPOT RED THAI VEGGIE CURRY by Edible Experiments (gluten free, vegan, vegetarian)
This recipe is great because it is easy to prepare and then you just leave it. It is full of cauliflower, mushrooms, onions, peas, and sweet potatoes and flavored with coconut milk and red curry paste. This recipe does call for a tablespoon of brown sugar. If you are avoiding sugar or participating my eating challenge, leave it out or just add a little honey or maple to taste at the end of mixing the sauce. Serve over brown rice or cauliflower rice. You also have a choice between light coconut milk, full fat coconut milk, or coconut cream. The light coconut milk is the cheapest and lowest calorie and will result in a thinner sauce. The full fat coconut milk is a good compromise, as it is easy to find and results in a slightly thicker, creamier sauce. The coconut cream is the yummiest and thickest, but hardest to find (unless you live by a Trader Joe's) and usually has added ingredients that make it a "processed food". One more note; I have used Thai Kitchen red curry paste from normal grocery stores most often in this recipe, but if you are using a more authentic red curry paste, add a little bit at a time and taste. I got some from an Asian market and it was much stronger than Thai Kitchen.
MEAL 2: FALL HARVEST KALE SALAD WITH TAHINI DRESSING by Uproot Kitchen (gluten free, vegetarian)
This salad is amazing. I mixed things up a little, and I loved the changes I made. I am sure it would be delicious just like the recipe says, too. Here is what I changed. 1) In the dressing: My miso paste was a little strong, so I followed the suggested substitution and used a little soy sauce to taste instead. I stirred in some agave to taste, too, and it really rounded out the flavors. I didn't end up using all of the dressing, either. 2). I used lacinato kale instead of curly kale. It will be good no matter which kind of kale you use, but I like lacinato because it is less bitter. It can sometimes be harder to find, but I just happened to come across some on sale! I used two bunches and a couple handfuls of spinach, because one bunch of kale was not nearly enough. 3.) I used blueberries instead of cranberries. Blueberries were on sale at the store and I didn't want the added sugar used to sweeten dried cranberries. The blueberries were amazing with the goat cheese. I think the cranberries would be amazing, too, though. Next time I will be adding blueberries and cranberries! 4.) I bought pecan pieces because they are cheaper than halves and gave them a quick toast in the oven. 7-10 minutes at 350. Toasting them brings out a wonderful nutty flavor that goes so well with the rest of the toppings.
MEAL 3: BAKED EGG STUFFED SWEET POTATOES by Running with Spoons (gluten free, vegetarian)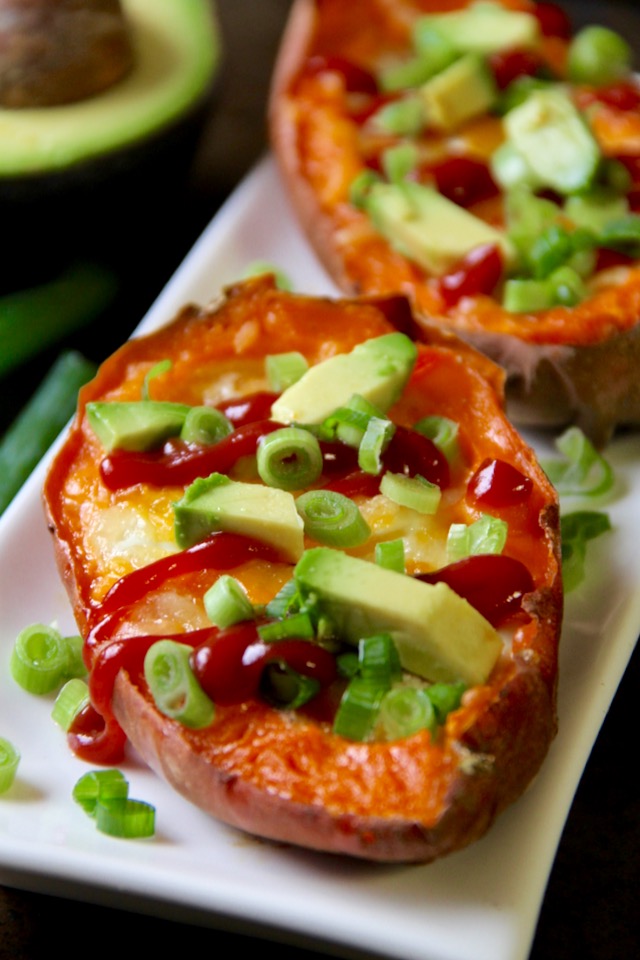 I love this meal because the ingredient list is so small and the hands on time is so short. I highly recommend using LARGE sweet potatoes. Like big and fat. I used potatoes that were quite small and the egg spilled over the side quite a bit. The recipe calls for two sweet potatoes with an egg in each half. I will put the ingredients for the recipe as-is on the shopping list, but you may need to double or triple it depending on your family and if you are serving anything else with it. The recipe suggest a lot of different toppings such as green onions, chives, salsa, avocado, ketchup, cheese. I like sriracha and cholula sauce, too. Last time we had this meal we topped them with avocados, green onions, and cholula sauce. Since I have no idea how you would like to top your sweet potatoes, I'll leave it up to you to add your toppings to the grocery list. You can also bake the sweet potatoes ahead of time and then just fill and bake again at dinner time.
MEAL 4: PORTOBELLO AND SPAGHETTI SQUASH STACKS by Edible Experiments (gluten free, vegetarian)
I love this recipe because it only has six ingredients. Cook the spaghetti squash ahead of time to save some work at dinner. I always have my husband chop the squash in half for me before he goes to work, because I am either a wimp or lazy. I know this recipe calls for parmesan cheese. Just don't over do it. Or you could also give it a sprinkle of a homemade vegan parmesan cheese. Here is a good simple recipe for it from Beard and Bonnet, just add the ingredients to the grocery list yourself if you choose to us it instead of real parmesan. Plan one large Portobello per person and side of salad or roasted broccoli.
MEAL 5: HEALTHY BLACK BEAN SOUP by Edible Experiments (gluten free, vegan, vegetarian)
One of my earlier recipes (as you can see by the picture quality), but one I make all the time. This is a good recipe to double and freeze half. Top with avocados, salsa , and green onions. If you aren't doing the challenge and are just looking for a dinner idea, its really good topped with cheese, sour cream, and tortilla chips,too.
TIPS:
If you have left over goat cheese from the salad, it would be delicious on the stacked mushrooms instead of parmesan.
If you have left over spaghetti squash, make another meal out of the left overs by topping it with your favorite pasta sauce. You will probably have left overs from the Black Bean Soup and the Crock-pot Curry.