I love cook books. I just love collecting them and flipping through them. One of my favorite things to do is sit down with a new cook book and put little tabs on all the recipes I want to try. I love cook books with lots of big, bright pictures. Perhaps that's why I love food blogs so much. There are always pictures for every recipe. I just have to be able to visualize what I am cooking. One thing that I love about food blogs that you don't get with a cook book is the comments, reactions, interactions, and updates.
Lately I have been hitting the jack pot with food blog recipes. I have found and tried so many incredibly delicious recipes. I wanted to share some of my finds with you in case you need some healthy dinner ideas this week.
Ultimate Vegan Stuffed Mushrooms from Pea Soup
I have not been able to stop thinking about these stuffed mushrooms. They were so delicious. Often stuffed mushrooms are loaded with cream cheese, sausage, or bacon, but these beauties were filled with leeks, spinach, garlic, and coconut milk. They are simple and exotic and just a touch bit spicy. We gave one to my one year old and she kept licking her lips and saying "mmmmm". I made them in smaller mushrooms instead of Portobello mushrooms because its what I had on hand.
Spaghetti and No-Meat Balls from Healthy Happy Life
I made this last night and I think I am in love. These No-meat balls are made from beans, mushrooms, onions, spices, panko, and nutritional yeast. The nutritional yeast gives them a lovely savory, meaty flavor (not to mention a blast of vitamin B-12). The bean balls are sautéed to get crispy edges and then braised in a bath of marinara sauce. I just used a store bought Tomato Basil sauce from Trader Joe's. I also roasted a spaghetti squash to use in place of noodles and used red wine vinegar instead of red wine to deglaze the pan after cooking the onions. This recipe climbed to the top of my go-to recipes. And its so much more healthy than your every day spaghetti and meatballs, especially if you use spaghetti squash. Another favorite of my one year old.
Asian Quinoa Salad from Two Peas and Their Pod
I made this for my husband to take to a potluck at his school. It is so fresh and light. It's the kind of thing that you just can't stop eating. It is the perfect thing to take to a potluck or picnic. It reminds me of summer and is the perfect summer recipe because the only cooking required is cooking the quinoa. I added toasted cashews and some radishes that I had to use up.
Curried Sweet Potato Soup from Love and Lemons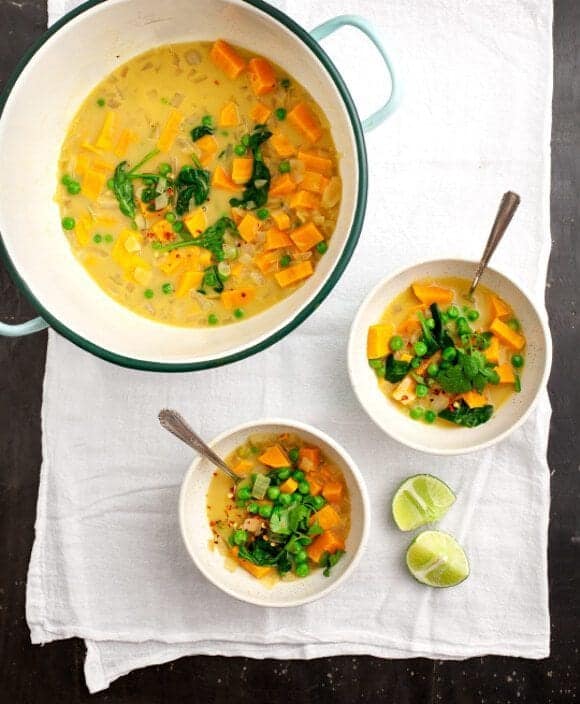 This soup is sweet and spicy and cozy. I added extra curry powder, chick peas, and some mushrooms to beef it up a little. Usually we try not to over eat so we can have left overs for the next day, but between the three of us, the pot was gone! And it makes quite a bit of soup!
Singapore Noodles from Budget Bytes
I have made this dish many times, but thought I would share it with you. Its basically just rice noodles marinated in curry powder and then tossed with all sorts of yummy veggies. I like throw what ever veggies I have on hand or need to use up into the mix. I usually serve this along side tempura veggies and egg drop soup.
I hope these delicious meals have inspired you. I just love that they are all so flavorful and satisfying and yet, so healthy! For more great ideas, follow my new "Tried It and Loved It" board on pinterest. It's reserved for only the recipes that I liked enough to want to again.
Now, I think I'm going to go make some sugar cookies while my baby naps. That's my idea of an afternoon well spent.