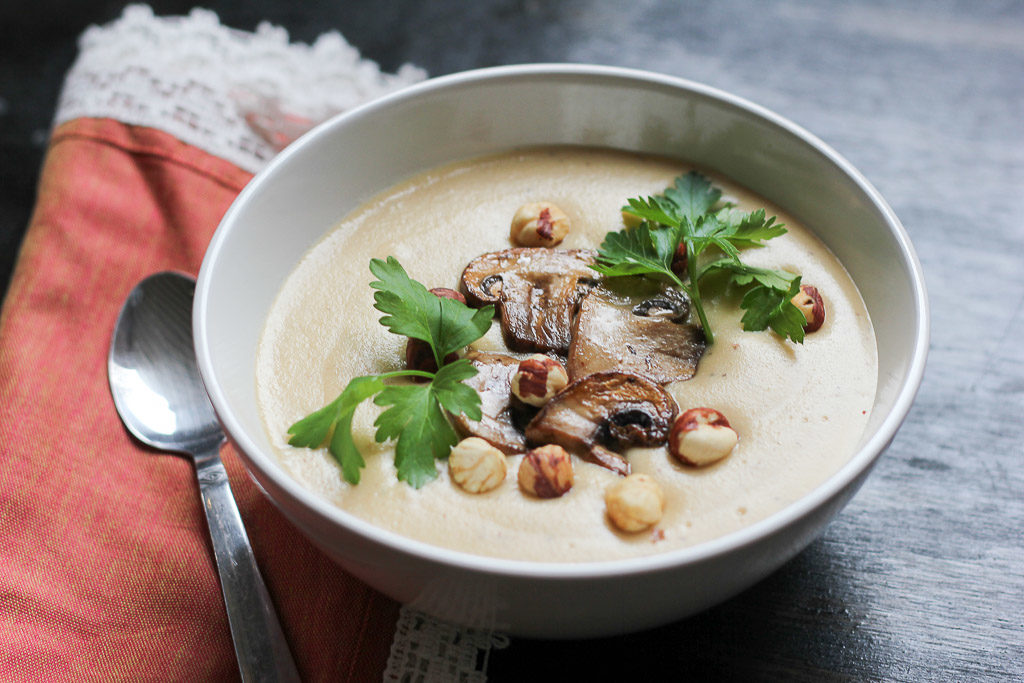 Are you ready for more family Disney Movie Night fun? Today's post features Tangled and Rapunzel's Favorite Hazelnut Soup. Do you remember the part in Tangled when Mother Gothel tells Rapunzel about how she gathered parsnips so she can make Rapunzel's favorite hazelnut soup?
"I brought back parsnips. I'm going to make hazelnut soup for dinner. Your favorite! Surprise!"
My daughter loves watching for a nod to the food I make for these Disney movie nights. She always makes us pause it, rewind, and watch it again, as she squeals with excitement.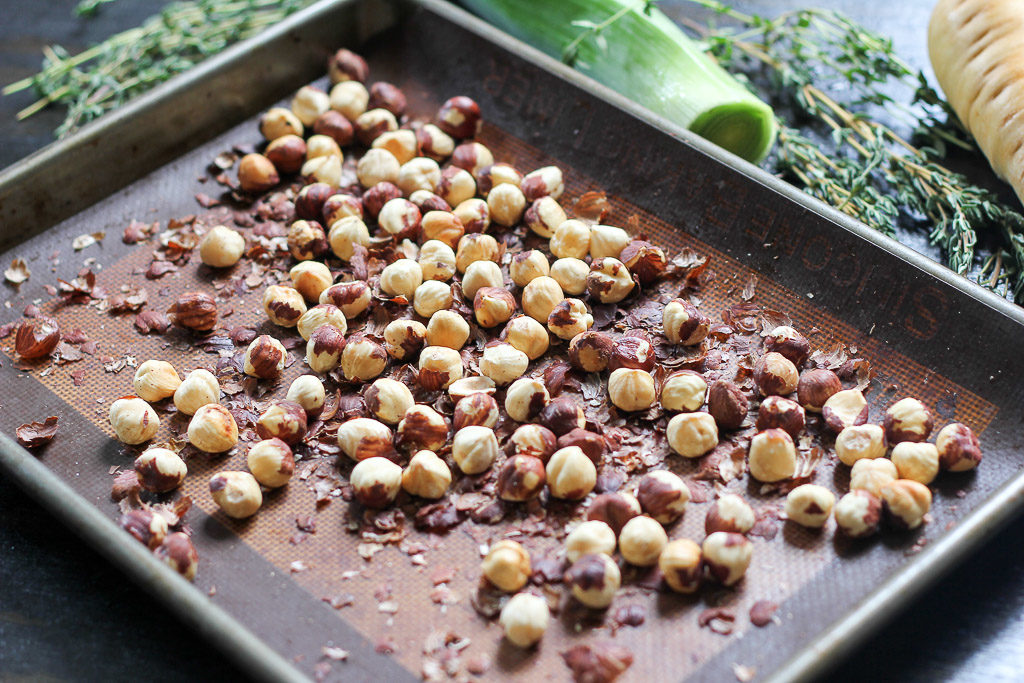 Tangled is one of my very favorite Disney movies. I love the music, the characters, the humor, the illustration. Its just magical. I knew for sure that this hazelnut soup would need both parnsips and hazelnuts, because Mother Gothel gathered them both for Rapunzel's soup.
I tried to incorporate other hearty, earthy things that Mother Gothel might have foraged when she was gathering the nuts and parsnips. Leeks, garlic, potatoes, herbs, and mushrooms. It tastes hearty and earthy and herby. The perfect meal for soon approaching autumn.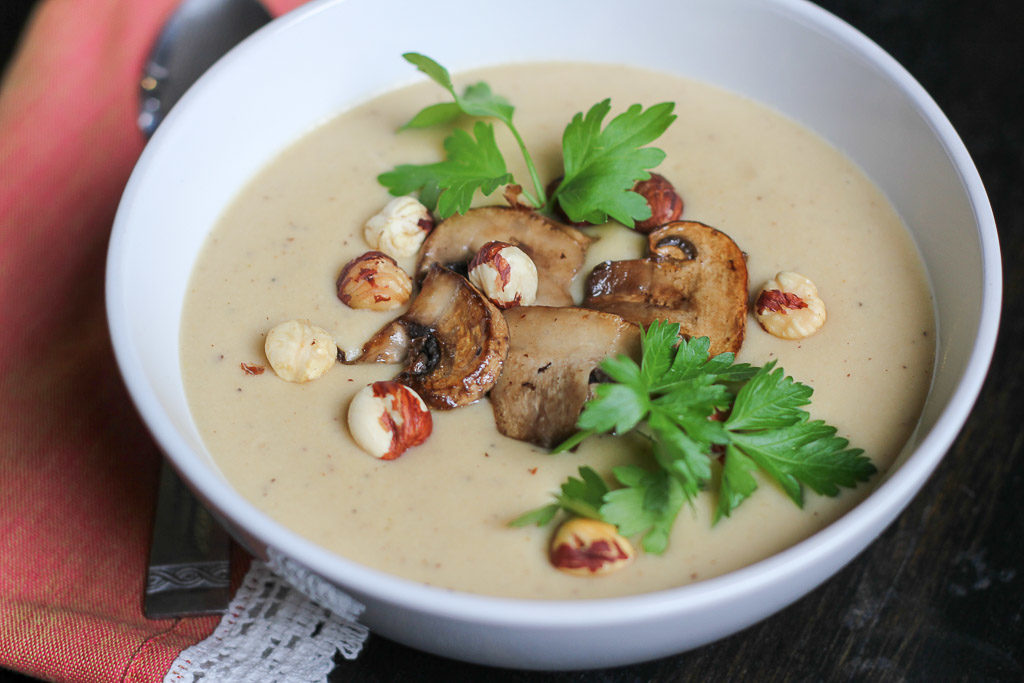 This soup is pureed until smooth and creamy. No cream needed, either! The blended potatoes, parsnips, and nuts make it luxuriously creamy without a speck of cream. Finish it with savory sauteed mushrooms, toasted hazelnuts, and some fresh parsley and you have the perfect Tangled viewing meal.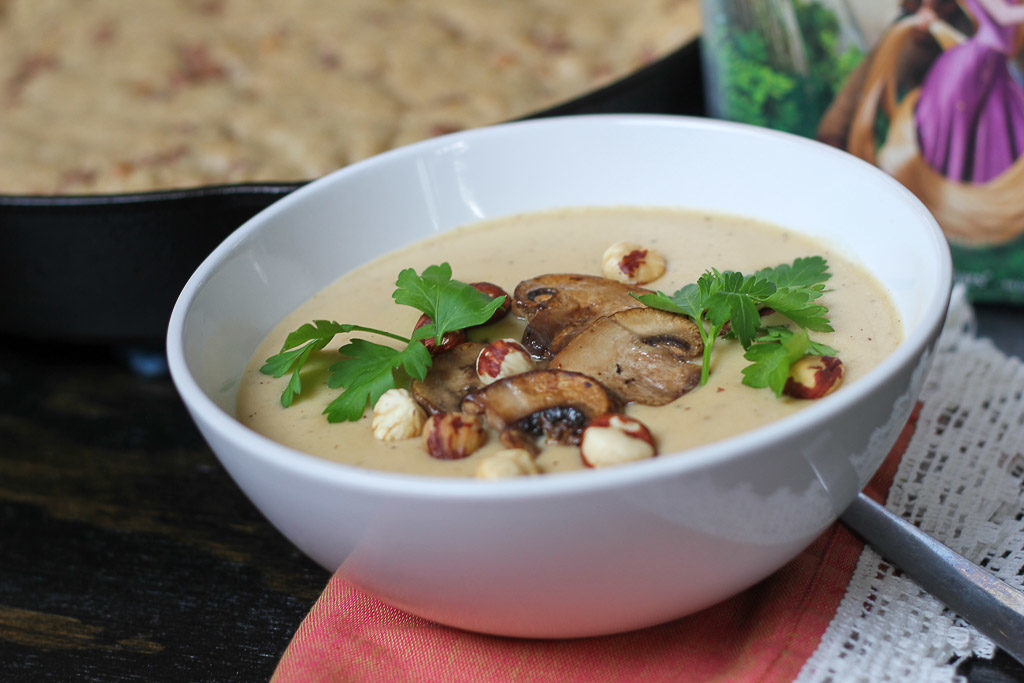 This soup is vegetarian and could easily be turned vegan. I note how to make it vegan in the recipe. This hazelnut soup is also awesome on any old week night, even if you aren't planning on watching Tangled.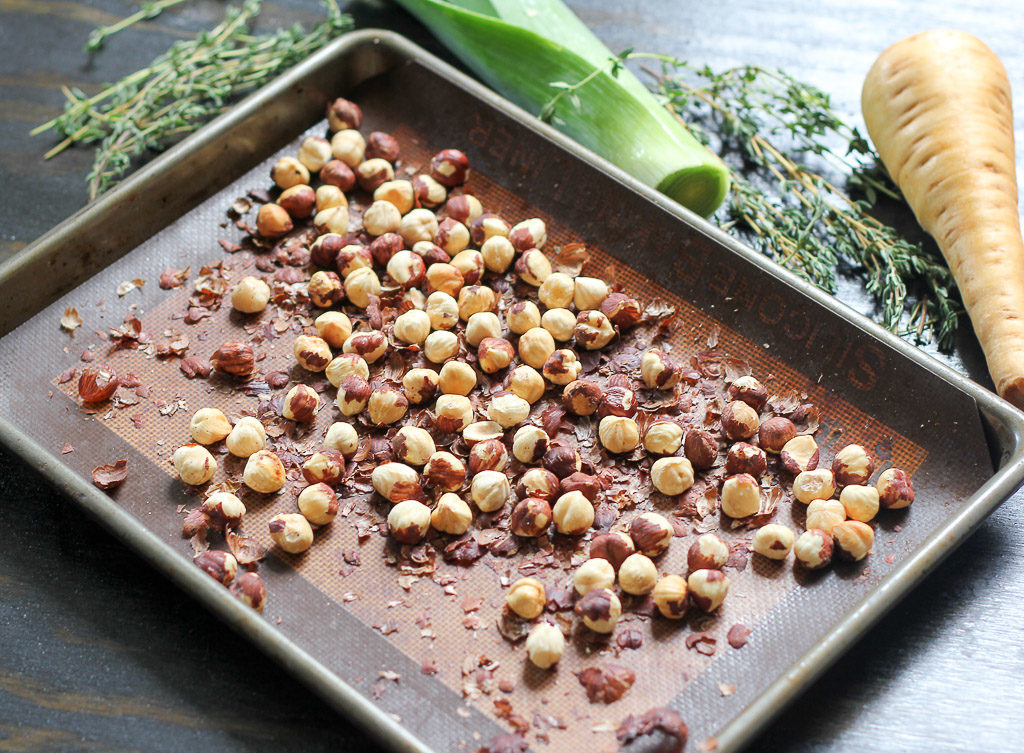 Make sure you save room in your stomach for the Tangled themed dessert that I will be posting next! Caramel Chocolate Chip Skillet Cookie (because she bakes chocolate chip cookies in the opening song). Made right in Rapunzel's own weapon of choice, the cast iron frying pan!
Tangled Disney Movie Night: Rapunzel's Favorite Hazelnut Soup
Rapunzel's Favorite Hazelnut Soup. Full of hearty woodsy flavors from parsnips, leeks, potatoes, hazelnuts, mushrooms, and fresh herbs. Its silky smooth and creamy without a drop of heavy cream. The perfect dish to eat while watching Tangled.
Ingredients
1 C. raw hazelnuts, divided
2 TBSP. butter (could use oil to make vegan)
1 leek, sliced (white part)
6 sprigs fresh thyme
1 clove garlic, pressed or minced
2 parsnips, peeled and sliced
3 small russet potatoes or 2 medium, peeled and chopped into small pieces
4 C. vegetable broth
1/2 C. milk (could use unsweetened milk substitute, or even water to make it vegan)
1/2 tsp. lemon juice (optional)
salt and pepper to taste
8 oz. mushrooms, sliced
oil or butter for cooking mushrooms
parsley for garnish
Instructions
Preheat oven to 400 F. Place hazelnuts on a baking sheet and toast for about 6 minutes. Once they are toasted, most of the peels with rub off. They don't have to be perfectly peeled, just get as much off as you can.
In a large pot, melt butter over medium high heat. Once butter is melted and hot, add the sliced leeks and thyme. Cook, stirring occasionally, until the leeks are soft. Add the garlic, parsnips, and potatoes and cook for about five minutes, stirring often. Make sure your parsnips and potato pieces are about the same size and not too big. Add a few sprinkles of salt and pepper to the veggies as you stir.
Add 3/4 C. of the peeled hazelnuts to the pot and stir for a minute or so. Add the veggie broth and milk and bring to a boil. Turn down to a simmer an let cook for about 20 minutes, at least until the parsnips and potatoes are soft.
Remove the thyme sprigs and transfer soup to a high powered blender (works best with Vitamix or Blendtec). Blend until completely silky smooth. You could use an immersion blender, like I often do with soups, but I found that the blender worked best to get the nuts completely smoothed out.
Ladel into bowls and top with the remaining hazelnuts, the sauted mushrooms, and parsley sprigs.
For the Mushrooms

Towards the end of the soup's cooktime, heat a pan with a little bit of oil or butter. When hot, add the sliced mushrooms and cook, stirring occasionally.
Sprinkle salt to taste on the mushrooms while they cook. Remove from heat when they are soft and most of their juices have evaporated.
Notes
Look for whole raw hazelnuts in bulk bins.
http://ediblexperiments.com/2017/08/tangled-disney-movie-night-rapunzels-favorite-hazelnut-soup.html
Edible Experiments
I hope you are enjoying these Disney Movie Night posts. We sure have fun making all this yummy themed food and enjoying it to a Disney Movie. I have many more fun movie night ideas that I just need to turn into a post, so expect more fun to come. If you want more of the fun right now, check out my
Frozen Disney Movie Night post
. I make chocolate fondue and sandwiches.


Recipe by Edible Experiments